Blue Cheese & Bacon Scallops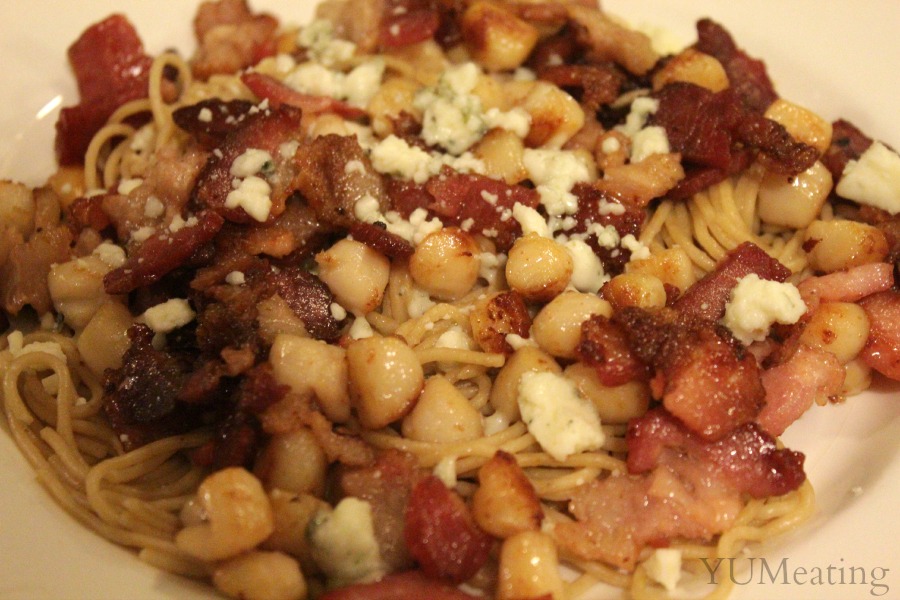 You know those days when you plan to make something great and it doesn't turn out as planned but it still turns our pretty darn good? Well that was me with this recipe.
When the husband and I went to Niagara Falls last year we at this wonderful Italian restaurant that was located inside our hotel. I ordered this wonderful plate of pasta topped with scallops wrapped in bacon. I wanted to recreate that recipe, but add some blue cheese because I love the taste of bacon and blue cheese together.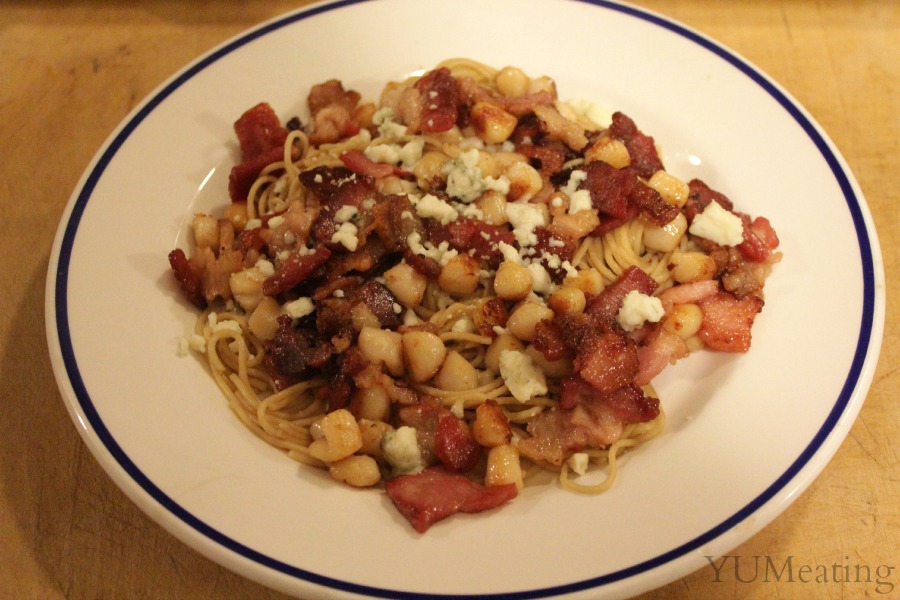 I can't tell you how excited I was to finally be able to make this recipe at home. Scallops are not cheap so it took a little pre planning for me to add them to our grocery budget, especially since I am the only person who really likes them.
My plan was to wrap the bacon around the scallops just like they did at East Side Mario's. Well that plan didn't work because when I decided to make them and thaw out the scallops I realized I grabbed a bag of small ones. When you cook scallops they have a tendency to shrink.  There was no these little guys were going to allow me to wrap anything around them.
So what did I do? I improvised by cooking the bacon first (since I had to make a special dish for the husband free of scallops) and crumbling up my share. I got rid of 99% of the bacon grease but left just enough in their to coat the bottom of the pan and keep the scallops from skipping. A dash of salt and pepper and we cooked away. When the scallops were almost done I added the crumbled bacon back in the pan to give it a few tosses.
I topped the mixture on top of some whole wheat pasta and then added a few crumbles of blue cheese.
Maybe it wasn't as fancy as eating out but it tasted just as every bit as good as I imagined it would!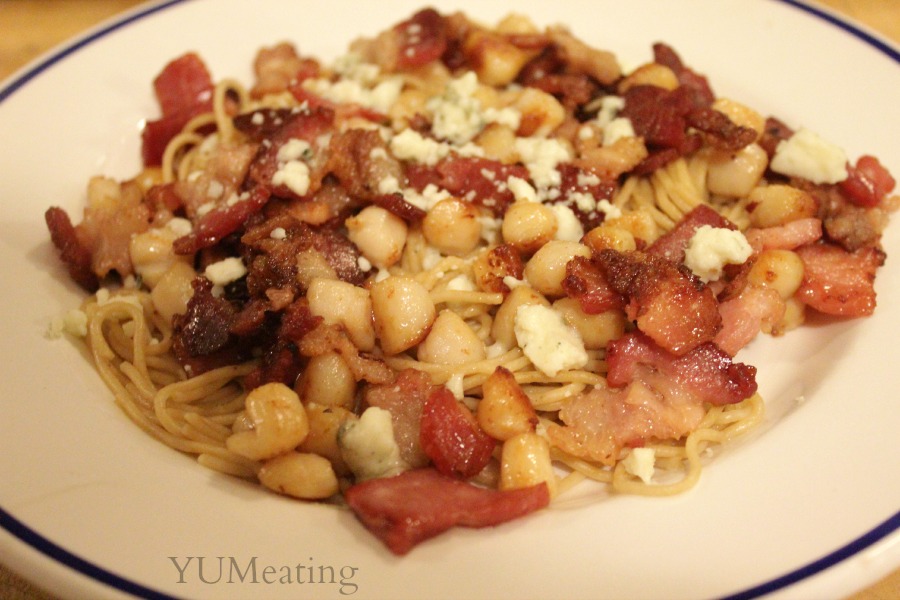 Blue Cheese & Bacon Scallops
Ingredients
1

lb

bacon

1 12

oz

package scallops

thaw

1

box whole wheat spaghetti

blue cheese crumbles
Instructions
Cook the bacon in a pan over low to medium heat.

While your bacon is cooking prepare your pasta per box instructions or your own personal method.

Make sure bacon is nice and crispy.

Remove the bacon from the pan and allow to cool to the touch.

Crumble or chop bacon when it's cooled enough to touch.

Drain the pan of the bacon grease, leaving just enough to coat the bottom of the pan.

Cook the scallops in the greased pan over low heat.

Feel free to season with salt and pepper.

Drain your pasta and set aside.

When the scallops are almost done add the bacon and toss the scallops and bacon together.

Small scallops will take no time at all to cook. Be sure to keep an eye on them because an overcooked scallop is a chewy scallop.

Plate the pasta and divide the mixture up between the plates placing on top of the pasta.

Garnish with blue cheese crumbles.