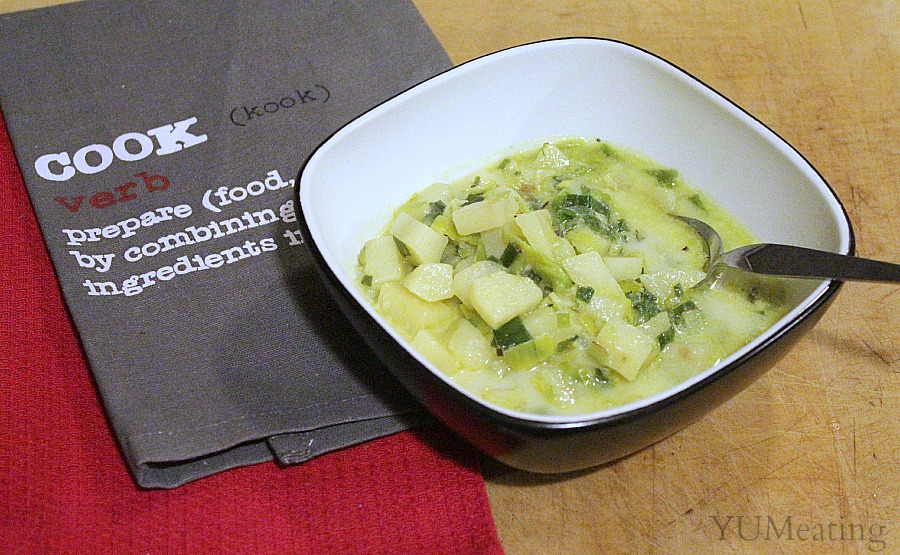 Attention people – we have a winner here!
Confession time.
I've never made potato leek soup.
I've eaten potato leek soup ….um…maybe twice.
My mother made a LOT of potato soup in my life, but leeks were a specialty item. Out of the question. Not in our budget.
A lot of the potato leek soups I looked at were complicated. It didn't make much sense to me for just two simple ingredients. There had to be something simple out there and I was bound and determined to find it.
Another confession.
I made this recipe back in January during one of our winter storm weekends. January 17th to be exact.  I held on to it knowing March was right around the corner and I wanted to fill the month with lots of Irish recipes.
Potato leek soup is a traditional Irish winter comfort food. It is often paired with brown soda bread.
Please don't hate me for holding out on you.
My recipe is a combination of about 4 or 5 different recipes I found online.  There were so many different ways to make it I had no idea where to start. I did not want to make it with too much milk for fear it would end up too much like alfredo or some sort of chowder. Husband is not a huge fan of those. I didn't want to make it too soupy because then there would be a need for some soda bread and I just wasn't up for making it while I was stressing about the soup.
You know that fancy red dutch oven I got for Christmas?
Well my batch of soup filled up this entire pot.
It was SO good we ate the ENTIRE pot.
And you know what? They still wanted more. So while they were polishing off the last bowl I created another, little bit smaller batch. Of course by the time kiddo was done with her bowl she was full, but she ate some for lunch the next day. Husband had one bowl out of the new pot and then we polished off the second pot the next day.
Seriously. I could not get over how good it was.
And healthy.
I did use skim milk in this recipe because almond milk was not going to cut it. I do have plans to try this recipe with coconut milk in the future to see if it has a good flavor. If you are trying to watch your carbs you could replace the milk with some heavy cream and add more water. So add the amount of cream. I believe the cans are about 8oz or 1 cup. So if you do that method, add 3- 3.5 cups of water. This will keep your carbs down and by adding more water will help out in the calorie department so that we don't have to use 2 cans of cream. You could also try 1/2 cup of cream and see how that works. Since it does cook to a thicker consistency, it might still help keep your soup with a hint of creamy flavor.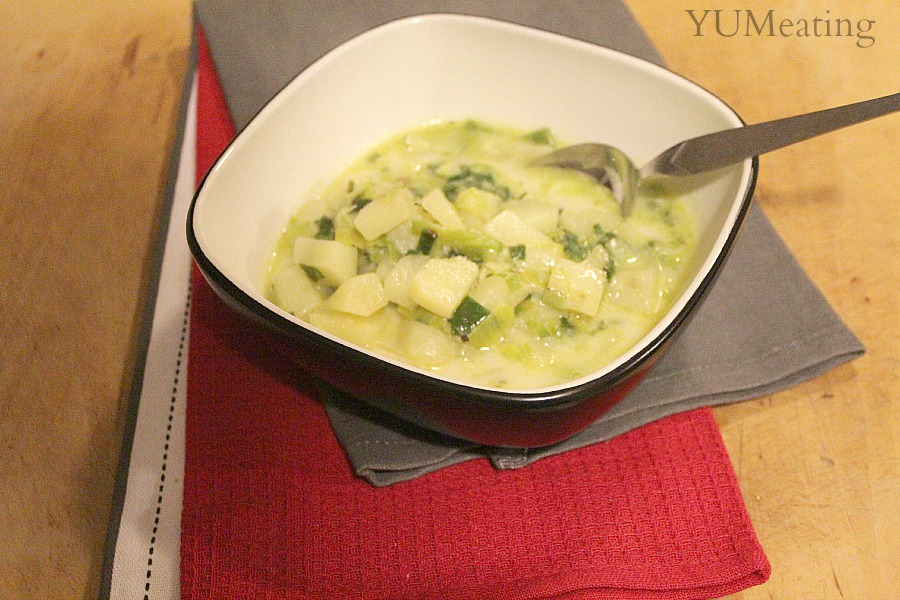 I had planned to do that but I did not want to go to the store just for cream since I had already bought the leeks prior to my recipe hunt. I tend to get lazy about the grocery store. It seems so far away.
I also wanted to use some homemade chicken stock, but we were out. That was a real bummer.  I used a chicken flavored soup base instead. You could opt for a low sodium chicken stock, either in a can or carton. The soup base we keep on hand for husbands Asian dishes he creates for himself.  I know everyone has an opinion about powders, canned items and items in containers. I say – use whatever you need to use.
I hope you give this a try and that your family enjoys it as much as mine did!
Skinny Potato Leek Soup
Ingredients
5

medium potatoes

peeled and diced

2

leeks

cleaned and sliced

1.5

cups

of milk

2.5

cups

of water

2

TBSP

chicken soup base

1

TBSP

olive oil

salt

pepper
Instructions
Peel and dice the potatoes.

Boil the potatoes while preparing leeks for faster cook time.

Using a dutch oven, pour olive oil in the bottom of the pan.

Add the leeks, a dash of salt and pepper.

Saute the leeks on medium heat.

When the leeks are done, about 3-5 minutes, add the milk, water, and chicken soup base.

Get your boiled potatoes and drain them.

Add your potatoes to the dutch oven.

The liquids should completely cover your vegetables. If it does not, add more water.

Reduce heat and cook until potatoes are completely done and flavors have blended.

Feel free to add more salt and pepper or parsley to taste.
Pssssttt…. need a low carb leek soup? Check out this post.
Have you ever had potato leek soup and if you have how do you prefer it?