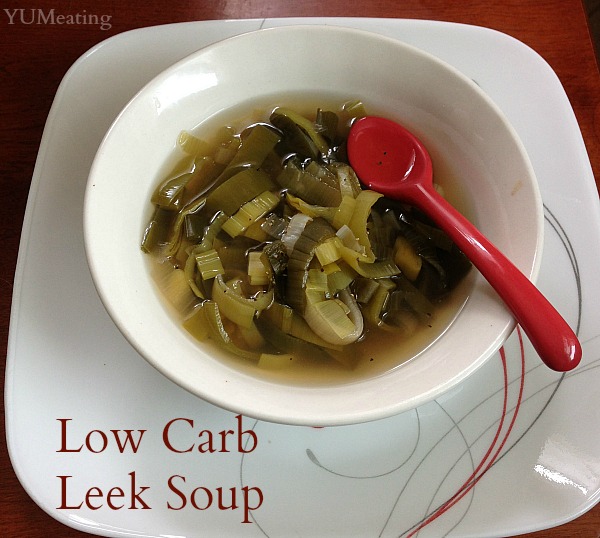 So this happened today. Like, just now. And sadly my dSLR camera is in the back of the husband's car! BOO! So, I rushed over to take a photo with my iPhone. Nifty huh? I wanted to post this since I made a
Skinny Potato and Leek
soup a few weeks ago and hoarded the recipe until March for my month of Irish. Since leek is green and my theme is also green "stuff" (lots of that coming later this month!) and leek appears in so many Irish recipes I figured I was safe enough to share what I ate for lunch today. I've been eating a lot of carbs lately and my body is not happy with me for it. I loved that potato leek soup and I had to buy some leeks last week for another recipes I'll be sharing (Dublin Coddle) very soon. They were starting to wilt and I didn't want to make a batch of potato and leek because I desperately needed a break from them. So sad. So I used the base of that recipe -
homemade chicken stock
and chopped up some leeks. I added some salt and pepper and let it simmer for a while. It turned out a lot better than I expected. To keep it low carb you could add some heavy cream to thicken it up. If you just want to keep it skinny you could make the same leek soup the same as the potato leek soup, just leave out the potatoes for a little less carb. Another thing you could do is toss in a few pieces of crumbled up bacon for some added flavor. So many things we can do here! I'm thrilled with my soup as-is, but I am pretty excited to experiment with it too.
Low Carb Leek Soup
Author:
Chrystal Mahan YUMeating.com
Prep time:
Cook time:
Total time:
Ingredients
4 cups homemade chicken stock
2 leeks, washed, trimmed and sliced
salt or salt free seasoning
pepper
garlic powder - optional
Instructions
Put all the ingredients in a small stock pot and simmer for 45 minutes to an hour. Add more salt, pepper and garlic powder to your tastes.