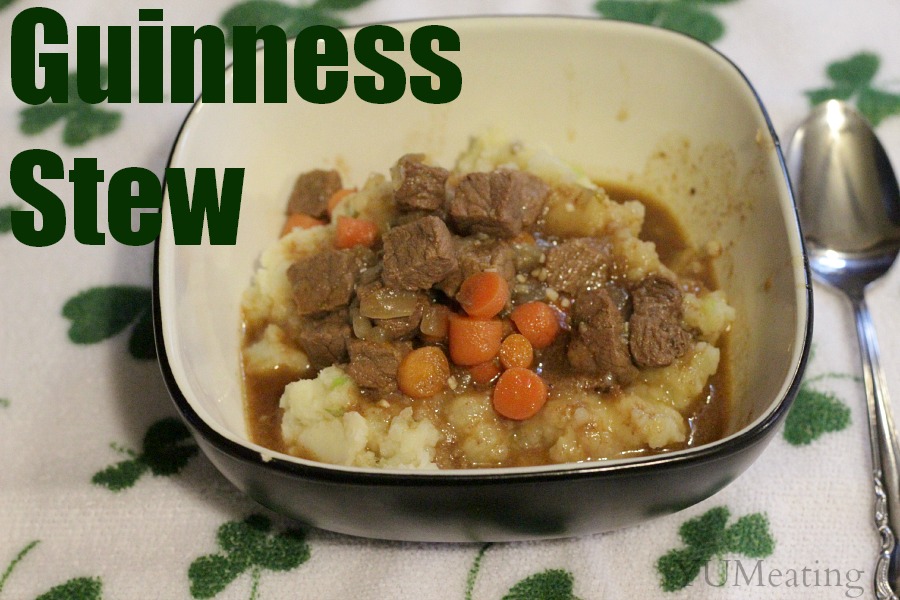 Have I mentioned that I am a Guinness girl?
I love it and I can drink a ton of it. There is something in there that turns me into a bottomless pit. Maybe I shouldn't be admitting this.
It also forces me to eat.
True story. It stands in front of me and pushes food down my throat.
I don't know what it's problem is.
My party days are long gone but I still like to enjoy a pint of Guinness every now and then. I generally save it for a night out – which doesn't happen very often. My last night to drink Guinness was Super Bowl Sunday if that tells you anything.
My cousin had a birthday back in December. In preparation for the BYOB event I purchased some wine and a case of Guinness. As luck would have it, we didn't make it to the party. So that case of Guinness has been in my fridge all this time. I'm not super big on sitting around at night and just drinking. For some reason I like to have a reason to drink. Like if the husband and I have a 'date night' in, well that would count as a reason to drink. Problem with that is we usually have cheese and wine so Guinness doesn't really fit into the picture.
Knowing March would be here I started planning some Guinness recipes to help move the beverage of my choice out of my fridge. When the Jan/Feb issue of Cooking Light arrived with their Hearty Beef & Stout Stew with Kale Mashed Potatoes I stuck a post-it note on the page as a reminder that this might be something worth trying. After checking out my Traditional Irish Cookbook for their version of Beef and Guinness Stew I knew that some sort of Guinness and stew combination would be happening.
I was really intrigued by the Cooking Light version which had stew over mashed potatoes.  The Cooking Light recipe didn't specify it had to be Guinness despite there being a little photo of the can. Didn't matter since I knew that was what I was going to use anyway.
In my dutch oven I had to cook the majority of the ingredients. I purchased a package of stew meat. I really wanted to use the traditional meat of lamb, but after checking the markets close to me, there was no lamb available. That was a real bummer. I am not really into eating lamb, something about it really bothers me but I wanted to get super traditional with this and I know it was something husband was really looking forward to.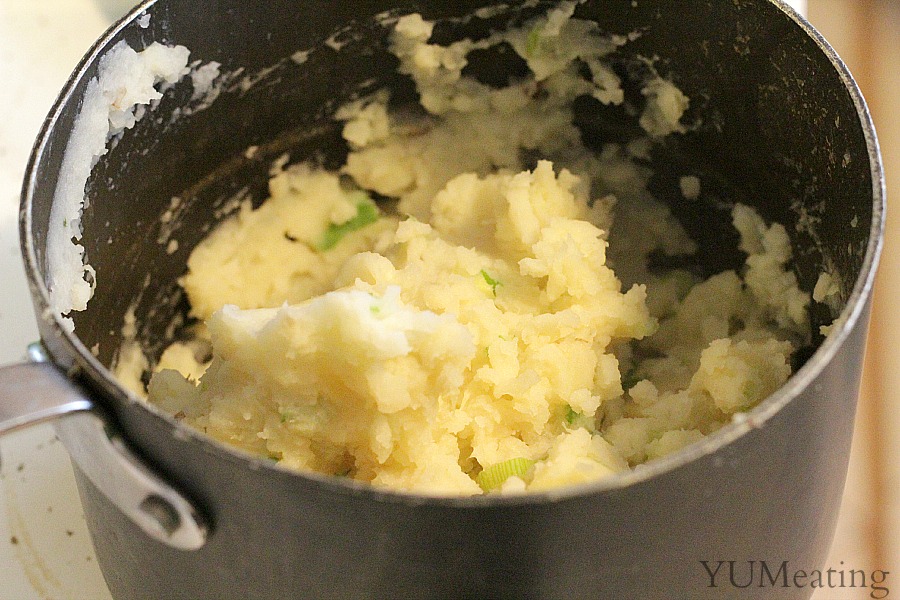 While that was cooking, in a smaller pan I boiled some potatoes and mashed them. I didn't use any kale like Cooking Light suggested.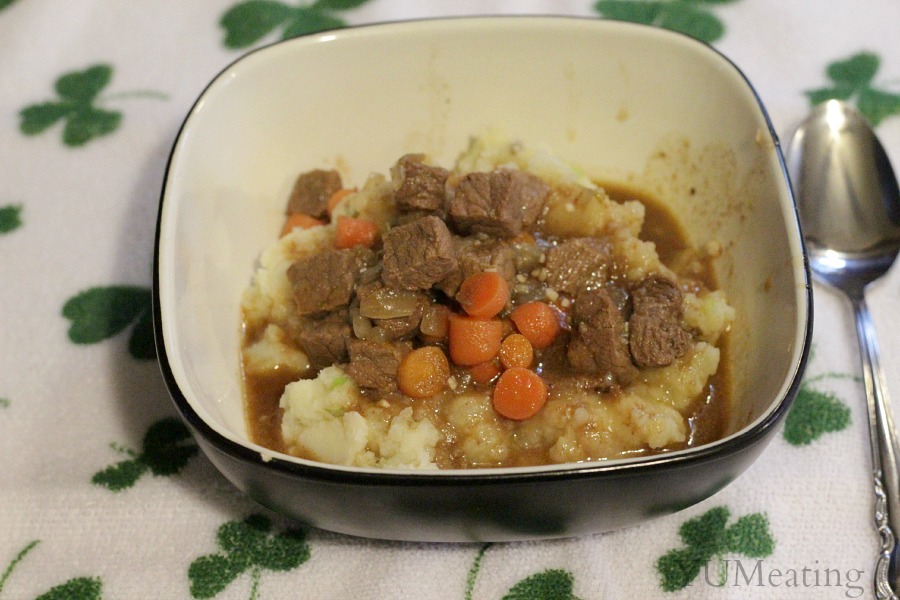 In my true fashion I took a combination of recipes and turned it into my own.  While I tried to follow the Cooking Light version more because I wanted something a little lighter in the calorie department, there were a lot of things that we had to change – like leaving out the kale in the potatoes and the mushrooms in the soup. I also had to make some adjustments as I went.
It was a little time-consuming, but most good meals are. I'm happy to report that the husband and the kiddo thought this dish was wonderful and they have requested I make it more often. Kiddo thought it was funny to tell people she had Guinness in her food. She's 9. I'm honestly not sure how I feel about that! LOL. She's pretty silly so I just laughed with her. We did explain to her that when cooking with booze the alcohol part of it burns off.
Please, please, please try this recipe. Even if you only do it once. Make it a family event and really have fun with it.
So, now that we've shared some great Irish recipes for a few days now, which one are you planning to try and which one is your favorite?
Guinness Beef Stew
This recipe is adapted from a few recipes found online, Traditional Irish Cooking by Darnia Allen (pg 108) and Cooking Light.
Ingredients
1

lb

stew beef

1.5

cups

Guinness

1.5

cups

of beef stock

1/2

small white onion

diced

1

bunch green onion

sliced

1

cup

cut carrots

3

TBSP

olive oil

1

tsp

thyme

3

TBSP

tomato sauce

2

tsp

minced garlic

1.5

tsp

soy sauce

salt

pepper

pinch

cayenne pepper
Instructions
In a dutch oven pour the olive oil on the bottom and add the beef.

Sprinkle the beef with salt and pepper.

Cook on medium-low heat.

Add 1/4 cup of Guinness.

Cook the meat until the pieces are brown on all sides.

Toss in the green onion, white onion and pinch of cayenne pepper.

Add carrots and then 1 tbsp of thyme with another 1/4 cup of Guinness.

Cook 2-3 minutes. Stir.

Add the 3 tbsp tomato sauce, 2 tsp minced garlic.

Cook for another 2-3 minutes.

Add 1 full cup of Guinness. Cook for 1 minute scraping the brown bits off the bottom of the pan when they appear.

Add 1.5 cups of beef stock and the soy sauce. Reduce heat.

Cook on very low heat (simmer) for desired time.

I allowed mine to simmer for about an hour.

Eat as is or over mashed potatoes.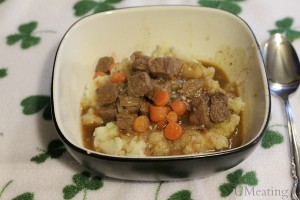 Scallion Mashed Potatoes
This recipe was inspired by Cooking Lights kale mashed potato recipe that was paired with the Stout Stew.
Ingredients
5

medium to large potatoes

peeled and quartered

1

scallion

sliced

1

cup

milk

1

TBSP

butter

salt

pepper
Instructions
Peel and quarter the potatoes.

In a small pan add the potatoes and enough water to cover.

Bring to a boil.

Reduce heat and simmer until potatoes are tender.

Drain the water when potatoes are done.

Add the milk, scallions, butter and salt and pepper to taste.

Using a hand masher, mix and mash the potatoes and other ingredients together until creamy. If you wish, add more milk and butter.