Oven Toasted Irish Cheese Toast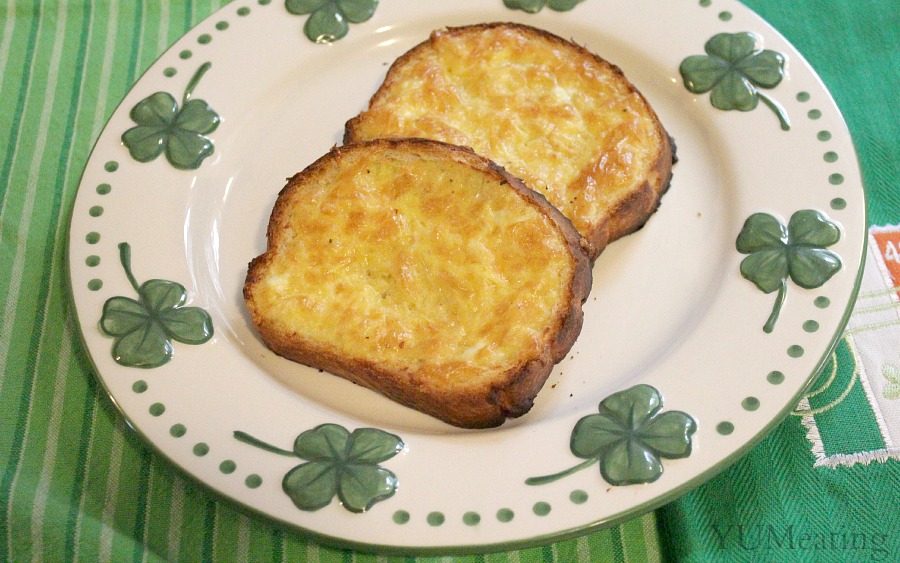 If this doesn't scream simple, I don't know what will. 😉
When I was younger my grandmother always had a loaf of cheese bread reading and waiting for me when I would arrive on her doorstep after a 1200 mile trip between OK (where I grew up) and MI (where she lived  and where I live now.) I know she got that loaf of bread from a grocery store bakery not far from her home. When I moved up here I couldn't wait to go to that little bakery and buy my own loaf of bread hoping to relive some of those memories. Sadly, that bread never tasted the same without the ability to share it with my grandparents.
I've made a lot of cheese bread in my life, but nothing ever tasted like the yummy cheese that was on my grandmothers cheese loafs. I've tried many times to recreate that flavor. I've failed miserably.
While thumbing through the Irish Traditional Cookbook I came across a recipe for Oven Toasted Cheese. There was no picture. But it reminded me of that time when grandma was have cheese toast ready for me made out of that special cheese bread.  It was always a wonderful snack. I figured the recipe was easy enough if I could find some Irish cheddar cheese. My next visit to the store I grabbed the only brand I knew, Kerrygold. I had this idea that I would make this cheese toast while kiddo was around and see if it gave her a happy memory just like I had with my grandma.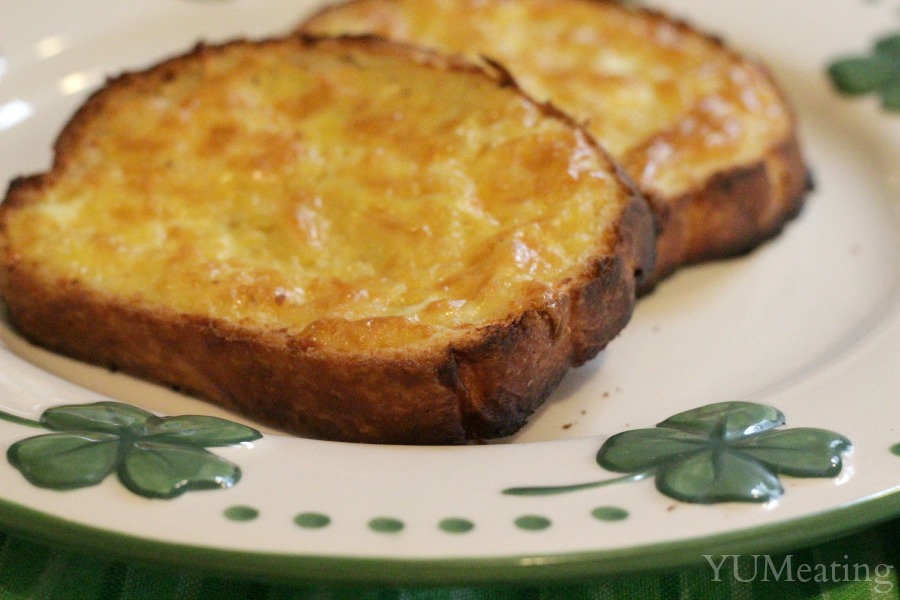 I started with my homemade bread, but you could use any style of white bread. I was worried about the egg because it reminded the husband of French Toast and he tends to get weird about over eggy toasts. I was worried about that. I made a few of these for everyone and I have to say, even though they weren't like grandmas cheese on cheese bread, they did turn out pretty amazing. The Kerrygold aged Irish cheddar was pretty amazing and well worth the splurge. It has a really strong taste – I enjoyed. Of course, cheese is my chocolate. Kiddo enjoyed it, but much preferred her bacon and eggs. Husband enjoyed it, but much preferred his plain white bread. It was the eggs and strong cheese. He's more of a colby-jack fan.
Meh.
More for me then. 🙂
In the traditional Irish cookbook the author stated that when her children were small this cheese toast saved the day when they were hungry. It was an easy fix because it was made out of ingredients that were always on hand.
Good point.
Oven Toasted Irish Cheese Toast
Adapted from Irish Traditional Cooking by Darnia Allen, page 34
Ingredients
4

slices

homemade bread

or your favorite bread

2

eggs

1-2

tsp

English mustard

like Grey Poupon

1

cup

grated aged Irish cheese

like Kerrygold

Salt

Pepper
Instructions
Preheat oven to 450.

Butter one side of the bread and place the butter side down on the baking sheet.

Whisk the eggs in a bowl.

Mix in the grated cheese and the mustard.

Season with salt and pepper.

Scoop the mixture with the fork and spread evenly across the slices of bread.

Cook in the oven for about 10-15 minutes or until the eggs are puffy and the cheese toast is golden brown on top.
Have you ever had cheese toast?  Feel free to share some grandparent memories in the comments below.