Carrot Cake Zucchini Bread Oatmeal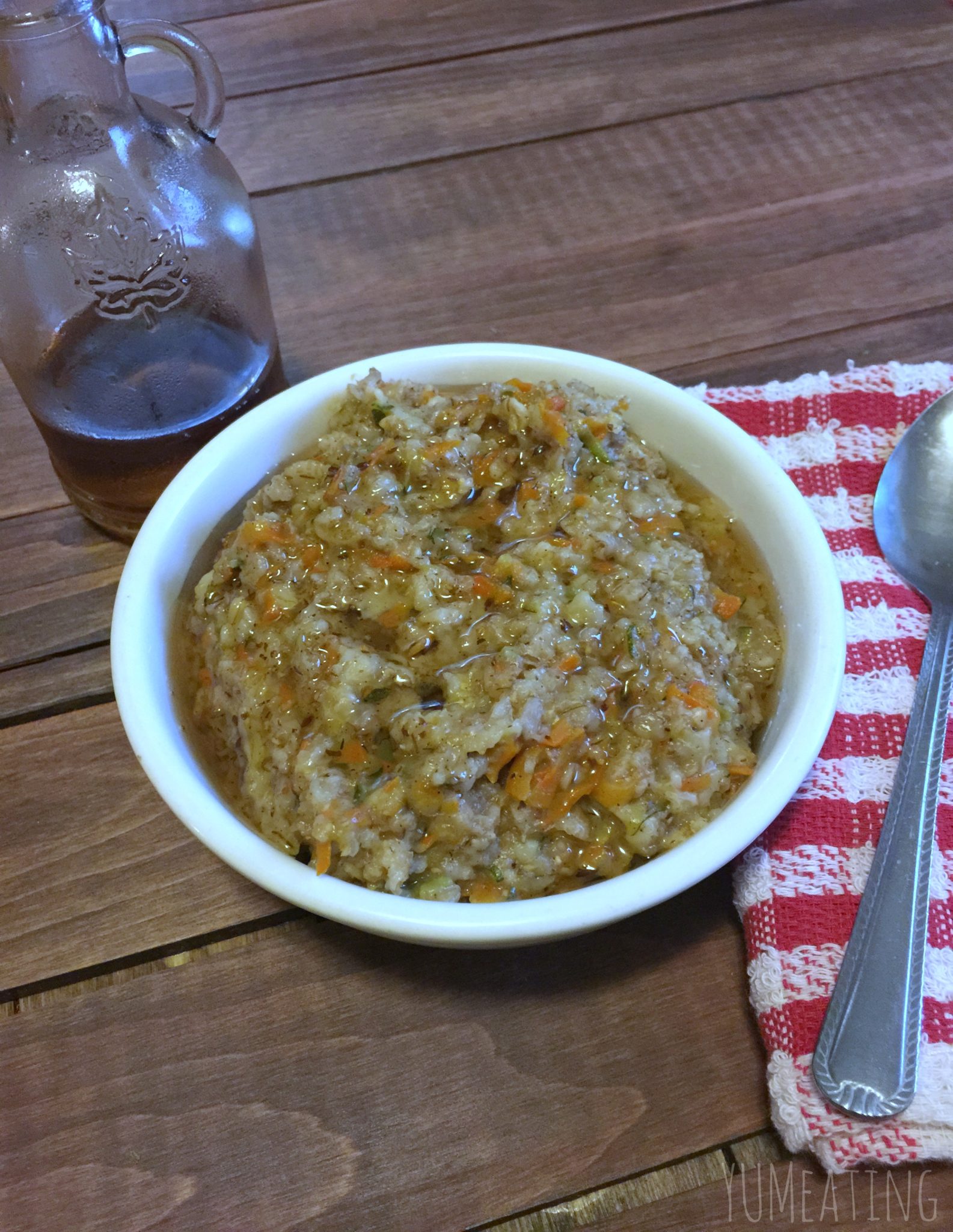 When the weather outside is frightful….. I'm eating something warm and delightful….. 😉
This morning it was so chilly my car had ice on the back window. Ugh. Normally I keep my car in the garage, but since my mom and I have been putting together stuff for our Nevermore Lane stores and sorting through our summer garage sale stuff, my car has been parked outside. As I stood outside with the small human waiting for the school bus, I thought about two things.
No human should have to catch a bus at 6:40am
It is way too chilly to be standing out here
I'm chilled to the bone
I need something warm to eat
And so began my quest for something warm that could be eaten early in the morning without a lot of cook time.
Welcome to the wonderful world of stove-top cooking!
I know most of you think overnight oats are the most amazing thing ever and I would have to agree. But, those oats are generally eaten cold. Sure, I could probably warm them up but the one time I tried that my special concoction didn't taste so good. Step away from the microwave packets of oatmeal. I promise, you won't need them.
For this recipe you can use old-fashioned oats. You can also use steel-cut oats (my favorite) but be sure to adjust the time accordingly since those take a bit longer to cook. For this recipe I used Bob's Red Mill 5 Grain Rolled Hot Cereal with Oat and Flax.
I love slow cooking on the stove. I love this idea because I could make up a giant batch, put it in a sealed container and then just take out what I need to be warmed up in the morning. Don't let the word "slow" scare you. You can cook them on low for about an hour to get all of the flavors or you can kick it up a bit and cook them for 30min. I tend to make a batch when I am prepping and cooking dinner so it really doesn't take much time.
This carrot cake zucchini bread oatmeal tastes just like the amazing bread(s) you have grown to love. It's quick, easy and healthy.
[amd-yrecipe-recipe:5]
Are you an oatmeal fan? What's your favorite flavor?
Need more oatmeal ideas? Check out of a few of these oatmeal recipes.