Celebrating St. Patrick's Day : Irish Stout Chicken, Leek Chive Champ & Irish Soda Bread
It's almost St. Patrick's Day! It's almost St. Patrick's Day!
I'm excited. Can't you tell? Kiddo didn't go see her mom or siblings over the weekend so we decided to celebrate St. Patrick's Day since her father and I will be celebrating all day long on Tuesday while she goes to school and hangs out with grammie and/or her friends.
Normally we enjoy corned beef and cabbage or what we call around here, Boiled Dinner. It's a family tradition from my mom and her parents. We also make Irish Soda Bread.
Corned beef (brisket) is expensive. Normally I am on top of things and I take a 45 minute drive to a store that sell it year-round at discount. I buy a few and freeze them for when the mood strikes. Sometimes I cook the meat without the 'corned' seasoning packet and just have simple brisket. I haven't had a chance to get out that way and the few stores around here are selling these really small pieces for $20. Ummmm no. That is just not going to happen.
When we got snowed-in up in Traverse City, we did manage to make our way down the road to stop in at the market for some snacks. I picked up this little Irish Pub Food recipe booklet. That is where the two recipes I am sharing come from.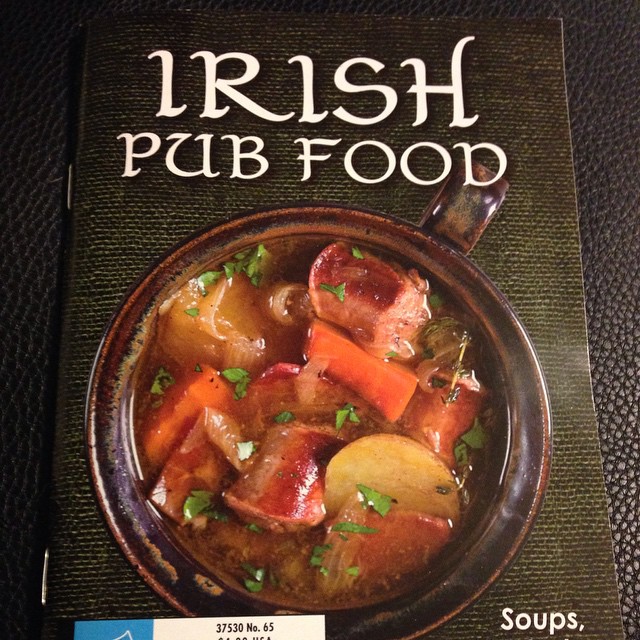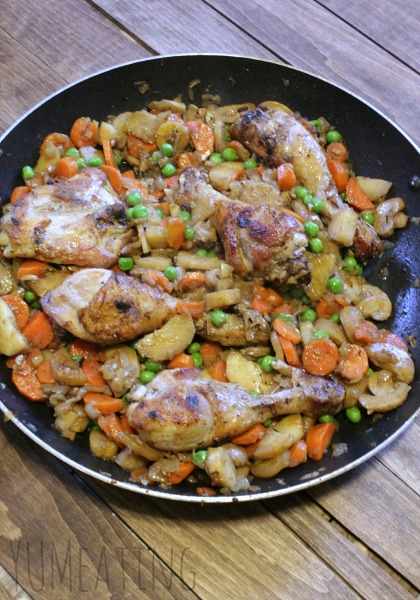 Irish Stout Chicken
The Irish Stout Chicken I ended up cooking a little different from what the recipe directions said to do. I didn't have the right size pan. So, I fried the chicken in the pan as directed, then I put the chicken on a baking sheet and baked it in the oven. We love twice-baked chicken (I have to make the legs and thighs twice baked otherwise I can't get past the texture) so this wasn't a big deal. I left the chicken juices and oil in the bottom of the pan and continued to make the recipe as directed. Then when the chicken was done and had that nice crispy layer that we like, I transferred it back to the pan for a bit so it could absorb some of the flavors from the vegetables and seasoning.
Husband loved this whole recipe. Kiddo loved the chicken. She wasn't a fan of the parsnips though. But that's ok, she loves so many other vegetables I am not going to complain. She did eat the carrots and peas.
Irish Stout Chicken ~ Twice Baked
My recipe adapted from Irish Pub Foods published by Best Recipes: PIL Cookbooks
Ingredients
2-4

tbsp

vegetable oil

1

small onion

chopped

2

garlic cloves

minced

2-3

lbs

chicken legs and thighs

my recipe in this post had 3 thighs and 6 legs

5

carrots

sliced

2

parsnips

sliced

thyme

a few shakes from the shaker

salt

to your tastes

pepper

to your tastes

1

cup

Irish Stout

I actually used Guinness Draught

8

small mushrooms

sliced

1

cup

frozen peas
Instructions
Preheat oven to 350

In a large skillet heat the vegetable oil.

Add the onion and garlic. Cook on medium-low until tender.

Remove from pan, put into bowl and set aside.

Add vegetable oil to the same pan.

Add chicken in a single layer.

Brown on all sides. Around 5-7 minutes each side.

Transfer the chicken to a baking sheet. Do not drain or clean pan.

Place chicken in oven.

Using the same pan add the onion mixture, parsnips, carrots, thyme, salt and pepper.

Then add the stout, bringing it all to a boil.

Reduce heat to low and simmer for 15 minutes.

Add mushrooms and peas.

Cover and cook another 10 minutes.

Because we like the twice baked taste of the chicken, we let our chicken cook while we were making the rest of the recipe. You can take yours out sooner (when the meat thermometer says it is done.)

Remove chicken from oven and place in the pan. Stirring the juice and vegetables around and on top of the chicken.

Allow to simmer together for about 5 minutes.

Plate the chicken and serve.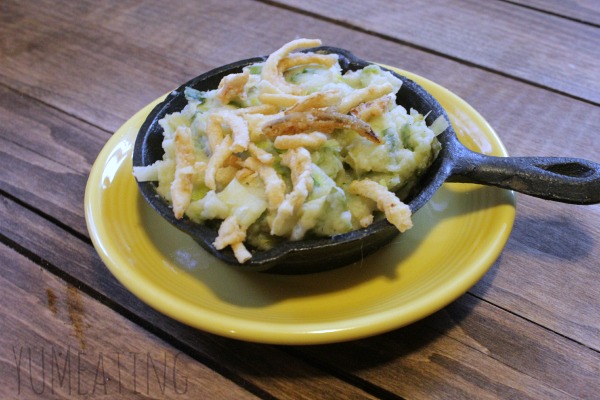 Leek and Chive Champ
Champ is the cousin to mashed potatoes or the step sister to Colcannon. Champ is native to Norther Ireland (think Belfast.)
This Leek and Chive Champ wasn't made by the books. I tend to do that a lot. I purchased the leeks with the idea I was going to make a batch of potato leek soup and then use the rest of the leeks for this recipe. I kept putting it off and then my poor leeks started to look a little worse for wear. I stuck them in a cup of water and when I got a bit of time I went ahead and sliced them up; cooking them according to the recipe instructions. I then put them in a container and saved them in the fridge until I was ready to make the champ.  Then I sort of boiled the potatoes, mashed them and added the chives / green onions and warmed up leeks.
The original recipe called for 3 potatoes and 2 leeks. We used 4 potatoes and 3 leeks. I would change it though. Kiddo wasn't a fan. It was to onion-y for her. She likes leeks but it was a little too much for her in the potatoes like this. Hubs was the same way. I actually liked it, but felt we could cut the leeks down. So, for next time, I am going to do 5 medium potatoes and maybe 1 – 2 leeks. I would suggest the same for you, too. Unless of course you really like leeks 😉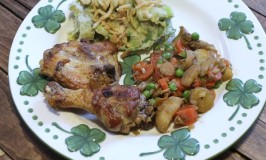 Leek & Chive Champ
Adapted from Irish Pub Foods published by Best Recipes: PIL Cookbooks
Ingredients
4-5

medium russet potatoes

peeled and diced

6

tbsp

butter

divided

2

large leeks

trim off the really dark tops. We want the light green and white parts only. Sliced.

1/2

cup

milk

1/4

cup

chopped fresh chives

we use green onions, about 3 stalks

1

tsp

salt

1

tsp

black pepper

3/4

cup

prepared French fried onions
Instructions
In a medium stock pot or dutch oven add a tbs of butter and the leeks.

Cook until tender, about 3-4 minutes.

Put on a plate or in a bowl and set aside.

Using the same pot add the potatoes.

Cover with cold water until the water is about 2 inches above the potatoes.

Bring to a boil.

Reduce heat and continue cooking for another 15 minutes or until potatoes are tender.

Drain and return to pan.

Use a masher to mash the potatoes or a hand mixer if you prefer.

Add milk, 2 tbs butter, chives (or green onions) and leeks. Use a wooden spoon or plastic spatula to mix. Folding ingredients into each other.

Divide champ into bowls or serve on plate.

Use a spoon to make a dip in the middle. Divide remaining butter so it will melt into a pool in the center of the potatoes.

Salt and pepper to taste.

Sprinkle the French fried onions on top.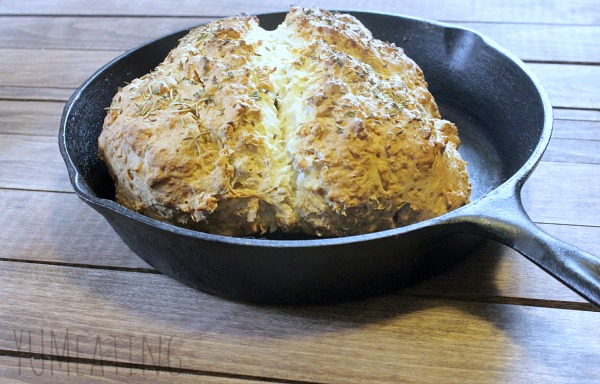 Irish Soda Bread
The last few times we've made soda bread I have used my standard recipe of equal parts whole wheat flour and white flour. I find that this helps me with less stomach distress and helps to keep the glycemic index a little lower. We were out of whole wheat flour, so this is my other traditional recipe. My husband favors this recipe the most. He says it also reminds him of traditional Viking bread. It reminds me of the bread they eat in the Hobbit and LOTR movies. I guess, in theory it is probably the same 😉 I also love cooking mine in the cast iron skillet. It just seems to work better than a round pan.
Irish Soda Bread
Author:
Ingredients
4 cups flour
1 tsp baking soda
1 tsp salt
1 cup milk
1 tbsp vinegar
Dried Herbs
oregano
rosemary leaves
thyme
caraway seeds
parsley
Instructions
Preheat oven to 450.
Put 1 tbsp of vinegar into the cup of milk and set aside. This is homemade 'spoiled' milk.
In a large bowl add the flour, baking soda and salt.
Mix.
Add the spoiled milk.
Form into a ball. If your dough is too dry, add a splash of milk and a drop of vinegar at a time.
Put into a pan and form into a round shape.
Don't forget to cut a cross in it and bless the bread!
Then sprinkle the dry herbs on top.
You will cook at 450 for 10 minutes.
Reduce heat to 400 and cook another 15-20 minutes.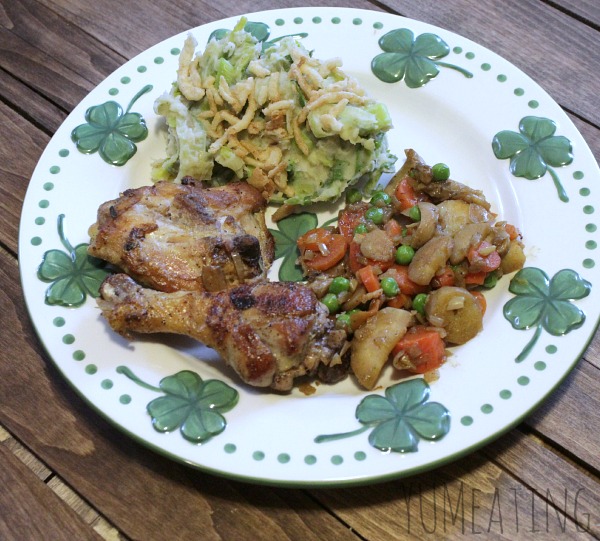 What are your plans for St. Patrick's Day; any special meals?