Protein Packed Peanut Butter Cup Oats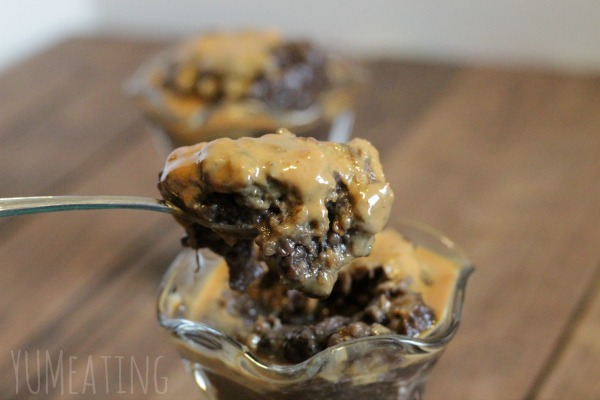 I know yesterday I knocked your socks off with my Brownie Batter Oatmeal. If you missed it, click it. Go ahead. I promise I will wait for you 😉
Now, get ready.
Mind.
Blown.
Not only did I recreate the brownie batter, I added some extra protein for good measure.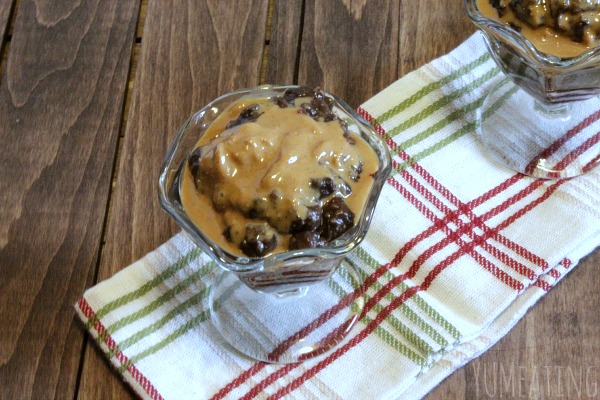 And if the title didn't already give it away, that wonderful, scrumptious topping is all natural peanut butter…..all nice and melted.
You're welcome.
In all seriousness, its obvious I am on an oatmeal kick. It's snowing out and I am tired of eggs. Dudes, seriously. I eat them almost every day.  So be prepared, I have a few more oatmeal recipes coming your way. A few experiments gone good.
This recipe is really simple. It follows yesterday's brownie batter oatmeal but I added a scoop of vanilla protein powder and mixed it well. It gave it a bit of a creamier chocolate taste. A bit of sweetness, but not too much. Then, I decide that wasn't enough. I had some natural peanut butter; you know, the kind with the oil that floats on the top? Well, I mixed it up really good and put a drizzle ok, a spoonful on top. Because the brownie batter oatmeal was still warm, the peanut butter melted like caramel.
Instant Reese's peanut butter cup. Only, healthier.
And, in a pretty dish.
It.
Was.
So.
Good.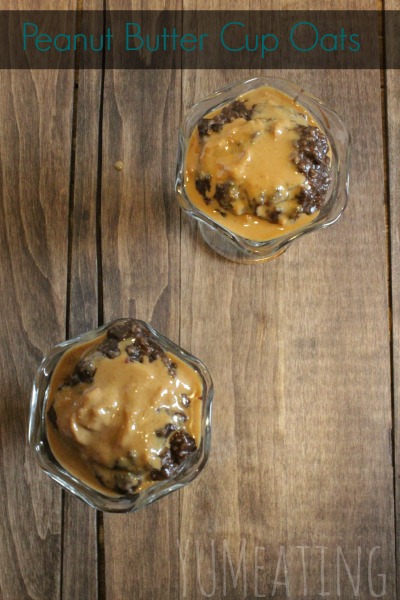 Protein Packed Brownie Batter Oatmeal with Peanut Butter Drizzle
Ingredients
2

cups

water

1

cup

steel cut or old-fashioned oats

1 1/2

frozen banana

sliced

1

tbsp

cocoa powder

1/4

cup

brown sugar substitute

4

TBSP

all natural peanut butter

1

scoop vanilla protein powder

Brown Sugar Substitute:

Use any sugar replacement of your choice. I use Stevia.

1/4

cup

Stevia

2-3

tsp

molasses

Combine the Stevia with 2 tsp molasses. Mix with fork. Add last tsp only if their isn't enough coverage.
Instructions
In a medium size saucepan on low heat combine all ingredients except for the protein powder and peanut butter.

Slow cook mixture for about 10 minutes.

Continue to stir and then turn the heat up to medium.

I find that adding the protein powder in a shaker cup with a little bit of water will make it much easier to mix in the oatmeal. If you just pour the powder in, you run the risk of having powder lumps in your oats.

Oatmeal mixture will begin to bubble and thicken. When it does, add your protein liquid.

Turn back on low when it starts to bubble and protein has been added. Continue mixing.

Continue cooking for another 5-10 minutes. Or, until desired consistency.

Serve into dishes immediately and top with peanut butter so it well melt.
Tell me, what is your favorite way to eat oatmeal? I would love to hear all about it.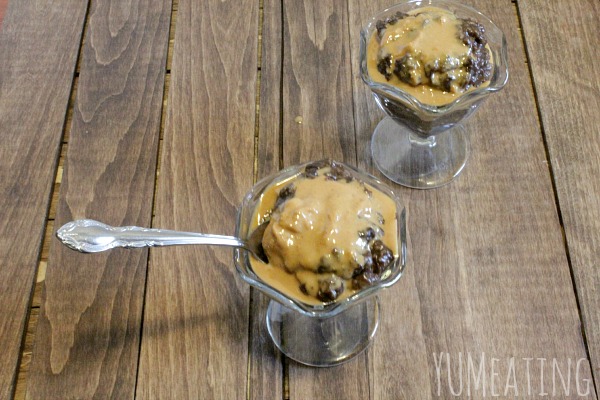 Stay tuned for apple pie oats and chocolate covered strawberry oats! I'm also attempting overnight oats as well as chia and oats combined! Pretty sure oats and yogurt will be hidden in there somewhere! But, that's not all. I have some great dutch oven soup recipes coming as well as some blow-your-mind twice baked 'fried' chicken legs.
Mrs. YUM is getting her groove back people. Watch out! 😉