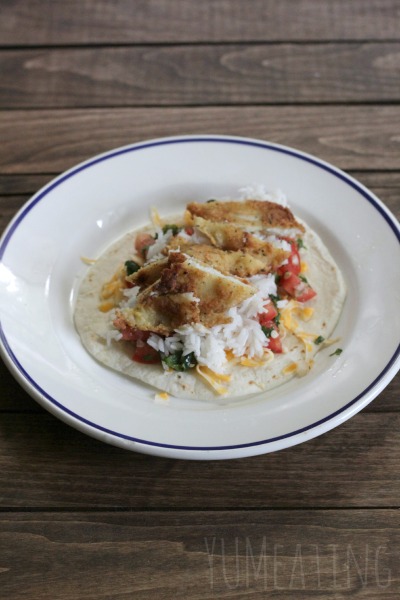 I held out as long as I could.
For years I have been seeing fish tacos circulating around the internet. Within the last year or so it seems there was s fish taco explosion. I just couldn't fathom the thought of having fish as a Mexican meal ingredient, much less have it on a taco. No, Sir. That was not for me.
Every time I saw a platter come near my table when Mr. Yum and I would eat out, I would turn up my nose. I mean, how could anyone put fish on a taco? The fish would mix with the hot sauce , lettuce, tomato, cheese, and beans. 
That just never sounded really yummy to me.
My weight and battling the PCOS have been a real huge force in my life this year. I don't know if it is because I am getting closer to 40 or that I am under way more stress than I ever have in life (combo of both?) but I have gained a considerable amount of weight this year. It really hasn't been fun to deal with. In more recent months I have considered weight loss surgery. My Drs. have suggested it numerous times over the last few years. Exercise is hard due to may pain issues. I try. And I keep trying. But, something has to give.
I guess that is me that has to give. Because WLS is costly, with, or without insurance, I have decided to look for ways to shave off calories and eat meals that we can all enjoy.
Mr. Yum whipped up these fish tacos and while I still wasn't sure. I have to give in. I mean–look at them.
I have to tell you though, I am not the biggest fan of breaded fish, I don't really care for it deep-fried either. I'll pass on the bread and sandwiches. I just enjoy a nice piece of fish, seasoned, with lemon, olive oil and baked or broiled. Pan fried can be ok as well. So, it was really hard for me to even get that first taco close to my lips.
No.
Just no.
Must not cave and bite into the fish taco craze.
So, what is the worst that could happen? I not like it? Well then, I will just pick the fish off and be on my way.
Easy enough right?
I kid you not when I tell you I had to really talk myself into eat this.
But I am not kidding when I tell you – it was aaaaahhhmaaazing. YUMtastic!
If Mr. Yum can make them the same way every time I'll be happy.
He is the recipe follower so his recipe came from AllRecipes (great site, right?) Although we did make some minor tweaks.
We didn't use any beer.
We traded the plain yogurt for Greek.
We swapped the mayo for the light version with olive oil.
No jalapeno pepper for us. Capers didn't make an appearance either.
There wasn't a quart of oil being used either. Say nadda to the cabbage. Say hello to lemon juice. Give a round of applaud for white rice!
Ok, so perhaps it is easy to say that he was inspired by this recipe.   (I guess I should have looked at the recipe before I started writing LOL I am wondering if Mr gave me the wrong one! Oh well…)
Have you tried fish tacos yet? What do you think?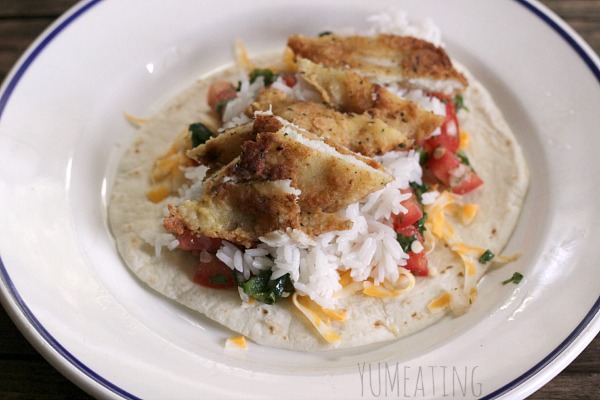 Oh-So-Easy Fish Tacos
This recipe was inspired/adapted from
Fish Tacos on All Recipes
. We left out quite a few ingredients and changed many others. I hope you will enjoy ours!
Ingredients
1

cup

flour

2

tbsp

cornstarch

1

tsp

baking powder

1

tsp

salt

1

tsp

pepper

2

eggs

1/2

cup

plain Greek yogurt

1/2

cup

light mayo with olive oil

1

lime

juiced

1

tsp

dried oregano

1/2

tsp

cumin

1/2

tsp

dill

dried

1

tsp

cayenne pepper

olive oil for light pan frying

1

pound

cod

8

small corn or flour tortillas

2

cups

spinach

chopped

1 to

mato

diced

1

cup

shredded colby-jack cheese

2

lemons

cut into wedges (8 pcs)

1

cup

white rice
Instructions
To make the batter:

In a large bowl combine the flour, cornstarch, baking powder, salt, pepper.

Use a fork to mix.

In another small dish, mix the eggs.

In a large skillet over low-medium heat, drizzle a little bit of olive oil.

Warm your pan.

As your pan warms take your fish and dunk it in the egg mixture. Then dunk into the dry mixture.

Be sure all sides are covered. Give a little shake so the excess falls off.

Add to your pan and turn on low.

Repeat the process until all the fish has been covered and placed in the pan.

Discard any unused mixture.

While the fish is cooking, prepare your sauce.

In a bowl combine the Greek yogurt, light mayo and fresh lime juice.

Use a spatula or spoon to blend.

Add the oregano, cumin, dill and cayenne.

Blend.

Set aside.

Fish does not take long to cook. If your low is too low you can turn it back up to low-medium. Flip every few minutes until you get a crispy crust.

In a pan, bring water and rice to boil and cook according to package directions.

I flip every 5 minutes and it takes about 15-20 total to cook depending on how think the cod was.

Once the fish is done, place on a dish covered with a paper towel. This will absorb the extra oil.

Allow to cool.

Warm your tortillas.

Chop the fish.

Spread sauce on tortilla, top with shredded cheese, spinach, tomato, rice (spoonful or two) and then the chopped cod. Take 1 lemon wedge and squeeze over your taco.

Repeat for the remaining 7 tacos.
These recipes were so light and tasty. Even though I don't eat a lot of white flour or white rice, I still use it in moderation. Too much of it doesn't help with the weight loss, causes my arthritis flair ups and gives me wicked stomach aches.
I'm really glad I finally took the leap of faith and jumped on the fish taco bandwagon.