Walnut Banana Bread with Hazelnut Rum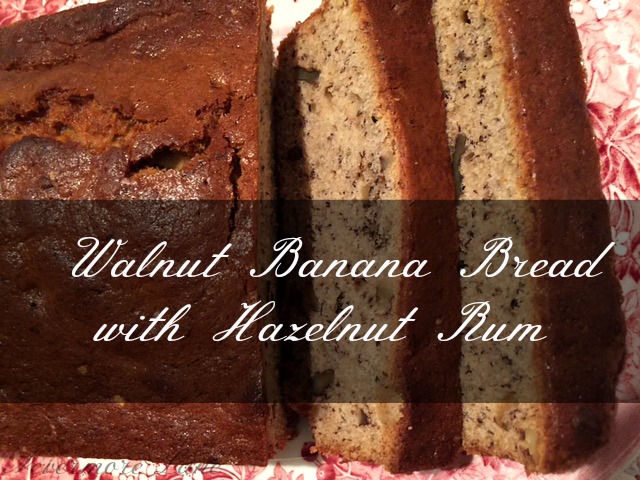 I'm boozey. I don't think that is any big secret. But, I am sort of snob when it comes to my booze. I'm a Guinness and Jameson's girl and I make no apologies for that. But, I looooooooooove trying new boozes, especially here in the great state of Michigan. (hey Portland, we're closing in on you for craft beer per capita 😉 ) Seems like every time I turn around another local craft beer, whiskey or wine is being bottled. There are days I roam down the isles … and I will be honest, I often pick items solely for their packaging. That's the artsy fartsy in me. I've found over the years other creatives do the same thing. Good. We need to start a darn club "Pick by the Label Anonymous." Maybe I need to work in a liquor store or as a bartender just to recruit members. 😉 Gaahhhh could you possibly imagine??
When I received the chance to try out Sugarland's Shine Hazelnut Rum I didn't bat an eyelash. Sssssuuuuuuuuurrrrrreeeeeeeee I'll test out your booze. Gimmmmmeeeeee 😉
I counted down the days until its arrival. I died when I opened the box.
Do you guys see how amazingly cute their packaging is?????  Sqqqquueeeeeeeeeeeeee  I'm a sucker for a good mason jar package, too !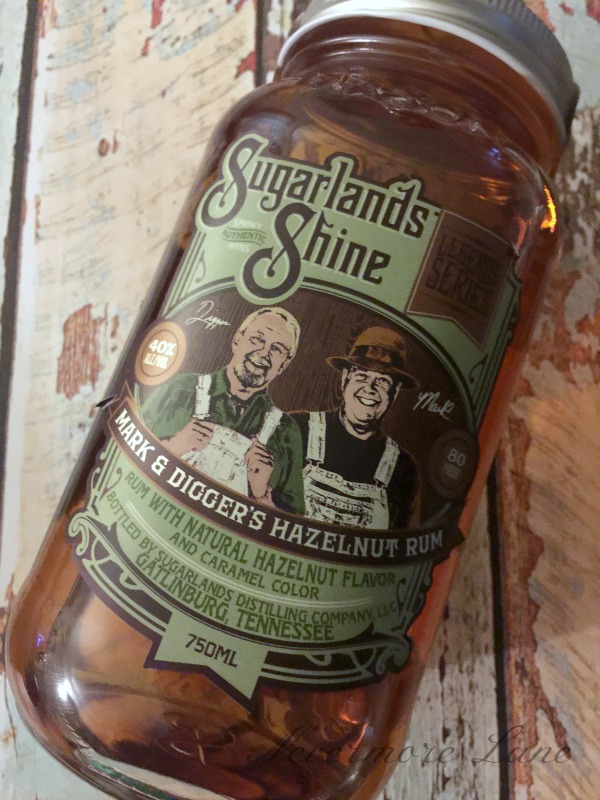 As soon as I popped it open I had to have a tiny sip. First though? Ohhhh yeahhh. Second? That would be good in coffee. I guess I know where my head is.  Of course, I immediately thought about making a rum cake with this, but that almost seemed to easy.  Then I thought about a banana cake and replacing the brandy, only, I didn't want a whole cake sitting here screaming my name.
Okay. Well, then. Banana bread??? Sure. I can do that.
I'm digging around on my site looking for the time(s) kiddo and I made banana bread….. still looking.. and looking some more. Check my hard drive for pics. Yep, they are there.  Back on website.
Guys, how is it that I NEVER posted any of those?????? *mad face* I was going to do that blogger thing where we share old, similar recipes with the new. Yah. Go, me.
All right. So for the sake of simplicity… Bourbon Banana Walnut Bread from Life Currents is the recipe I followed for the use of Sugarland's Shine Hazelnut Rum (I replaced the bourbon) and let me tell you, the hazelnut rum mixed with walnuts – yeah, its like that. A little happy dance in your mouth.
Bottoms up.

Let's talk about your favorite cooking booze and recipes. I want to hear all about them. Spill the beans in the comments.
Disclosure: I was given the product for free in order to facilitate my review and create my recipe. I am not being compensated for this post. Regardless, I only share products with my readers which I think you will enjoy and/or benefit from.