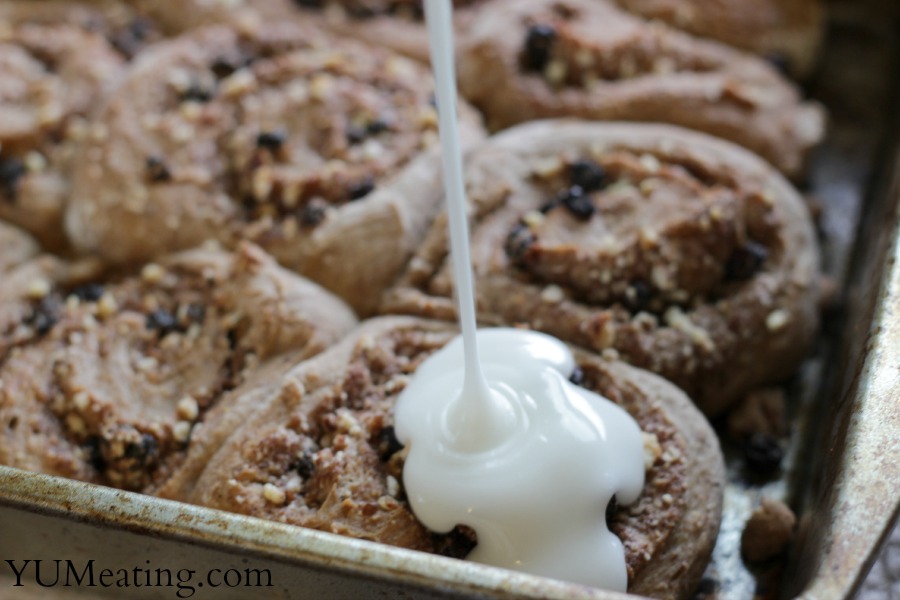 YUM was recently given a product called Mac-n-Mo's Morselicious Mix and this was the first recipe I created. Because I was so excited to bake something and I really wanted to make pumpkin cinnamon rolls, I didn't really pay a lot of attention to what I was doing. When I visited Mo's nutritional counseling site later that night, it was then I realized that maybe I had done wrong by making something with some added white and wheat flour.
I know for me personally white flour is not good but I am still trying to learn how to cook without it. 
However, I firmly believe for others, everything is OK in moderation.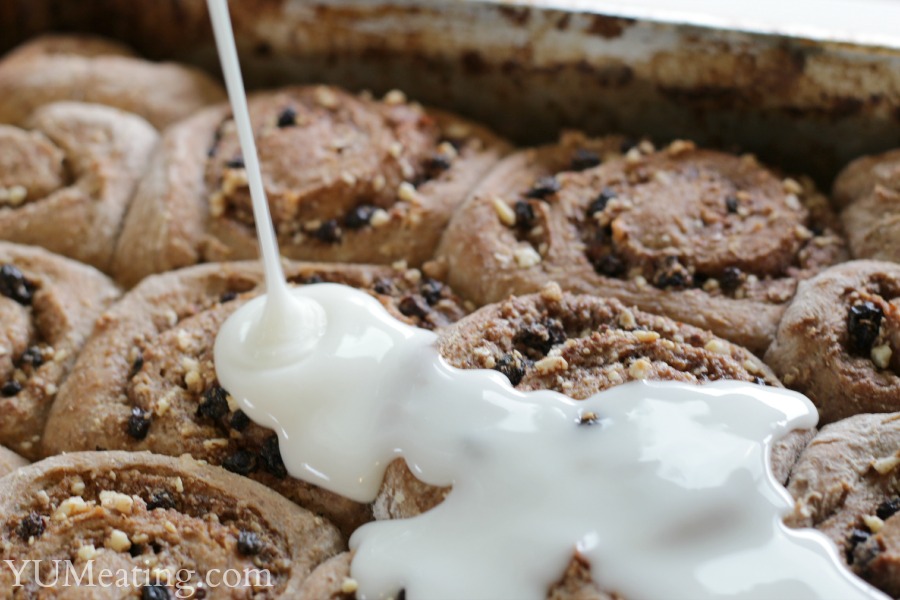 I did use Splenda in the "Sugar-Free Carob Chip Cookie" recipe and that wasn't the cleanest of choices because Splenda is artificial.  Maura had let me know that it was not her first choice and I totally understood where she was coming from. As I adopt a new, cleaner lifestyle I learn something new, but I also have issue with throwing things away. I'll be using the Splenda until it's gone and then I will be switching to Stevia for calorie free cooking and fruit, honey, maple syrup and other natural resources when I can. The Splenda is almost gone, I have purchase some organic dates, made in Michigan raw honey (OMG so good!), and made in Michigan maple syrup and I can't wait to get started on creating YUM things with them.
YUM is not a weight loss or diet site. If you want to follow my weight loss struggles head over to More to Life than Chocolate. I've been thinking about merging the two. We'll see.
It's not really a clean eating site. It' not Paleo/Primal or even low-carb. I do make things that fall into those categories. But, this site….well…it's just YUM eating. I may use ingredients that don't appeal to everyone. That's ok. Recipes can easily be adapted.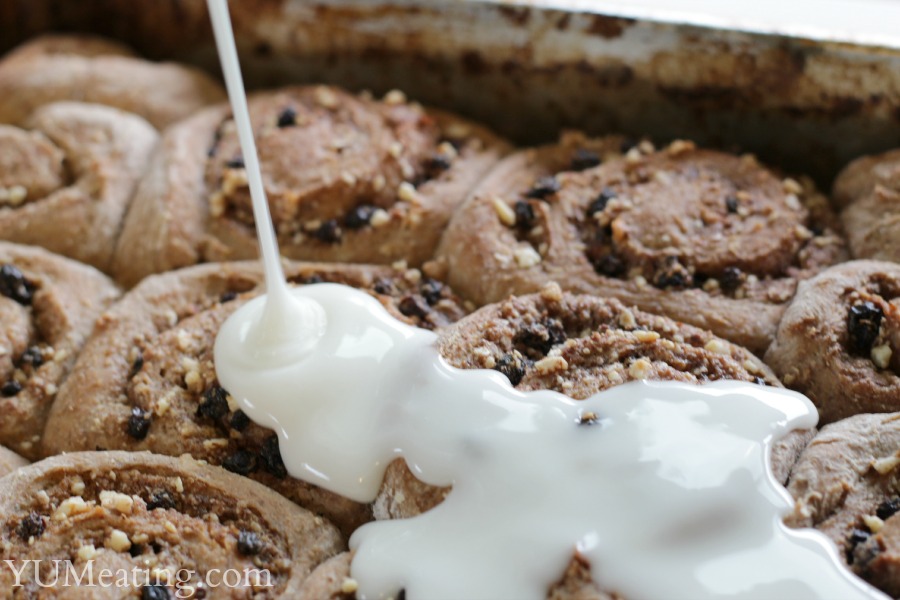 I debated about posting this recipe because there is white flour and whole grain wheat flour as well. Because of the PCOS I keep white flour out of my system as much as possible. I am only human and I am not perfect so it does pass my lips from time to time. Cooking with wheat flour and whole grains is new to me and I am making the transition as best as I know how. I do cook with almond flour and coconut but we are on an extremely limited budget and trying to bake everything with almond flour is just not possible. Flax is a lot cheaper but it's not very tasty in large doses.
Because these Pumpkin Cinnamon Rolls were simply delicious and I felt the spices in the Mac-n-Mo's Morscelicious Mix really added to the pumpkin so I am going to go ahead and post them. I feel that readers here at YUM know what foods work best for the meal plans they are following and know how to adapt recipes to suit their needs.  You can easily switch out the white flour for more Mo Mix, flax, almond, wheat, or other flours that better fit your way of eating.
While I am trying to eat clean because I want to stay away from prepacked and processed stuff, YUM is going to include different types of meals that may not always fall into different food categories for everyone else and thats ok. The white is due to my PCOS and its just a personal preference because it helps me manage it better.
My recipes are easily adaptable!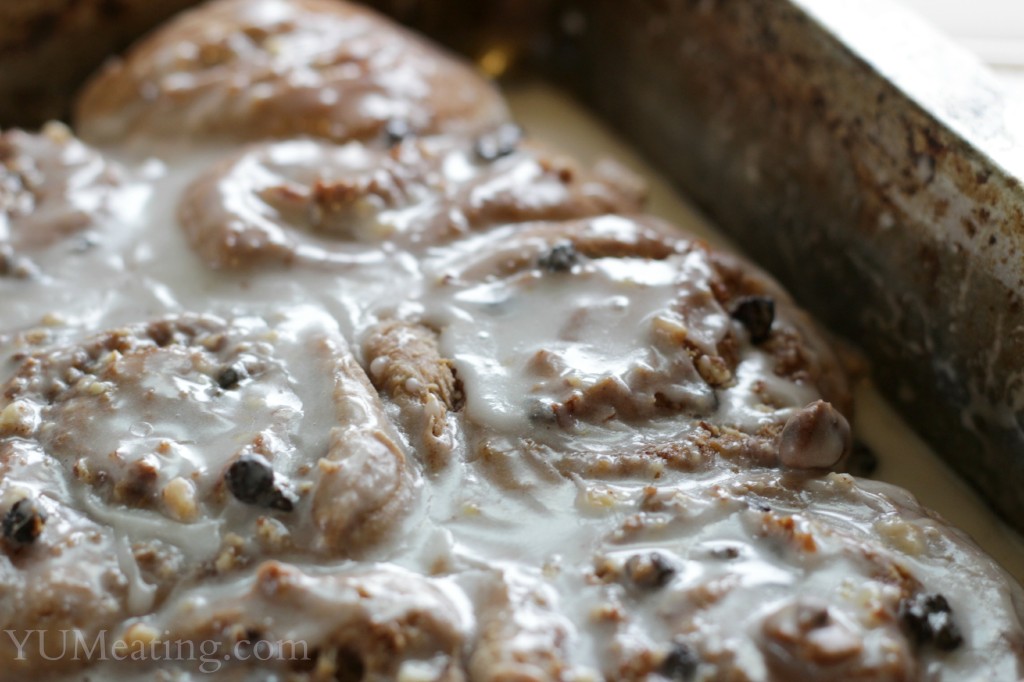 This recipe was adapted from a Pinterest recipe (yah, Pinterest win!)
I do know how to use protein powder in place of powdered sugar. That was something I learned years ago. I don't know what I was thinking *bangs head on desk* (Oh, wait…it was the 8 year-old, yeah..that's it.)
Huge warning – the glaze is not clean, nor is it sugar-free.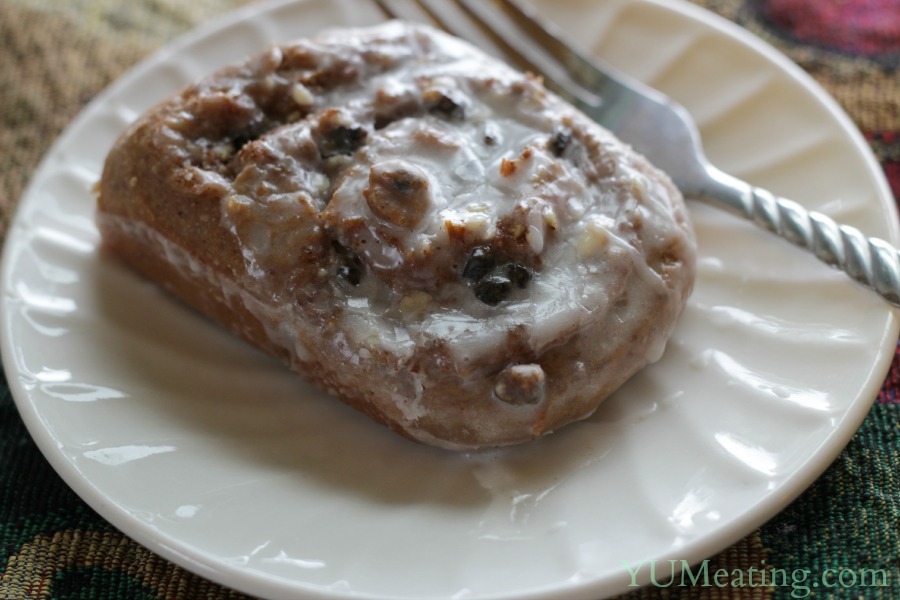 What I like is that as I make these recipes and I find others, I learn. When I make these pumpkin cinnamon rolls again I am going to try a wheat and flax version with the protein powder glaze. Unless I find a deal on almond powder. I tend to find them from time to time.
This recipe was made using my "Homemade Pumpkin Butter" but you can easily use canned pumpkin puree.
Pumpkin Cinnamon Rolls
Ingredients
1

package fast acting dry yeast

1

cup

white flour

1

cup

wheat

1 1/4

cup

Mac-n-Mo's Morselicious Mix

1

tsp

salt

1

tbsp

non calorie sweetener

2

tsp

nutmeg

3/4

cup

pumpkin butter

2/3

cup

almond milk

1

egg

1/2

cup

low or non calorie brown sugar or alternative

1

tsp

cinnamon

1/2

cup

chopped almond

1/2

cup

currants

4

tbsp

butter
Instructions
Preheat your oven to 350.

In one bowl combine yeast, white flour, wheat flour, Mo Mix, salt, sweetener, and nutmeg.

In a separate bowl mix pumpkin butter, almond milk, and egg. Blend together. Add to dry mixed and mix together until well blended.

Sprinkle your counter with some wheat flour and place dough mixture on counter. Knead the dough until you have a nice elastic dough and there is no remaining flour on your counter.

Place dough back in bowl and cover it with plastic wrap.

Set bowl in warm place and allow to rise for about an hour.

After about an hour your dough should look doubled in size.

While you are waiting for your dough to rise in another bowl combine your non/low calorie brown sugar (I used Splenda brown sugar for baking) or alternative, cinnamon, chopped almonds, and currents.

Melt your 4 tbsp of butter.

Once your dough has risen, sprinkle your counter with wheat flour again.

Transfer your dough to your work surface and roll it out to a rectangle.

Spread your melted butter on top of your dough.

Sprinkle with your brown sugar alternative mixture.

Roll your dough into a log the long way.

Cut rolls into even slices (I got 14).

Place slices on a greased baking sheet.

Loosely cover with plastic wrap.

Let rise for 45 minutes.

Rolls should double in size again.

Bake at 350 for 40 minutes.
Dessert Glaze
Recipe Type
:
Dessert Topping
Author:
Perfect topping for brownies, cakes, cinnamon rolls and donuts.
Ingredients
2 cups powdered sugar
5 tbsp skim milk.
Instructions
Mix ingredients and drizzle over your dessert.