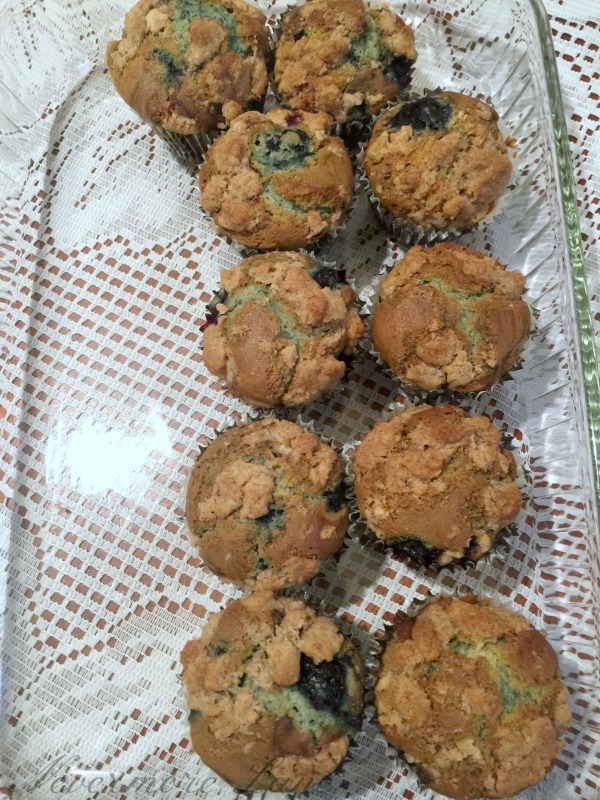 Hello May! How are you? So, Beltane/May Day just blew right on in here, didn't it? Mother's Day whizzed on by. Wow, nice to see you close-to-end-month! Next up – Memorial Day!
As you've noticed, my cooking and baking has been sporadic non existent since the big shift in my life. But, there has been a huge source of inspiration in my life that has given me many smiles lately. 
So, when you say "what can I get" and J says, "hey, I like blueberry muffins" you accept that as a challenge of your culinary ability and proceed to bake him the best damn blueberry muffins he's ever had. Because pre-made and box mix just won't do. 🙂
Sounds like #yumeating challenge accepted, right?
I'm going to be honest here. One of the biggest reasons I stopped cooking wasn't just the divorce, or where I moved to, or that even my mental health reared its ugly head and the pain issues were still being dealt with. The truth there is, I am feeling better now than I have in YEARS. I work out, I watch what I eat, the pounds are coming down and I am smiling a LOT more lately.
But, there is a problem with the kitchen. Mostly, the stove. It's gas. And there is no gas here. So, my mother has all these appliances and gadgets. And, while that worked fine for her being here by herself, for me moving in and trying to attempt to cook the way I am used to, it becomes a discombobulated mess!
So, I prepare quick meals for myself and just don't deal.
But, I really wanted to bake again and see if I could make something blueberry since it had been ages since I made a blueberry recipe.
Since I haven't baked in a while, and as I mentioned on the hitting the trails post, where I am isn't the most photogenic. So, I  hadn't really planned on taking photos. But, they turned out so good and I was so happy he enjoyed them, I thought I would share them with my fellow foodies. The pictures I did take were photos I was sending to him as I went. I shared them on a few social media outlets as well. They might not be on par for blogging, but I am okay with that; especially since I am coming back from hitting a blogging wall.
This recipe was inspired by a combination of two separate recipes:
I'm baking in a cast iron muffin pan so I really needed a recipe that was going to bake well in that. I also needed some sort of crumble topping because whats a blueberry muffin that is homemade without the crumble topping?
J was very clear that he needed to have plenty of blueberries. So, excuse me when I tell y'all that I used the WHOLE bag.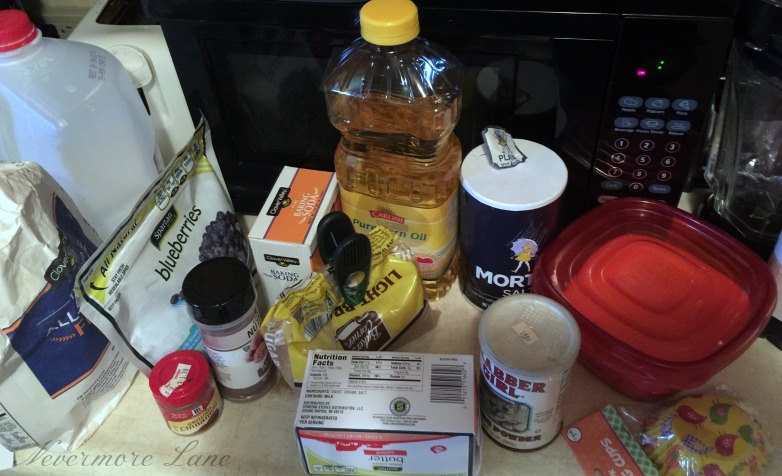 Ingredients. Because we need them. Now is a good time to mention that despite past healthy versions of recipes – there is NOTHING healthy about these.
You're going to need three bowls.
Two for the batter ….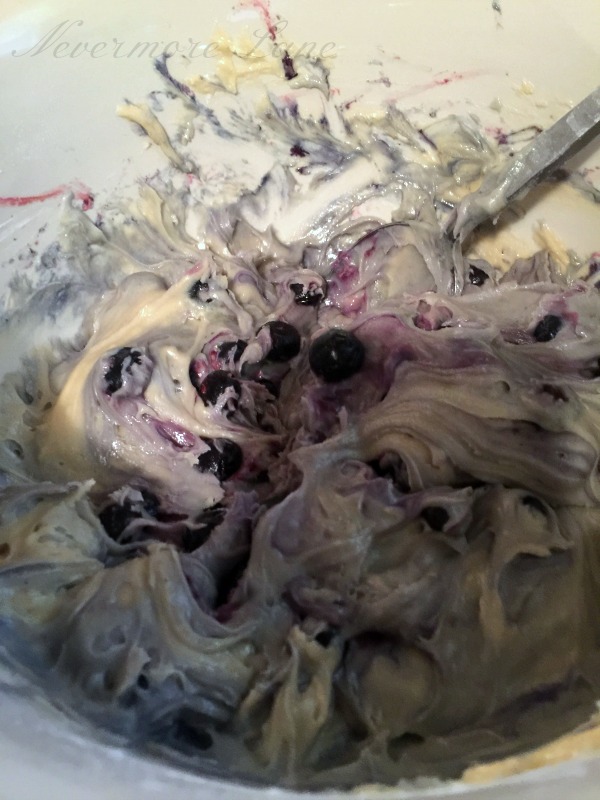 (after the whole bag was added)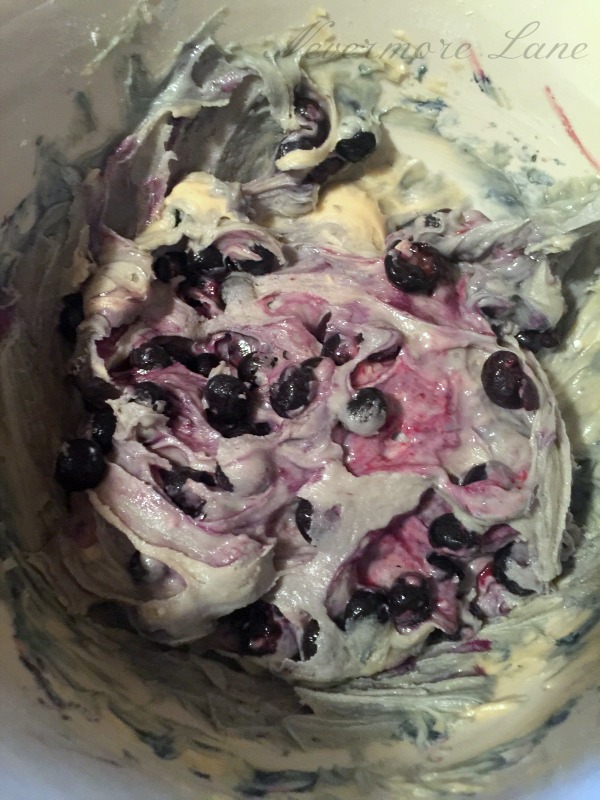 One for the crumble topping….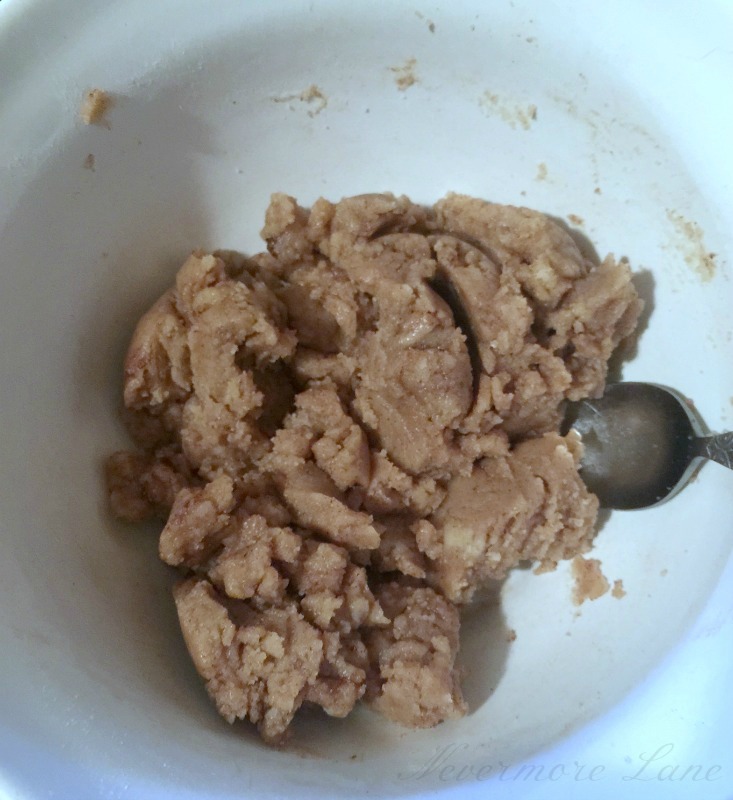 And then we do a thing.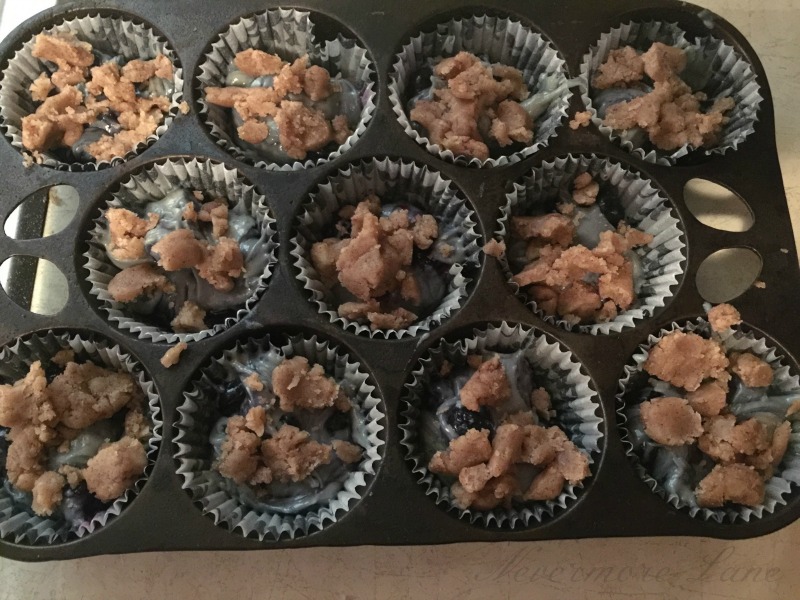 And then we have these.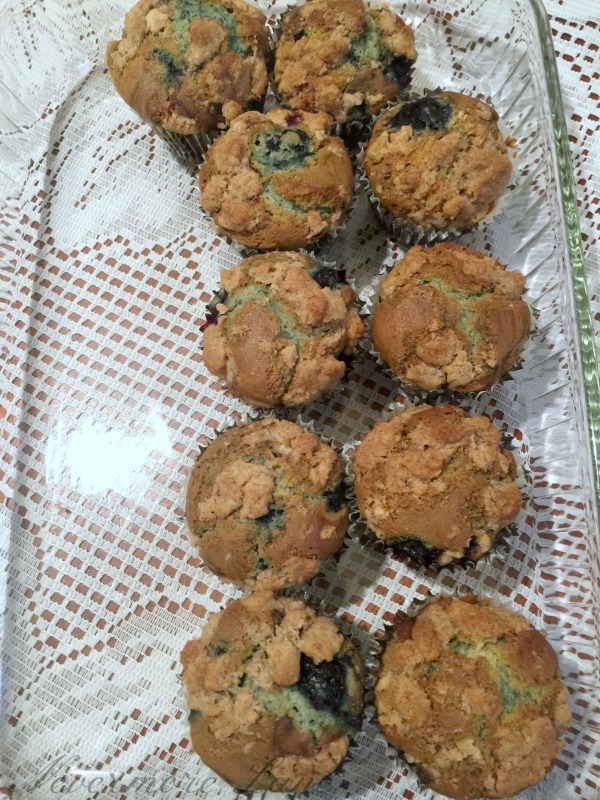 I ended up with 22 muffins. I tested one out of the first batch just to make sure they were actually edible. I had one the next day and my mother had one. So, 19 muffins leftover. J ate a few while he was here. And by I few, I mean like FIVE. Then I sent some home with him. Took him 2 days to go through them. I popped the rest in the freezer for another time, knowing I didn't need them tempting me. I took them with me the following week to meet up with him and he devoured the remaining.
Apparently my blueberry muffins were good. It made me smile quite a bit… it's been a while since I've fed someone. There is nothing quite like the feeling of knowing you made something that brought someone a bit of joy.
Cooking, it's just like riding a bike. You can take a break, but you'll never truly forget how it's done.
Extra Blueberry Muffin with Brown Sugar Crumble
This recipe is inspired by ZagLeft and Sweet Little Baker. This version calls for a cast iron muffin pan.
Ingredients
FOR THE MUFFINS

2

& ½ cups all-purpose flour

1

tbsp

baking powder

1

tsp

baking soda

½

tsp

salt

½

cup

unsalted butter

melted and cooled

1

cup

sugar

2

large eggs

1

cup

whole milk

1

tbsp

vanilla extract

4

cups

blueberries

fresh or frozen

FOR THE CRUMB TOPPING

1

cup

all-purpose flour

1/2

cup

brown sugar

1/4

cup

sugar

1

teaspoon

cinnamon

1

teaspoon

nutmeg

8

tablespoons

butter

melted
Instructions
Preheat oven to 425F.

NOTE: When cooking in a cast iron pan, you will need to watch/adjust your bake time just a little.

Personally, I prefer lining the cast iron muffin pan, but you can use oil, spray or butter.

Prepare the crumb topping by mixing all the ingredients together in a small bowl.

Set aside.

In a large bowl, whisk the flour, baking powder, baking soda and salt together.

Set aside.

In a medium bowl, whisk the melted butter with the sugar, eggs; mix.

Add the milk and vanilla.

Mix.

Add the wet ingredients to the dry and gently combine until moistened.

Fold in the blueberries.

Divide the batter into the muffin cups.

Top with the crumble and bake for 5 minutes at 425F,

After 5 minutes reduce the heat to 375F and bake for another 15 minutes.