Quick Meal: Fruit, Meat, Cheese, and Chocolate Tray with Wine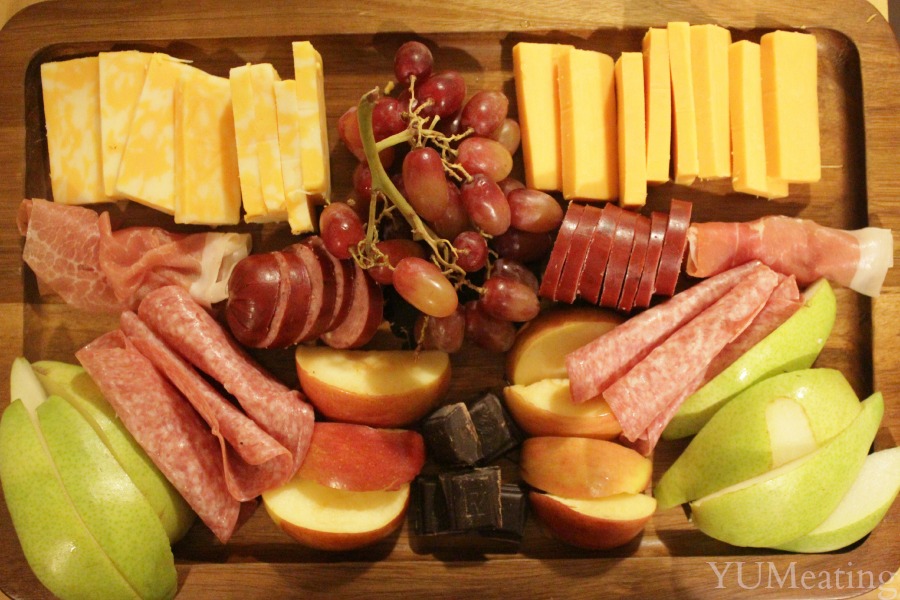 Hey, guess what?
I've got a secret for y'all.
I don't always feel like cooking.
I know. Shocker, right?
In all seriousness it's true. There are some days I just want to curl up on the couch and just collapse into a big ball and absorb whatever nonsense is on the television.
There are also some days where we actually get to have dinner at a normal hour and later in the evening we want a little snack.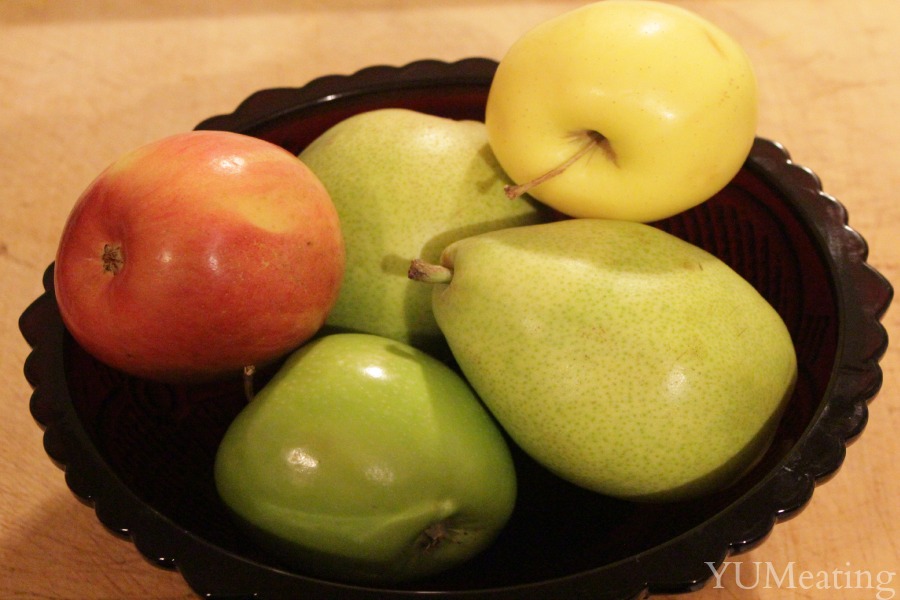 Whatever the reason, a simple meat and cheese tray can be a great meal in a pinch. It can also be a healthy option and fairly inexpensive if you catch things on sale and stay away from the fancy deli section of the supermarket. But, you can also make it fancy if you're going for something special.
Making a meat and cheese tray is one of my favorite meals. I start with a few simple pieces of fruit. Usually I end up tossing on the tray when I have on hand. Same goes for the meat and cheese. I tend to keep a variety in the fridge. For these two particular trays it had been a while since we had been able to sit down and relax due to schedules so I did purchase some fancy meats.
This meal is one I look forward to sharing with my husband because I know it's a night off from cooking, there is usually going to be some good conversation and we'll find a good movie to watch.  This past weeks mindless entertainment was We're the Millers. We snacked on this round tray. Nom. Nom.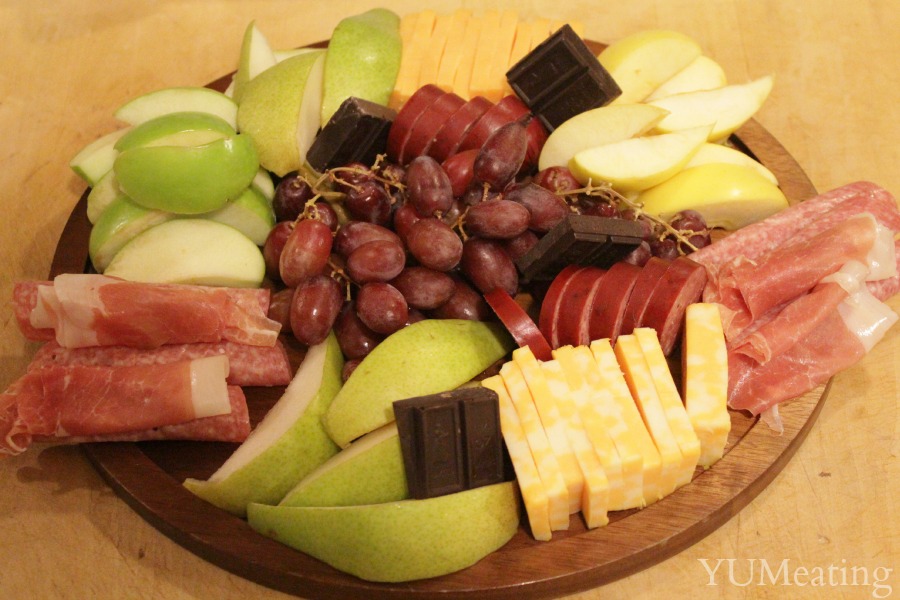 We don't buy expensive wines. I've only been consuming wine for a few years now and honestly, while I enjoy a glass here and there, I'm not on the up-and-up of the expensive stuff and honestly don't care. Some people get really hoity toity about their wine and that's just not me.  I think the most I ever paid for a bottle of wine was $12. On sale.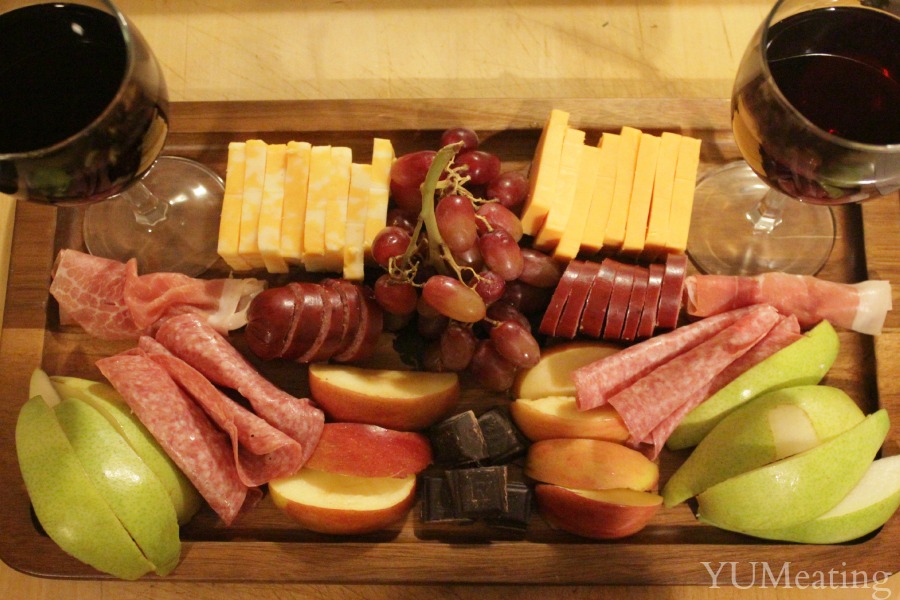 Having only been back in Michigan since 2007 (I spent 99% of my life in Oklahoma) I get homesick. But I have come to appreciate Michigan for the 'Made in Michigan' products and being able to enjoy all four seasons. Michigan is home to some beautiful wine country, one place being Traverse City. And trust me, if we could live there, we would. Which brings me to my wine.
My wine, based in the TC area is Leelanau Cellars Autumn Harvest. It was on sale for about $7.  The husband and I were able to go on a wine tour up there for our anniversary last year. It was such a wonderful experience. Their Winter White is fantastic. I bought a bottle for my MIL last year on our trip and gave it to her for Christmas.
The husband prefers his wine to be fu-fu. He is not a drinker so when he does drink it cannot taste like alcohol. We stick to fruity flavors when purchasing for him. His wine in this photo is Manischewitz Blackberry. I really enjoy this wine as well, but I prefer a dryer wine when eating dark chocolate and sweet fruits. When we have trays with less fruit I will opt for the sweeter wines.  I believe this wine was about $5.
There have been times when we did not have fruit on hand so we had carrots with vegi dip or hummus, celery with cream cheese, and sometimes I serve with crackers.
Tray items include:
Red seedless grapes
Michigan apples – Mackintosh, Granny Smith and Golden Delicious
D'anjou pears
Beef summer sausage
Old World hard salami
Old World prosciutto
Cheddar cheese
Colby-jack cheese
German dark chocolate
Do you serve tray meals in your home and if so, what items do they include?