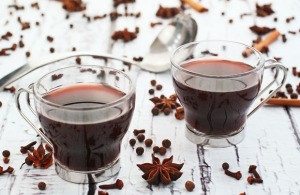 So far here in MI our winter has been fairly mild. I have seen a few sprinkles of white stuff, but no real accumulation. Pretty odd for this time of year. Even odder is that today is almost 50 degree and it's supposed to last until Tuesday when the temps drop and it looks like we might just get some rain, which will freeze overnight. Oh boy, oh boy! Maybe we'll have a white Christmas?
Speaking of Christmas, are you ready? For the most part, I am. This year I decide to do all my shopping online. We're not much in the holiday spirit this year; we didn't even put up our big tree. My mother-in-law sent over her little table top tree and we put it up. We're doing things old-fashioned with brown craft wrap and newspaper. It looks pretty cute so far and I am pretty happy about it. It's been nice to just relax a bit; at least when it comes to worry about decorations. We're going to have a good Christmas despite all that is going on in our little world right now.
And to help celebrate, and warm our insides, along with my sponsor Foodie.com, I've put together a collection of 15 warm winter drinks and cocktails that are sure to help everyone enjoy the holidays 😉 Perhaps some will help ring in the new year.
Please note: If you have an ad blocker on you will need to turn it off so you can see the beautiful photos in the slide show below.
Check out Warm-Me Up Winter Drinks & Cocktails

by Chrystal M. at Foodie.com
Some of the recipes include:
Slow Cooker Spiced Mulled Wine
Hot Buttered Rum Batter
Christmas Coffee Cocktail
Hot Peppermint Patty Cocktail Recipe
Hot Chocolate Martini
Hot Pumpkin Pie Cocktail
Hot Toddy with Bourbon
Hot Buttered Cocktail
Cafe Amore Warm Brandy Cocktail
Boulevardier Cocktail
and more!


Don't forget my Sriracha Mary.
What is your favorite holiday drink?
Disclosure: I am a part of Mode Media sponsor network and their Foodie.com channel. I am being compensated for my time and effort on this post. All picks and opinions are 100% my own.