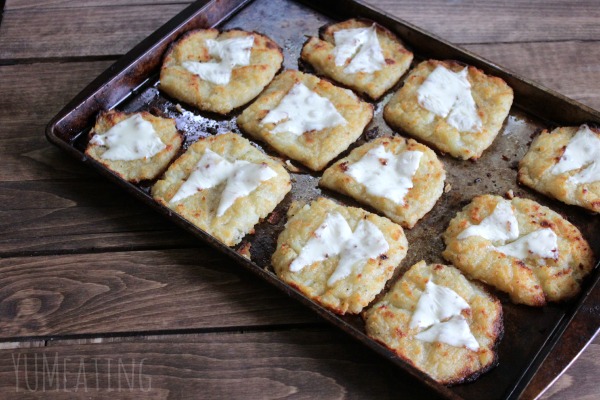 Hey, guess what?
I tried something new on my potato cakes.
"What are potato cakes?" you ask. Well I am happy to tell you.
Potato cakes are an Irish tradition to make use of the potatoes left over from the previous meals. Traditional Irish women were taught the ways of using every last piece of your meal from beginning to end. I come from a long line of those women. We always used everything we purchased. If we had leftovers we eat them. Even if that meant we had some sort of leftover pie, we ate them. I learned how to use skin and bones to make my own chicken stock for future use. Beef, too. Even used the leftover vegetable peals and ends and boiled those for vegetable stock. Apparently I come from a long line of women who also have a lot of time on their hands 😉 Kidding. I do the boiling when I am cooking another meal so it's really not such a big deal. 
I've made some potato cakes before on YUM eating, have you seen them? Here's where I made some bacon cakes and here's where I made some cheddar and chives.
Well these didn't turn out quite so pretty as those, but they were still pretty yummy. I'm not sure I am a big fan of the provolone because it did not seem to melt as good as the cheddar, but everyone else enjoyed them.
I made these from some leftover mashed potatoes and of course I keep a jar of bacon grease on hand. Then I made some patties. Before I put them in the oven I topped them with some 2% provolone cheese.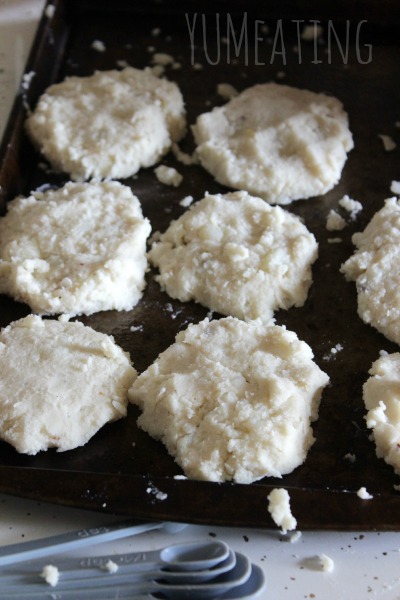 I think next on my list is bacon and blue cheese. YUMMM I love that combination.
Provolone Potato Cakes
Ingredients
1

cup

flour

1

tsp

salt

1

tsp

baking powder

2

cups

mashed potatoes

4

tbsp

bacon fat

4

slices

of provolone

2-3

green onions/chives

slices
Instructions
Preheat oven to 350.

Mix the flour, salt, and baking powder together.

Add the potatoes and mix ingredients.

Melt the bacon fat and pour in.

Knead lightly.

Add a little flour to your counter top so the dough doesn't stick.

Place dough on counter.

Divide dough into balls shape into patties.

Spray a baking sheet with nonstick cooking spray.

Place patties on baking sheet.

Use your knife to make the traditional criss-cross shape on the top. The Irish did this to bless their bread. It is also completely optional.

Bake for 25 minutes.

Break your provolone sliced into smaller pieces and place them on top of the potato cakes.

Place pan back in oven for another 5-10 minutes or until cheese is melted and potato cakes are a golden brown.
Are you ready to try potato cakes yet? What do you do with your leftover potatoes?