When the Husband is in the Kitchen we get Classic Tabbouleh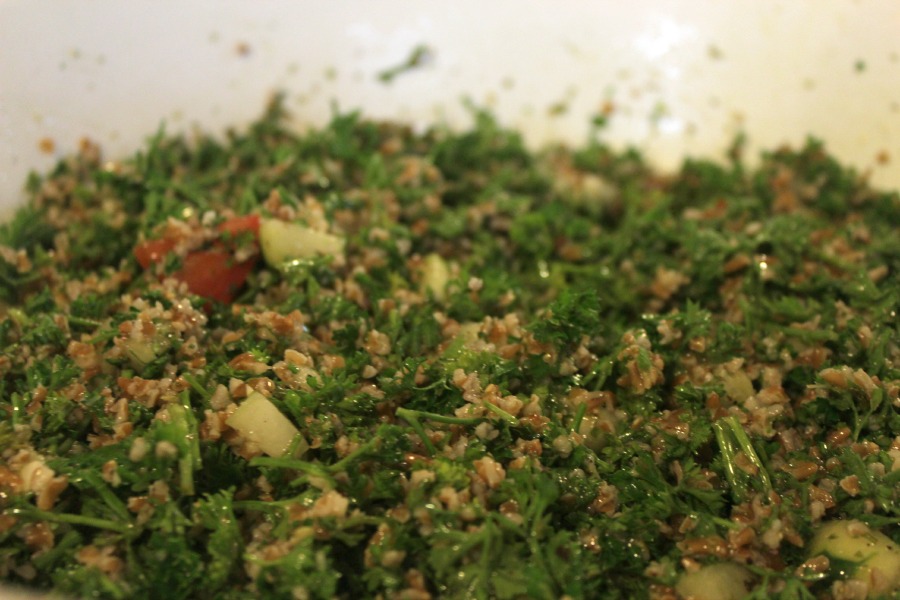 In case you haven't noticed I am a bit OCD about my kitchen. Everything has a place and I like things to be in a particular order. My cupboards, freezer out in the garage and fridge all have an order to them. I don't usually let the husband cook because he likes to cook everything on high heat and burn it. Ew. He also moves all my stuff. I would like to think I have taught him better over the years.
When it comes to making things that are simple like Vegetarian Grape Leaves and this Classic Tabbouleh, I know there is very little room for error.
Just like we have different styles to our cooking, we have a very different style when it comes to Tabbouleh. I like mine with a ton of tomato. He prefers his very green. I just cut up more tomato and add it to my bowl. What I like most about Tabbouleh is that it is very easy to eat and a nice break from a traditional dinner salad.
He follows the recipe for Classic Tabouli on About to the letter with the exception of fresh lemon juice, we use the bottle kind. For the bulgur we use Bob's Red Mill 100% Whole Grain Quick Cooking Bulgur Wheat. We've also made a Tabbouleh  where we 'riced' cauliflower to use in place of the bulgur. He took that to a pot luck party and everyone loved it. It's the only time I can get him to eat cauliflower.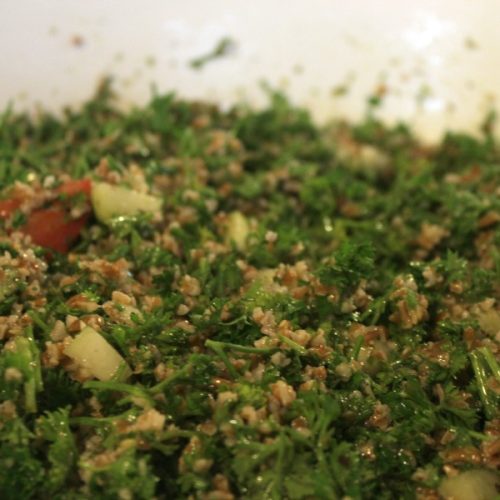 Classic Tabbouleh
Ingredients
Ingredients:

1

cup

100% whole grain quick cooking bulgur wheat

1

tsp.

salt

divided

1/3

cup

extra virgin olive oil

1/4

cup

lemon juice

1

clove

garlic

1/2

cup

fresh mint leaves

1/2

tsp.

freshly ground black pepper

1

bunch flat leaf parsley

4

roma tomatoes

1-2

cucumbers
Instructions
Put bulgur in a medium bowl and sprinkle with 1/2 tsp. salt.Cook according to package directions.

While the bulgur is cooking put olive oil, lemon juice, and garlic in a blender.

Add mint leaves, remaining 1/2 tsp. salt, and pepper.

Blend until mint leaves are mixed into the dressing everything is smooth.

Taste and adjust salt and pepper to your liking.

Chop parsley leaves.

Dice tomatoes.

Peal and dice cucumber(s).

Drain bulgar, if necessary.

Pour dressing mixture over the bulgar and toss to combine.

Mix well.

Add parsley and mix again. a

Add tomatoes and cucumber and stir to mix.

Serve immediately or cover and chill until ready to serve.
I enjoy a good Tabbouleh and it's an economical way to get your vegetables in!