'Beer Run' Guinness Cupcakes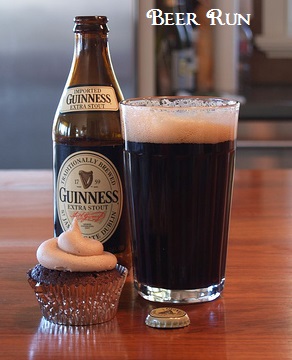 Today's post comes to you from Nicole Ramage over at I Heart Food. I've *known* Nicole  for a couple of years now, having met on a work from home / freelance writing forum and she makes some pretty amazing treats. When I told her it was chocolate week here at YUM and would she like to do a guest post I had no idea she would send over something so special it would knock me out of my office chair….. Guinness… I mean..helllooooo..remember my trip to "The Waltzing Weasel?" Yeah, I am a Guinness girl (It's the Irish in me). So I am totally thrilled to bring you 'Beer Run' Guinness cupcakes.
While Guinness Cupcakes may not be 'traditional' in the old fashioned Irish recipes, Guinness is very much a tradition and a staple in Irish cooking / drinking. So, I've included this recipe in my 'Traditional Irish" category.  I also feel these would make a great addition to any St. Patrick's Day celebration! YUM!
Enjoy.
~Chrystal
*****************
There is nothing more common when talking about alcoholic beverages than beer. Being a Portland native, seeing breweries and bars is nothing new as Portland has more of them within city limits than any other city in the world. For those beer lovers out there, this chocolate stout cupcake is great with a crushed pretzel topping whether you're enjoying a night at home, or watching the game with friends.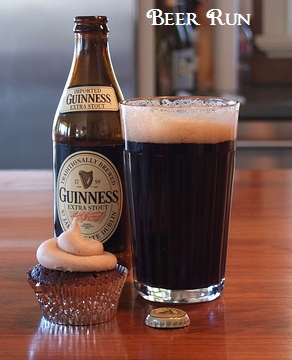 'Beer Run' Guinness Cupcakes
Ingredients
For the cupcake:

1 12

oz.

bottle stout beer

I love Guiness because it's strong.

1/2

cup

milk

1/2

cup

vegetable oil

1

tbs.

vanilla extract

2

tsp.

instant espresso granules dissolved in two teaspoons warm water

this gives your chocolate a stronger flavor

3

large eggs

3/4

cup

sour cream

3/4

cup

unsweetened dark cocoa powder

2

cups

sugar

2 1/2

cups

AP flour

1 1/2

tsp.

baking soda

For the frosting:

1 8-

oz.

package cream cheese

softened

¾

cup

heavy cream

1 1-

lb.

box powdered sugar
Instructions
Preheat oven to 350F. Line cupcake tin with baking papers and set aside.

In a large bowl, combine beer, milk, vegetable oil, espresso, and vanilla.

Beat in the eggs, one at a time, to guarantee that they all get broken up. Stop mixer and scrape down the sides of the bowl after each addition. Add the sour cream and thoroughly combined.

In another large bowl, sift together the flour, cocoa powder, sugar, and baking soda. Gradually add to the wet mix in one-cup increments, making sure to thoroughly combine between each addition. Note: Mix on low until thoroughly combined or you will wear more dry ingredients than end up in your batter.

Spoon the batter into the prepared tin. Fill 2/3 of the way full. Bake at 350 degrees for 18-20 minutes or until a toothpick in the center comes out clean.

While the cupcakes cool, prepare your frosting. In a medium bowl, beat the cream cheese until light and fluffy looking.

Gradually add in the heavy cream until all incorporated.

On low, slowly add the powdered sugar small amounts at a time until the whole pound is included. Make sure that there are no clumps and everything is thoroughly combined. Your frosting should have doubled in size and still look fluffy and light.

Top your cupcakes as you like. Frosting can be kept for a week, covered, in the fridge. Simple beat again when ready for use so that it's nice and fluffy again.

Crush a few pretzels to sprinkle as a topping if desired.
Nicole Ramage is a professional baker who specializes in cupcakes. Her first book 5 O'Clock Somewhere Cupcakes will be out exclusively on Amazon Kindle October 25. For more food fun, recipes, news you can use find her at I Heart Food.