Weelicious Lunches by Catherine McCord was a Hit!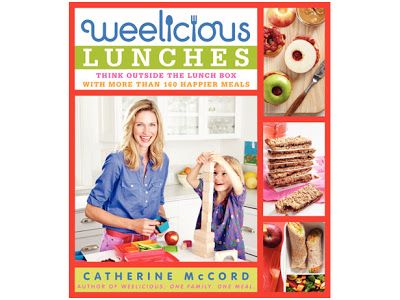 Now that YUM eating has finally gotten some posts under her belt and I have some scheduled, I can start to focus on creating some more great content.
On a whim I noticed in an email that Food Network was giving away Weelicious Lunches and I figured "what the heck" kiddo isn't here during the week, but their might be something fun in there that I can prepare for her for weekend lunches. Not that I honestly thought I would win.
So, I plugged in YUMs email and left my comment.
Imagine my surprise when I received an email a few days later stating I had one a copy!  Weelicious Lunches by Catherine McCord was on it's way to me.
This isn't a cheaply made cookbook either. It's heavy-duty, like knock it off the counter, drop it on your foot, oh my god you are going to scream kind of cookbook.
The recipes are SUPER simple and they aren't full of smancy-fancy ingredients that you have to drive all over looking for ingredients to feed your kids.
These recipes aren't just for kids either. I actually found a few that I would make for myself!
The photos are adorable and I really enjoyed reading through the book. There was a lot of useful information and storytelling.
Here is my disclosure. I got the book for free. I won it. I was not required to write a review, but I wanted to because I really liked the book.
UPDATE
Now that I have had this book for a few months, I thought I would show you one of the recipes kiddo and I created!