Love Fed : Spice of Life Shake
Disclaimer: I was given Love Fed for free to review. I am not being compensated for this post. All opinions are 100% mine. Book link is Amazon affiliate. If you click and make a purchase, I might make a few cents. 😉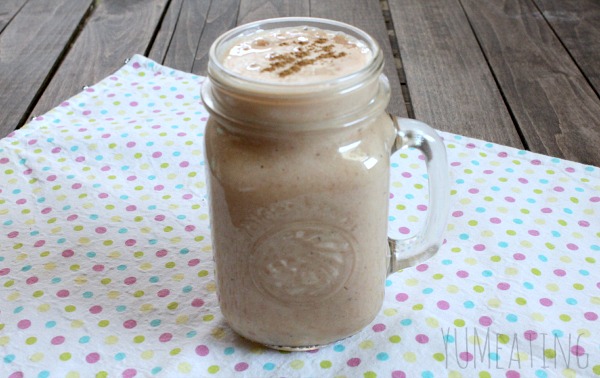 Welcome to a special Thirsty Thursday! Guys, I love raw food. Like love, love, love it. Melon, strawberries, blueberries, bananas, tomatoes, spinach, romaine and Boston lettuce and so much more. I believe that is where my love of gardening comes in. I recently mentioned I had started Weight Watchers so that I could reclaim my Lifetime status. One of the ways I made Lifetime was eating a more plant-based, vegetarian style of eating. I eat a lot of raw foods then but I had no idea about a 100% raw food diet until a few years ago when I was contacted by a company to copywrite some material on raw food diet. 
The whole raw food movement really fascinates me. I don't know if I could do it as I live in a winter state where prices skyrocket for fresh farm foods in the winter months and a lot of them are very hard to come by. I am however, interested in adding more raw foods to my diet. That is why I was thrilled when I saw Love Fed of the review block and was later contacted to see if I would like a copy of the book to review.
YOU BET I WOULD!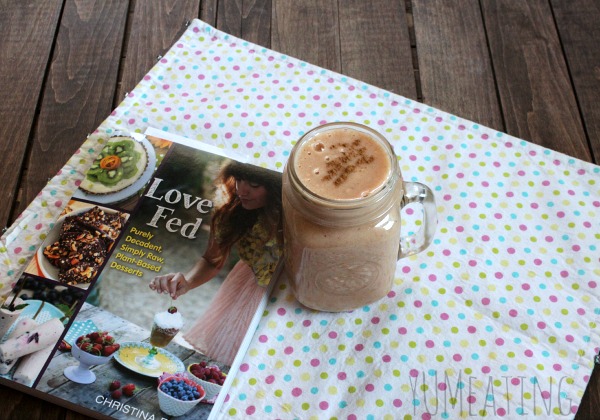 I love my cookbooks and I love the ones with good stories in them even more. While I was reading Love Fed on the iPad I just felt sad and wish I had the actual book. So, yeah, I kinda did a happy dance.
ummmm and for the record – not all raw food is raw. Some of it is cooked, but only to a certain temperature. So, it's not like its rabbit food 😉
There is just so much to read and enjoy in this book. I seriously have made a note to try just about everything in it. So many yums.
It took me a while to zero in on something to try for this post. I finally settled on the Spice of Life Shake. I picked this shake because I was intrigued by the ingredients. It has grapefruit in it. I've never done a juice or smoothie with grapefruit in it. I had one left, so I decided to get it done.
Per usual I didn't follow the recipe directions to the T. I didn't juice my grapefruit or lemons and I didn't use store-bought juice. Her recipe called for juice. I'm lazy I guess. I just peeled them and stuck the whole thing in the blender. Blender, not juicer. Plopped in my 2 frozen bananas, eyeballed the raw honey, added the vanilla, grated in some ginger (I like lots) and shook out the cinnamon. The concoction sounded gross to me too and as I sat there looking at it in the blender I had worried I had gotten myself in to a mess and it was going to go down the drain.
I took a sip.
Nope.
I had sads.
I tried again.
Hmm..that one was a little better.
Took another.
Once you get over that initial shock that its grapefruit AND lemon it does sort of grow on you.
By my third sip I was loving it and really sad when my glass and blender were empty.
It has a lot of zing and I loved all the health properties from each of the ingredients.
The honey and the vanilla gave this gem a WW PPV of 4. But you could use 1tbs of honey instead of 2 and replace that with some stevia if you would like. Honey and stevia aren't really considered raw (unless you're picking the stevia right off the plant yourself and using it. But, Christina does explain the use of honey in her book.)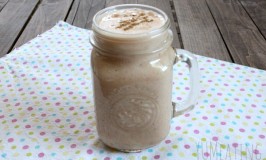 Love Fed : Spice of Life Shake
Adapted from Love Fed by Christina Ross
Ingredients
1

grapefruit

quartered and pealed

1

lemon

quartered and pealed

2

frozen bananas

2

tbsp

grated ginger + 1 tsp

2

tsp

cinnamon

divided

2

tbsp

raw honey

2

tsp

vanilla extract
Instructions
Put the grapefruit, lemon, both bananas, 2 tbsp ginger, 1 tsp cinnamon, 2 tbsp raw honey and 2tsp vanilla extract into a blender.

Blend on high.

Pour into a glass.

Garnish with 1 tsp ginger and 1 tsp cinnamon.
Here is sneak peek inside Love Fed as Christina has so graciously allowed reviewers to share a recipe right out of the book. Because it's March and I am still 'wearing the green' for Irish American Heritage Month, I thought it would be a lot of fun (and good health) for me to share her Frozen Coconut Key Lime "Cheese" Cake Bars.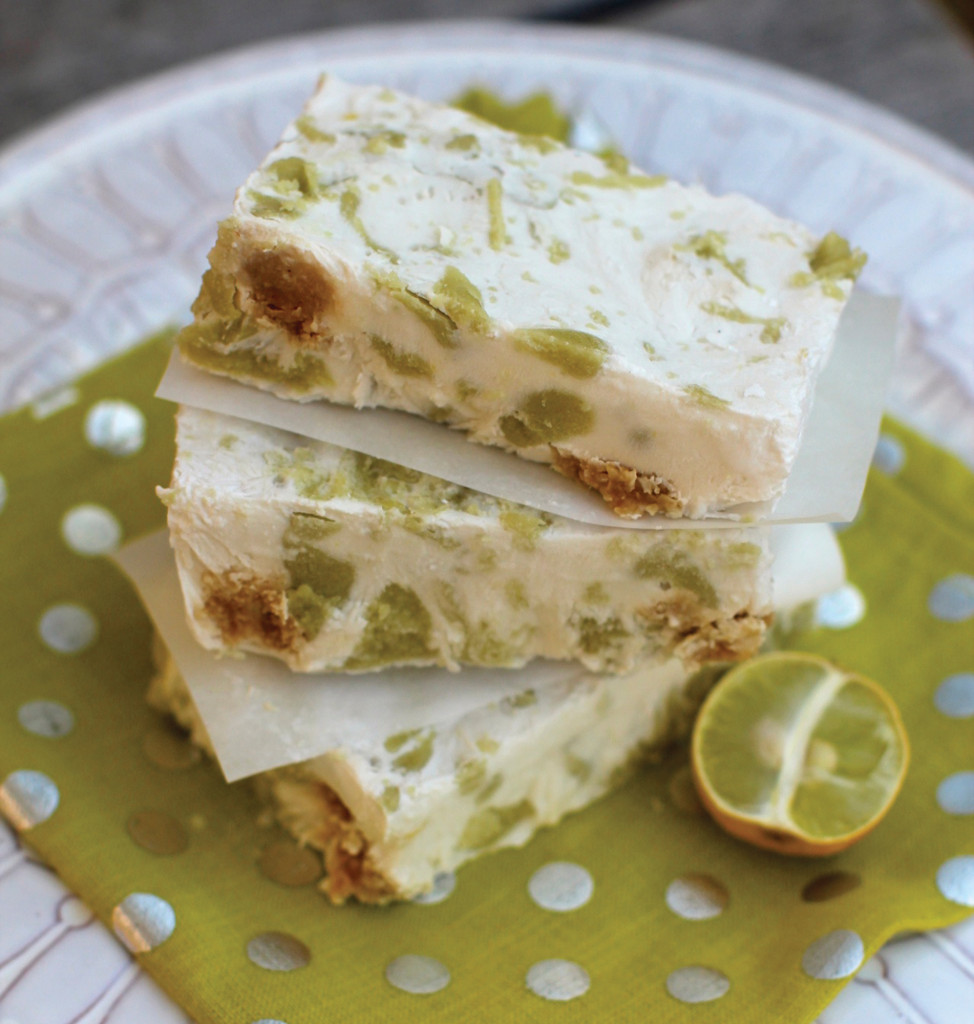 Frozen Coconut Key Lime "Cheese" Cake Bars
I spent many of my formative years in Florida, where Key limes are abundant. They are smaller and sweeter than the common limes sold in most markets. If you can't find them (but try to— they're very special!), a regular lime will do. This recipe also calls for agar agar, a natural gelatin derived from algae. It can usually be purchased where baking and cooking supplies are sold and, of course, can always be found online.
Ingredients
CHEESECAKE CRUMBLE

1

⁄4 c. cashews

1

tbsp.

coconut flakes

1

tbsp.

coconut nectar

1

⁄4 tsp. vanilla extract

1

⁄4 tsp. Key lime juice

COCONUT FILLING

2

c.

coconut cream

3

tbsp.

coconut nectar

1

tsp.

vanilla extract

Zest of 1 small Key lime

KEY LIME GELATIN

1

tbsp.

agar agar

1

⁄4 c. boiling water

1

⁄4 tsp. matcha powder

1

⁄4 c. melted coconut oil

2

tbsp.

Key lime juice

1

tbsp.

honey
Instructions
Line a 6x6" square pan with parchment paper.

To make the crumble: Place the cashews, coconut flakes, coconut nectar, vanilla extract, and Key lime juice in a food processor and process until the mixture sticks together. Set aside and make the filling.

To make the coconut filling: Whisk the coconut cream, coconut nectar, vanilla extract, and Key lime zest together in a medium bowl. Pour into the parchment-lined pan and spread evenly with an offset spatula. Make the Key lime gelatin.

To make the Key lime gelatin: In a small bowl, combine the agar agar with the boiling water. Stir until dissolved. Add the matcha powder, coconut oil, Key lime juice, and honey, stirring until well combined. Allow to thicken for a few minutes before assembling the cheesecake.

To assemble the cheesecake: Sprinkle the crumble pieces and gelatin mixture on top of the coconut filling in the pan. Some gelatin will remain on the surface while other parts will sink, creating a beautiful bar once cut. Place the pan in the freezer until the dessert is fully frozen, about 4–6 hours. Cut into six 6x1" bars and serve immediately or store in the freezer.
Be sure to grab your copy of Christina Ross's Love Fed – even if you aren't a raw foodie. There are some amazing desserts in here. I have a feeling I'll be experimenting all spring and summer!
 What your favorite raw food?