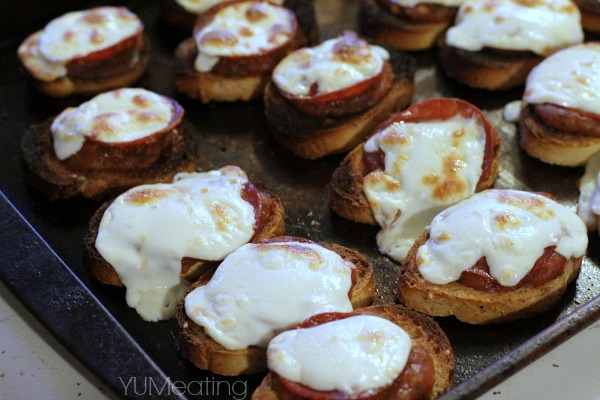 Hey y'all.
Phew. March really wore me out with all the Irish-American Heritage Month recipes and I missed out on National Nutrition Month. I can't believe it's already April! It should feel like spring, but, its pretty yucky outside here in MI. It's been cold, wet, muddy and rainy. There are still piles of snow in the cornfield behind me, but for the most part, my yard is snow free! Whoopeeee!
We're gathered together today to discuss cheese. mmmm cheese. I can't imagine my life without it. More specifically though we are here to discuss California Dairy and the wonderful creamy cheese I tried.
But first I must apologize for the delay. My first care package didn't arrive and by the time I figured out (real duh moment) it was not going to, I reached out the CA Dairy spokesperson who very promptly sent me a replacement. Sadly though I wasn't able to join the contest but I am still obligated to post my recipe and review, which I am more than happy to do! I want to thank everyone for being so understanding about my late post. However, as my luck would have it, I was unable to locate CA Dairy cheese at the 2 larger stores I have close by so I ended up using my gift card to order some CA Dairy cheese on Amazon.
Thank goodness for Amazon, right? I mean, we can find just about anything on Amazon!
My item was packed in a dry ice cooler so it arrived nice and fresh. No complaints there!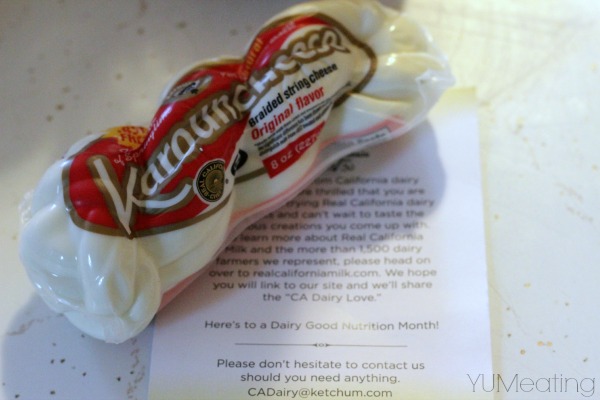 I decided to go with the Karoun brand because they had these really fun braided string cheeses. Mine was original flavor with part skim milk for that whole milk taste without all of the fat. 1 oz of the cheese had 80 calories and 6 gr. of fat. I am thrilled when I can find some great tasting cheese for under 100 calories a serving. The braids looked like so much fun. When the packaged arrived I pulled out one of the thin strings that had been braided around and looped around again. It was like a cooked spaghetti noodle. It was crazy and thinking about it now I should have taken a photo! It was way more fun to eat. Slurping like a little kid, thankful no one else was home.
Since I was a little stressed about the whole late card , not being able to find cheese, and lucking out on Amazon at the last-minute I was wondering what I was going to do with the cheese that would make a fun and healthy recipe. I really wanted to make a snack because I don't have a lot of snacks here on YUM eating.
I stood there with the refrigerator open and rummaged around for a minute before I shut the door. For a moment I felt as if my task was helpless. What was I going to do with this fun stringy cheese? It was so creamy so I knew it was going to melt great. And then I remembered I had some homemade sauce leftover from the homemade canned tomatoes we can up every year. Then, I had some turkey pepperoni leftover from the healthier pizza we created a few nights prior. Then, I pulled out a bag of leftover rye hoagies that the grocery store bakery had sliced and marked down to a whopping 50 cents. I purchased them the day before having no idea what I was going to do with them.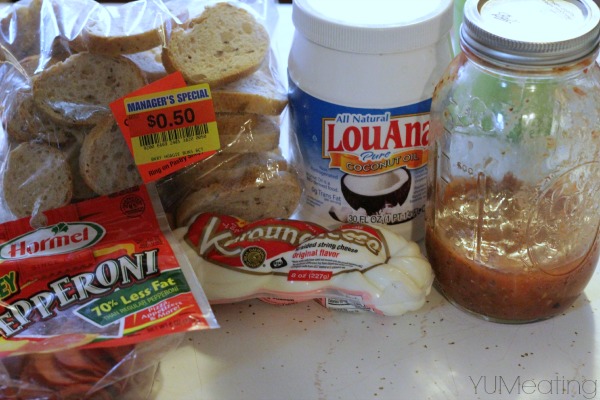 BAM!
I had my lightbulb moment. Healthy mini pizza bites. Rye bread is low glycemic and a better option than wheat and white according to my dietician. I'm ok with that since Rye is my favorite. So I put these little guys on a non stick baking sheet. I used a brush and brushed on a very thin layer of melted coconut oil.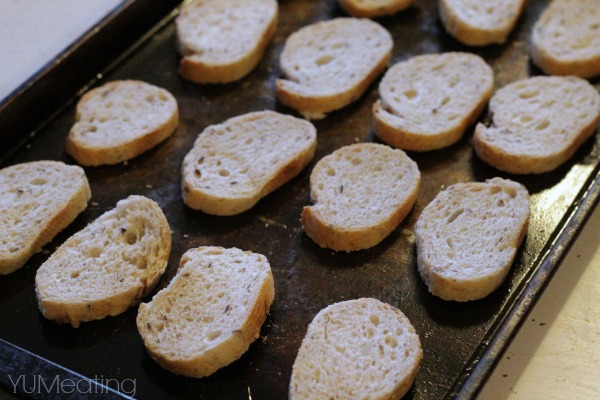 I put them in the oven for a few minutes to toast them a bit. Then, using a spoon I put on my sauce, followed by one piece of turkey pepperoni.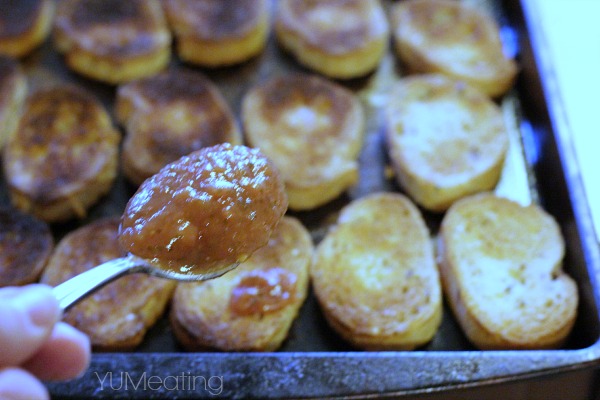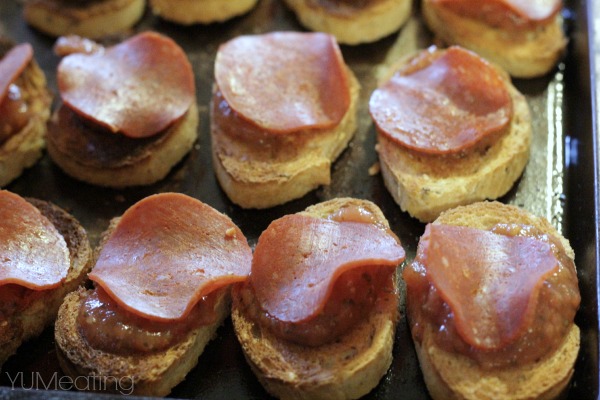 I sliced the braid of cheese. When it comes out of the package its like a braided log. I put a slice on top of each bite.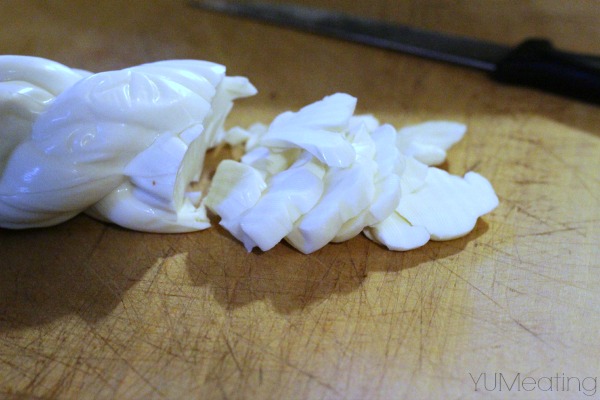 Topped with a little sprinkle of pepper, oregano and some garlic powder. Put the whole pan in the oven until the cheese melted.
Instant mini pizza's!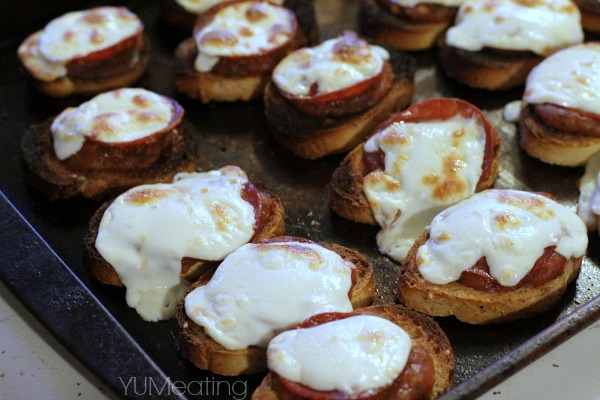 Since husband was working late, this made a nice dinner to snack on while I watched a movie. I had some leftover because despite their tiny size, they packed a lot of filling punch. They warmed up nicely the next day.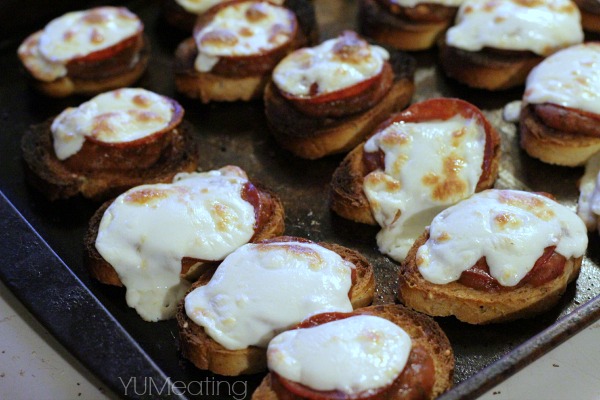 Healthy Mini Pizza Bites
Ingredients
1

log of California Dairy braided cheese

Karoun

2-3

rye hoagies

sliced

3

oz.

turkey pepperoni

3/4

cup

canned tomato

blended in food processor

1

tsp

coconut oil

garlic powder

oregano

pepper
Instructions
Preheat oven to 350.

On a non stick baking sheet place bread slices on tray.

Melt 1 tsp coconut oil.

Brush the coconut oil on the tops of the bread slices.

Bake for 2-3 minutes, or until the desired golden brown.

Take out of oven and set aside.

Using homemade canned tomatoes, pour in food processor with a dash of oregano, pepper, and garlic powder. Blend.

Using a spoon, place a small spoonful of sauce on toasted bread.

Top with a pepperoni.

Top with a slice of cheese.

Sprinkle with garlic powder, oregano and pepper.

Place in oven under oven broiler until cheese has melted.
If you enjoyed my recipe, please check out the other California Dairy creations from Recipe Redux members!
Disclosure: As part of Recipe Redux, from time to time we are given products to use in a recipe. I was given a gift card in order to purchase the California Dairy cheese mentioned here. All reviews, thoughts, ideas, photos and recipes are my own. For more information check out Real California Milk and the Dairy Council of California. To see more California Dairy recipes, check out #CADairyHealth