Gluten-Free Skinny Beer Dip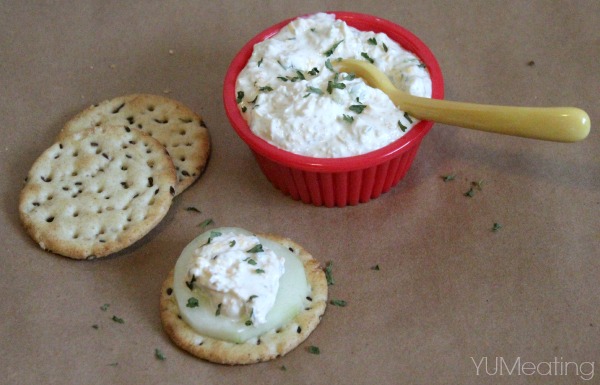 A few years ago I learned about this wonderful, yummy, dip called Beer Dip. When husband and I used to host MMA parties in our home, folks would bring treats to share. One time, our friend Becky brought this amazing pretzel dip that I just couldn't get enough of.
Where had this dip been hiding all my life?
Facebook was often declaring the eating of Becky's wonderful, but secret pretzel dip.  I can't tell you how many times I asked her for the recipe. I would taste it, "I taste cream cheese!" And she would say yes and carry on her conversation.
We stopped hosting MMA parties in our home and I eventually figured out the Beer Dip recipe. Now, I want to share a new version to honor Celiac Disease Awareness Month.
On a whim one day I decided to Google "pretzel beer dip" and was amazed that despite so many returns, majority of them were similar. That's good. That meant I could narrow down Becky's recipe without a hitch.
My first few attempts at Beer Drip I used Guinness because that is my ale of choice. Another few creations I would use whatever beer I had on hand. I've switched the recipe up, full fat cream cheese, light cream cheese and fat-free cream cheese. I've used various shredded cheeses, super sharp cheddar, mexican blend, mild cheddar and a mix of cheddar and mozzarella. Every variation produced a very different pop of flavor.
I've learned that I enjoy it with light cream cheese, super sharp cheddar and light cream cheese. Personally for me it's the perfect blend.
I don't limit it to pretzels. I use baked chips and vegetables as well.
When the Recipe Redux contest came through for these wonderful Breton gluten-free crackers, I knew I had to step away from the typical meat and cheese combination. However, the recipe had to be gluten-free. I personally don't have a lot of experience with gluten-free diets, so I was a little worried about creating a brand new recipe. I found myself on Sparkpeople's recipe site, SparkRecipe, for a little help.
Nothing was sparking me.
I thought about it for a couple of days. I looked over the boxes of crackers, even read the recipes that were on the box.
Still, nothing was interesting enough.
For some odd reason I thought about Beer Dip.  So, I started researching how or even if, I could make it gluten-free.
Beer isn't gluten-free although many of them have such a small amount that some folks can tolerate certain brands. So, I thought the idea was going to be out. I had planned to buy all of the ingredients and see if I could create a yummy cream cheese dip for the crackers. Something that would taste similar, without the beer.
I took kiddo to the store with me. We were roaming the aisles to search for our ingredients and that is when I decided to head down the booze isle. I'm sure kiddo was thrilled.
And then I saw it.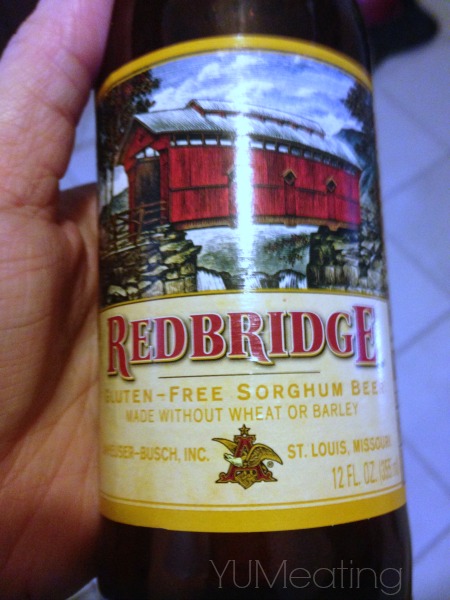 Gluten-Free Sorghum Beer. No wheat or barley.
So how does it taste?  Since I only needed 1/4 of a cup, I had a little extra to taste test.
Like Budweiser, which seems ideal since its made by Anheuser-Busch.
I also made this a skinny version of my regular Beer Dip because it is Recipe Redux after all, so I used light cream cheese and 2% cheddar. I also used plain Greek yogurt instead of using 2 blocks of cream cheese. This turned out to be the best Beer Dip I've ever made!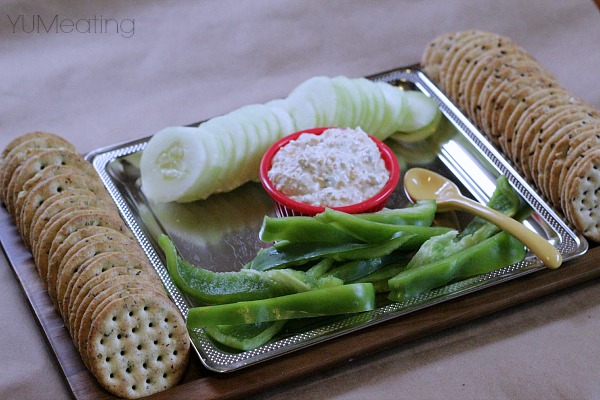 Gluten-Free Skinny Beer Dip is partnered with cucumbers, green peppers, Breton Gluten-Free Original with Flax crackers and Breton Gluten-Free Herb and Garlic crackers. I tried putting a cucumber on one of the crackers with a bit of the dip and found it to be pretty YUMtastic. It was even great with just a cucumber or green pepper.
Perfect for all your entertainment gatherings!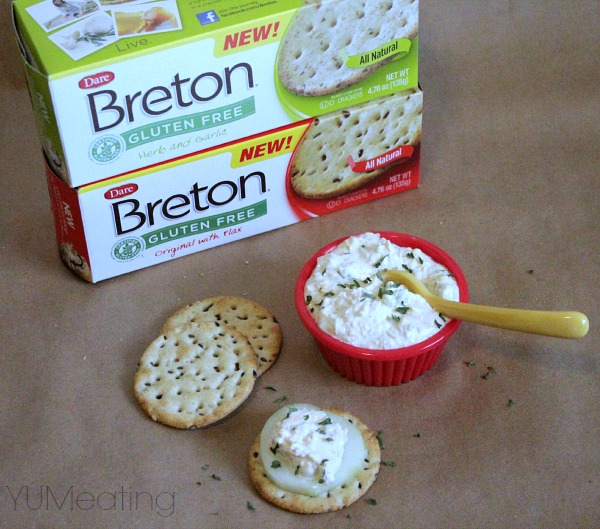 I've had Breton crackers in the past. I enjoy them for a nice wine night with a good meat, cheese, fruit and vegetable platter. I don't eat gluten-free, but have often wondered if I should. If you are worried about the taste of these crackers, don't be. They taste pretty much like the originals. The only thing I noticed is that they are a little more fragile. I loved the original with the added benefit of flax. The garlic and herb had nice flavoring, I only wish there was just a bit more of a garlic taste. I love that there is a gluten-free alternative to crackers. I don't suffer from Celiac disease, but I do tend to have a lot of internal issues as a result of some past medical problems. I have often wondered if going gluten-free would be a good choice for me, but worried about the cost of food alternatives. Now that I see there are plenty of alternatives for me, it might be something for me worth testing if it means I'll feel better and won't suffer from so much inflammation.
Just a thought for me to consider.
So, tell me, do the crackers and beer dip – all gluten-free, sound interesting to you?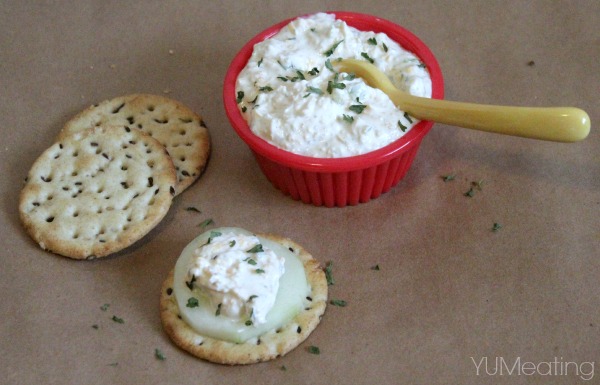 Gluten-Free Skinny Beer Dip
Ingredients
1

pack light cream cheese

1.5

cups

2% shredded cheese

1/4

cup

gluten- free beer

1/2

pack ranch dressing mix

1

tsp

salt free seasoning

1/2

cup

Greek plain yogurt

1

stalk green onion

finely chopped

2-3

tbsp

parsely

Breton Gluten Free Original with Flax crackers

1

cucumber

peeled and sliced

1

green pepper

sliced
Instructions
Combine all ingredients into a large bowl with lid.

Using a spatula, mix well.

Place lid on bowl and allow dip to set overnight.

Serve with Breton Gluten Free Original with Flax, sliced cucumbers and peppers.
I received free samples of Breton Gluten Free Original with Flax and Breton Gluten Free Herb and Garlic from Dare Foods Incorporated mentioned in this post. By posting this recipe I am entering a recipe contest sponsored by Dare Foods Incorporated and am eligible to win prizes associated with the contest. I was not compensated for my time, but all opinions and recipes are my own.
If you've got some time, feel free to browse through some of the other recipes in the Breton contest!