When the Weather Gets Cold – Have Tea!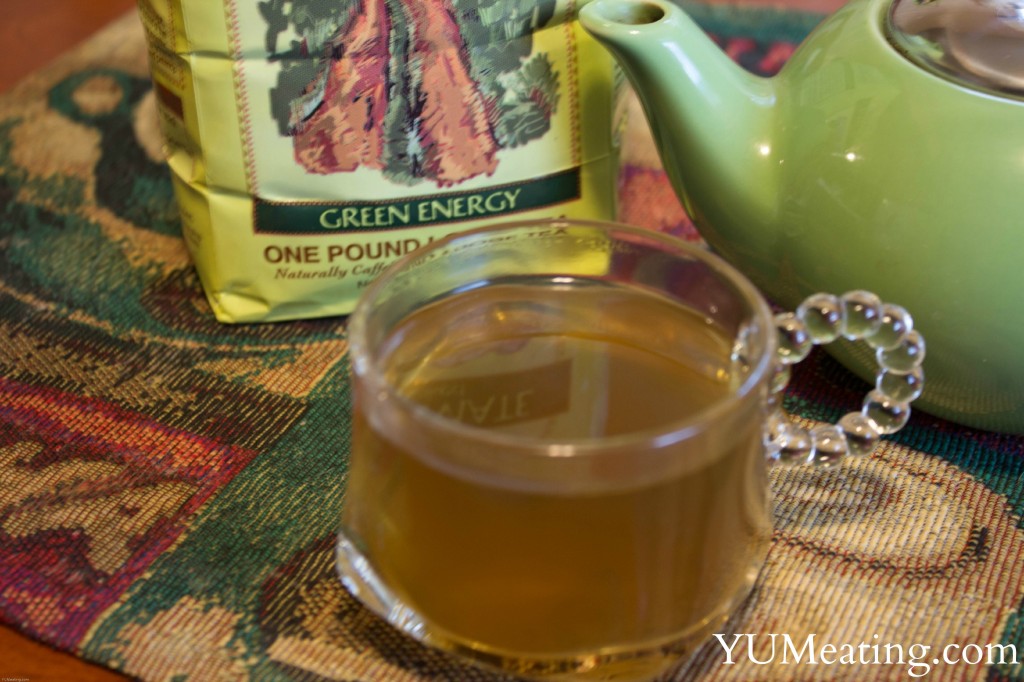 Me and tea go together like peas and carrots.  I'm not really sure where I get it from because I don't recall my mother being much of a hot tea drinker although I do have memories of my grandmother drinking it from time to time. While I don't intend for this to be a product review site, or even a restaurant review site, if I come across something I really enjoy I do want to take the time to write about it. Especially if it takes pretty pictures!
It was pretty chilly this morning and even though I had reviewed the Yerba Mate unsmoked Green Energy Tea from Eco Teas on YUMs sister site – More to Life than Chocolate – I decided to take some pretty pictures of this mornings tea because I had prepared it a little differently. Yesterday I used my fancy new mug from my mini vacation to Niagara Falls. Today I wanted to use my new crystal mug I found during some recent thrift store bargain shopping.
Today I added a few drops of lemon juice and some honey. I simple adore green tea and drink it year-round. This tea might just be my new treasure. I can't believe they sent me a whole pound! Yes, a whole pound of loose leaf tea. One would think it would last me the winter – but not the way I drink tea.  I love the fact that Eco Tea Yerba Mate Green Energy Tea is USDA Organic, pure leaf, and fair trade. I felt good drinking it and it warmed me right up.
When I saw this gem come through the request line for bloggers to drop their names in the Internet had to request a review I had hoped they would pick me. I was not disappointed by this product at all. As a previous Vitacost customer, I have yet to be disappointed.
The tea has a lot of health benefits and its full of vitamins and antioxidants. The green tea has a nice clean flavor with a smooth texture. My teapot has a built-in strainer. The only complaint is that the tea is very fine and the smaller pieces fall through the strainer leaving me with a few floaters in my pot and glass. There was no bitter aftertaste that one might often find with green tea. When the tea cools the taste was still clean and pleasing. Often when the temperature changes so does the flavor of the tea. This tea was still just as wonderful and I could see it making a nice brewed iced tea.
If you are a fan of green tea and looking for a little a product with a little energy boost at $7.89 for a whole pound – I give it 2 thumbs up. YUM recommends. (Also, if you shop through FatWallet you will get 4% cashback!)
Disclosure of Material Connection: I received this product for free  from Vitacost as part of a review program. I was not required to write a positive review. The opinions I have expressed are my own. I am disclosing this in accordance with the Federal Trade Commission's 16 CFR, Part 255: "Guides Concerning the Use of Endorsements and Testimonials in Advertising."