How I Won the War on Extremely Dry Skin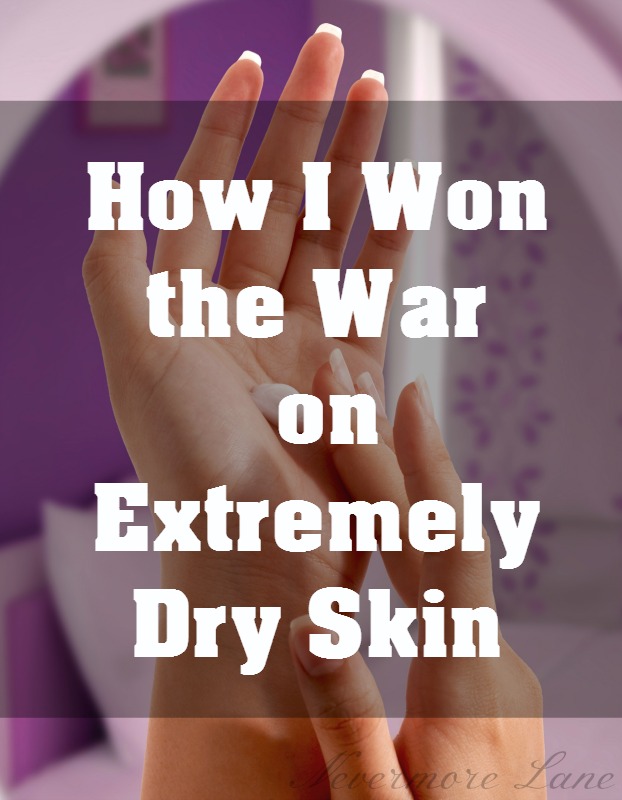 Raise your hand if you suffer from extremely dry skin year round. Okay. Of those people with their hands in the air, wave them around like you just don't care. Seriously. Do it. Okay. Stop. Hammer time. Okay, okay. Let's get serious. Those of you who raised your hand the first time and didn't put them down, I need to know how many of you also have sensitive skin.
Right. Me, too. And it's no cakewalk. I have to be careful of every lotion and potion, including bar soap, shower gels, laundry detergents, fabric softeners and even dish soaps.  The good thing is now that I am older, I know what works and what doesn't. It also helps that a lot of products these days are specially formulated for sensitive skin. The bad thing is, a lot of the sensitive skin products don't do such a good job of battling the extreme dry skin I suffer from. It is no joke when I tell you I have tried everything under the sun. While I do have a few brand products I consider my 'go-to' I am all about finding products that are more 'all-in-one' and simple instead of multiple products. I've seen commercials for the new lines of shower lotions and sat there in disbelief. It made no sense to me to use a lotion in a shower just so you can rinse it off. It made no sense to me to use a different brand after the shower while still wet so you can towel-dry it off. Nope, none at all. I honestly felt like I would just be wasting my money and still have to put some sort of oil or lotion potion on my skin.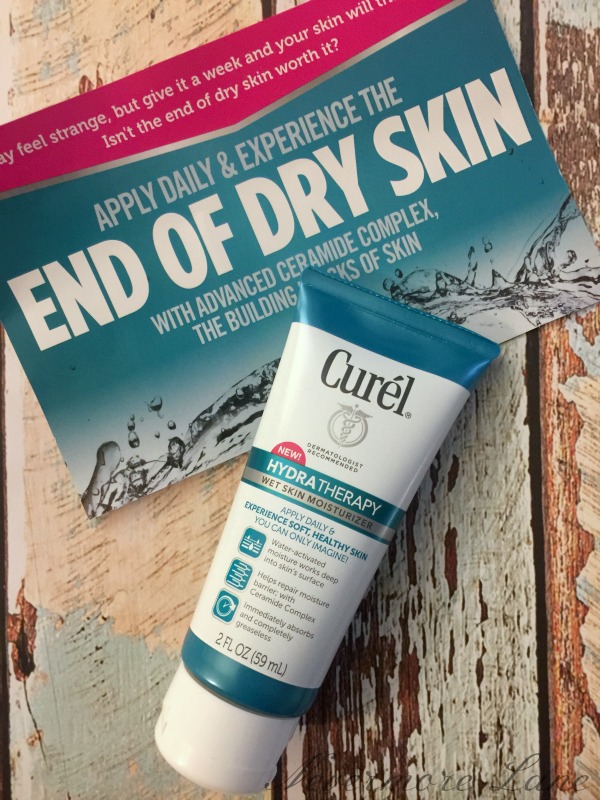 When Curél Hydra Therapy Wet Skin Moisturizer landed in my lap, honestly, I didn't have much hope.
But, let me tell you what happened.
Day 1 – I took my shower as usual. The minute I stepped out, I reached for my towel and dried off my face. I was about to dry off my body when I remembered I am not supposed to do that. I wasn't sure how this was going to turn out. First thing I noticed when I put Curél Hydra Therapy Wet Skin Moisturizer in my hand was that there was no smell – thankful for that. I started with my legs and worked my way up. A little seemed like it went a long way. Then, I towel dried as directed. More like towel patted. I was convinced this wasn't going to work, that I was going to have to put lotion on again later in the day. Happy to report, that was not needed on my body. I did have to put some on my hands and feet but that is likely due to all the abuse my hands take through the day with the contestant touching of things (like animals) and washing my hands.
Day 2 – When I woke up this morning, I didn't feel that tight itchy feeling on my legs that I usually have. When I went to change in to my workout clothes, I saw that my legs were not dry and scaly. I was pretty excited about that. Showered and applied the lotion again before towel drying.
Day 3 and beyond – smooth sailing from here on out. Once you do it a couple of times, you realize just how easy it is. It really wasn't too much different that my other routine, which consisted of putting on lotion or oil after I had towel dried. This one goes on before. And it lasts a heck of a lot longer. There is no funky smell and it doesn't feel heavy or sticky. Curél recently reached out to 40 bloggers ranging from age 16 to 55.  One of the questions was whether they had been in an embarrassing situation because of their dry skin and a whopping 75% said they had.
I've been there.

I want to hear all about your battle with dry skin (extreme or not) and what your oil, lotion or other potion routine is. EVERY person who comments will be entered into a contest for a chance to win a $100 Visa gift card!!
Entry Instructions:
No duplicate comments.
You may receive (2) total entries by selecting from the following entry methods:
1. Leave a comment in response to the sweepstakes prompt on this post
2. Tweet (public message) about this promotion; including exactly the following unique term in your tweet message: "#Sweeps" and "#SweepstakesEntry"; and leave the URL to that tweet in a comment on this post
3. Blog about this promotion, including a disclosure that you are receiving a sweepstakes entry in exchange for writing the blog post, and leave the URL to that post in a comment on this post
4. For those with no Twitter or blog, read the official rules to learn about an alternate form of entry.
This giveaway is open to US Residents age 18 or older (or nineteen (19) years of age or older in Alabama and Nebraska). Winners will be selected via random draw, and will be notified by e-mail. The notification email will come directly from BlogHer via the sweeps@blogher email address. You will have 2 business days to respond; otherwise a new winner will be selected.
The Official Rules are available here.
This sweepstakes runs from 3/2 – 3/31
Be sure to visit the brand page on BlogHer.com where you can read other bloggers' posts!
Disclosure: I was given Curél Hydra Therapy Wet Skin Moisturizer to use in order to facilitate this post as part of the BlogHer network. I am being compensated for my time. Regardless, I only share products with my readers that I firmly believe in, and let me tell you again, this stuff is amazing!