Vegetarian Cowboy Burger and Sriracha Blue Ranch Sweet Potato Fries #SpringIntoFlavor
This shop has been compensated by Collective Bias, Inc. and its advertiser. All opinions are mine alone. #SpringIntoFlavor #CollectiveBias
Eating healthy doesn't mean you have to cook every. single. thing. from scratch. I do, but that is because I enjoy it. But, sometimes I need something in a hurry. Those days when I don't feel like cooking. Those days when I just want to pop something in the oven and walk away.
You know….thoooooose days.
I've always been a fan of onion rings. But not just any ol' onion rings. Sonic onion rings. When I moved from OK here to MI back in 2007, they didn't have any Sonic up here. I was so bummed. Where was I going to get my tater tot and onion rings from? I don't eat a lot of fast food, but sometimes a girl just needs a diet cherry limeade with extra cherries and a side of rings or tots. I pouted for a few years, but they finally got one that was about 45 minutes away. You can sure bet I was there for grand opening weekend. Now that I have one in my own town, I stop by maybe 3 times a year.
I've tried multiple times over the years to make faux fried onions rings. Weight Watcher recipes from meetings when I attended, low carb recipes with almond and/or coconut power and/or flax. While they weren't horrible, they just weren't quite right.
Then I discovered Alexia at WalMart and my whole world changed.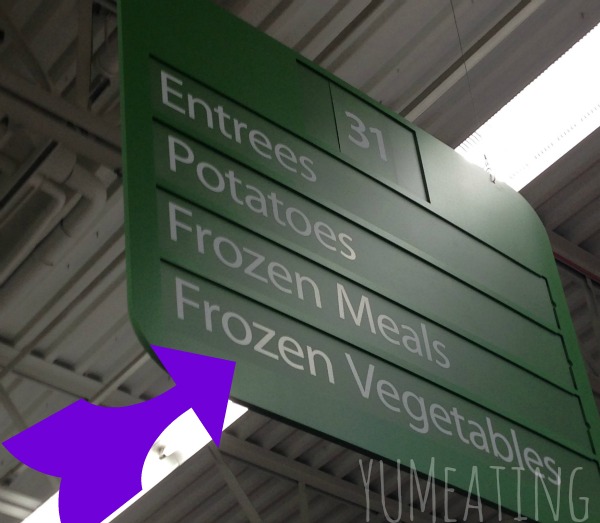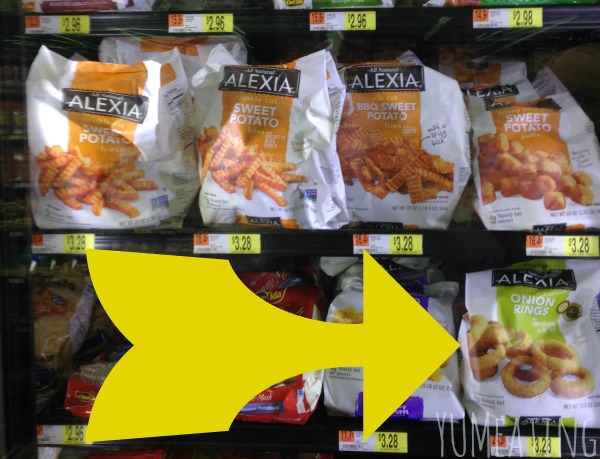 Not only did I grab these Alexia crispy onion rings but I also grabbed some Alexia sweet potato fries. The sweet potato fries came in crinkle cut with black pepper and sea salt and then Julienne fries with sea salt. I opted for the Sweet Potato Fries with Sea Salt. Since Mr. Yum is not a fan of sweet potatoes (although he did have sweet potato pie for the first time during the holidays and enjoyed it) so I grabbed some Alexia Smart Classic 98% fat-free crinkle cut fries with sea salt for him. Since he is also trying to watch his weight, it was perfect for him knowing they were only 100 calories per serving.
Once I got the onion rings home I could not wait to give them a try. So, I got my oven ready, dumped these all natural onion rings on a baking sheet and popped them in the oven. While those were going I started to create my low carb vegan cowboy burger.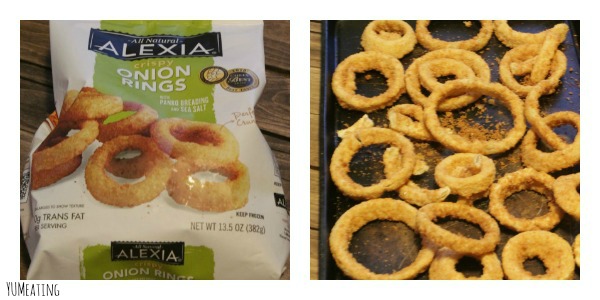 Note: Feel free to swap out my burger choice with yours.
Low Carb Cowboy Burger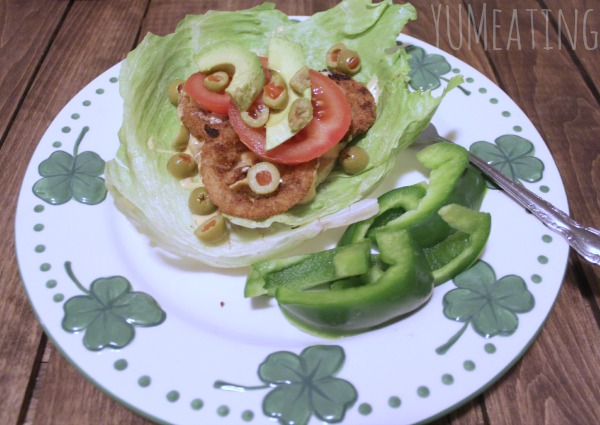 Vegetarian Cowboy Burger
Ingredients
1

vegetarian 'burger' patty

2-3

romaine lettuce leaves

2-3

slices

of tomato

1

tbsp

light ranch dressing

1

tsp

hot sauce

2

thin slices avocado

2

onion rings

3-4

green olives

sliced

sliced green peppers

optional
Instructions
Prepare your onion rings per package directions.

Prepare your vegetarian burger per recipe and/or instructions.

In a small dish with a lid combine the light ranch and hot sauce.

Stir well and set aside.

Arrange two lettuce leaves on your plate and then put the 3rd right in the middle so it overlaps.

When your 'burger' is done place it on top of the middle piece of lettuce.

Add the ranch & hot sauce mixture.

Only add enough to your taste and then put the rest in the fridge for future use.

Top with the tomato, avocado, olives and onion rings.

If you like you can fold the two lettuce sides over top of the insides and secure with a toothpick.

Eat with a fork and serve with a side of sliced green peppers.
 WW PPV: 7
Let me tell you — these Alexia onion rings are aaahhhmazing. They have a nice flavor, aren't super high in batter carbs, and they bake up nice and crisp.
Two yum thumbs up.
Now. Here's another scenario. You've made the perfect sandwich or grilled some chicken and now you need a side.  Am I right? Those of you who are not following a low carb diet, but just a general healthy lifestyle, then you're going to be happy with these Alexia Sweet Potato fries with Sea Salt. They cook up nice and crisp just like those onion rings did.
My fascination with sweet potatoes goes back to childhood. Sweet potatoes were more than regular potatoes so when my mother bought them, it was a treat. I always enjoyed mine baked with just a little bit of butter and a pinch of brown sugar. I've never really been a fan of sweet potato casseroles or most dishes. Too much sugar and get out of here with those marshmallows! 😉 But bring me a sweet potato pie and I am in heaven. It's right up there with pumpkin for me.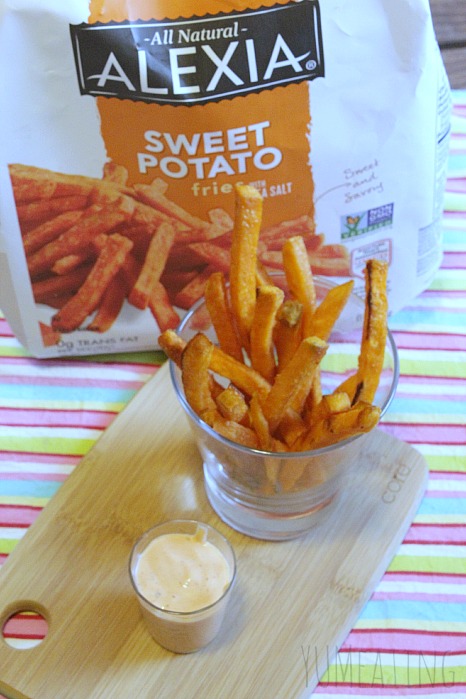 These fries changed everything. Not only are they affordable, but I get the whole bag to myself. However, I'm not eating the whole bag. I counted out exactly 12. Yes, 12. And that was more than enough.
Sriracha Blue Ranch Sweet Potato Fries
One thing I love is the taste of hot stuff (like hot wings) paired with blue cheese. Now that I am making an honest effort to clean up my eats and get the weight down, I am thinking of ways I can get that flavor without the deep-fried wings, butter and mounds of blue cheese. I've been experimenting with different flavors and I felt the creamy cool ranch with the robust blue cheese paired with the spicy Sriracha would make the perfect dipping sauce for these Alexia sweet potato fries.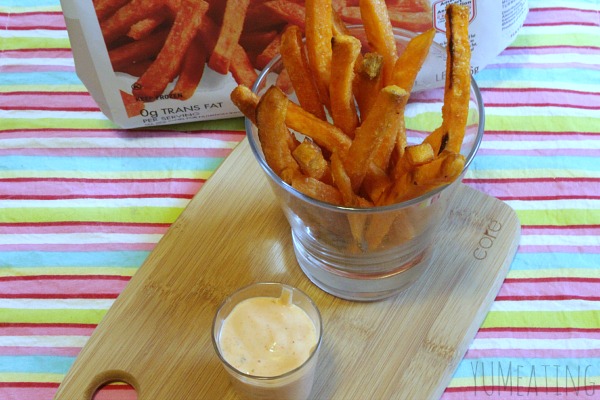 I wasn't wrong.
Sriracha Blue Ranch Sweet Potato Fries
Author:
Ingredients
30 sweet potato fries
1 tbsp blue cheese dressing
1 tbsp light ranch dressing
1 tsp Sriracha
Instructions
Preheat your oven according to sweet potato fries package directions.
In a small dish combine the blue cheese, light ranch and Sriracha sauce.
Mix well.
When you fries are done, dip away.
 WWPPV: 3
I'm so happy I spotted these Alexia products when I was roaming down the freezer section at WalMart. I'm thrilled that they are all-natural, Non GMO certified and endorsed by the American Heart Association. I can actually feel good about eating a prepackaged product. Zero- guilt there and in the healthy eating for weight loss department.
Score!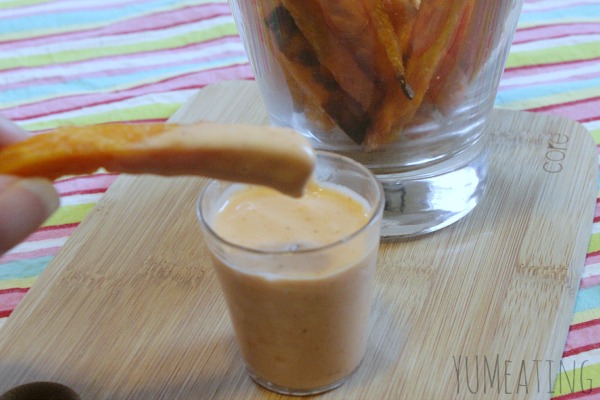 Ready to create your own recipes with Alexia all natural products? Check out Spring in to Flavor for more tasty recipes. You can also follow Alexia on Facebook or check out more great eats on their Pinterest.
I'd love to hear about your recent healthy score lately or discuss  your favorite way to enjoy sweet potatoes. Sound off in the comments below.