Snowed-In in Traverse City, Michigan
The best part about taking time off from blogging? Taking those days off. No blogging. No writing. Not dealing with electronic gadgets other than taking photos. You know what the worst part about taking so many whole days off? No blogging.  No writing. Not dealing with electronic gadgets. Since I am self-employed, there is no one at the office who is going to pick up the slack for my absense. Instead, it is all sitting there, piled on my desk, waiting for my return. Even better, the fact that as a blogger/writer I never really turn 'off.' My head is always spinning with ideas for blog posts, fiction and poetry.  So it has taken me some time to get this post together because I had to dig myself out of the mountain of tasks that had to be done. 
I am used to it though. I've been writing for so long I don't know a life without it.
So, Mr. Yum and I went to Traverse City, Michigan for the Winter Comedy Arts Festival, Yeti Fest, Valentine's Weekend and Fifty Shades of Grey opening day.
We left that Thursday morning. We had worried about the weather since it snowed a bit here the day before. We've been pretty fortunate this winter season to not get much snow where I am. I watched the weather for up north and it was scattered snow showers. We figured we were safe taking the 2 1/2 hour drive. We stopped at McDonald's for coffee and breakfast. He got the steak mcmuffin, I had the oatmeal. That oatmeal is really tasty.
It was a beautiful drive; until we pulled in to down. Literally. It was snowing once we crossed into city limits.
We were able to check into our room even though we were early. Found out YetiFest 2015 was postponed this year. Eddie and Betty the Yeti decided to head home to Mount Morenchi for some family time. They'll be back next year. So, that festival was out.
Once we got settled in our room I pulled out my iPhone and immediately started to Yelp local eats. Traverse City isn't a very big town, but its a tourist town with a lot of festivals, big hotels, fancy restaurants and more; which is all surrounded by water. We've traveled to TC a few times and every time we have a list of places we want to eat, but forget half of them by the time we travel again.
[Tweet "That's the sad life of a #foodie. You just want to eat all the eats. "]
It was still snowing and blowing in off the water. It was actually quite beautiful despite being cold and a down right pain in the ass.

We headed up the road to Michigan Grill. What once used to be a diner was now this sweet trendy fusion style food place. You'd never know it by looking at it. I am glad Yelp told me it was good. It's still listed as Bay Town Kitchen, so that's initially what we were looking for.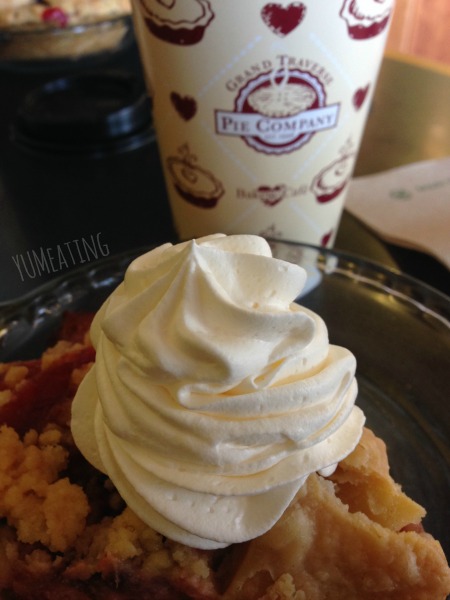 Not too long after we  stopped at Grand Traverse Pie co for Cherry Coffee and our favorite pie. Cherry for him, Crumble Strawberry Rhubarb for me. Delish.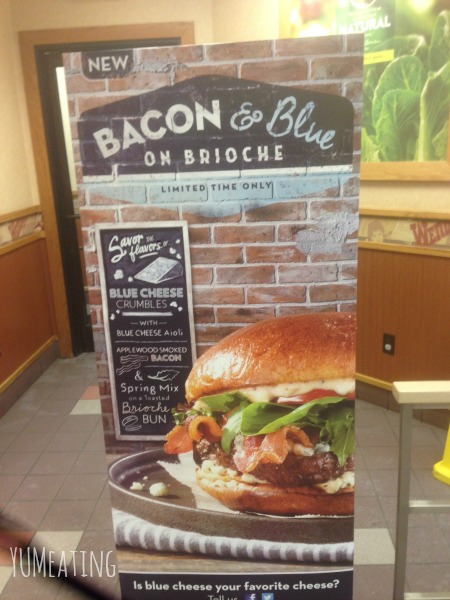 Dinner was late and ended up being Wendy's which was right across the hotel parking lot. I know. I'm living the high life, right?
Friday the 13th
Breakfast was at Bob Evans. We slept late and didn't make it in time for the free breakfast the hotel offered. Bob's was right next door.
It snowed. Yah.  (Did you know that people up here in MI tend to leave their windshield wipers up so they don't freeze to the window?)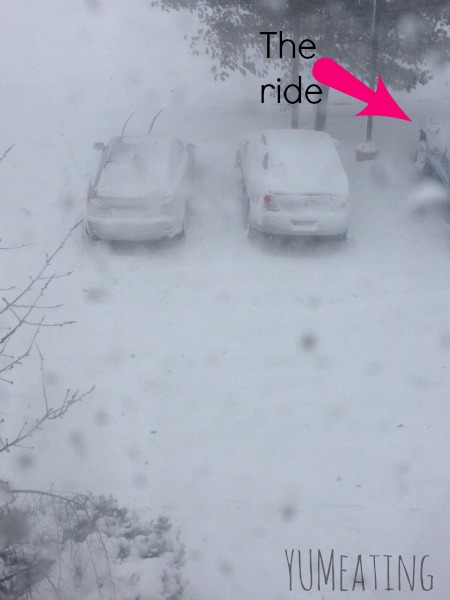 I decided we should get out and get to Fifty Shades of Grey before 1. work folk got out 2. date night began and 3. the snow got worse.
But we didn't let that stop us from getting out and enjoying sushi and sashimi at the sushi house Panda North, another Yelp find. This place is in a strip mall that is actually a circle, around a pond, with a walkway. So when we sat to eat we had a nice view of the pond. Along with the swans and ducks that stick around for the winter. (you do know swans don't go south, right?) On the left you will see my order menu. I have marks all over the place. That's my food in the middle. You look at Mr. Yums menu on the right and you see 4 marks. He's not as adventurous as I when it comes to sushi rolls. 😉 The food was amazing and I loved every bit.
We got lazy the rest of the day. Watched movies. Relaxed. Ordered Pappa Johns. Delivery,  yo!
Saturday : Valentine's Day
We tried to get out in the morning and it was impossible. It snowed. And snowed. And snowed some more. We enjoyed the free breakfast of the hotel, but got a little worried when they started to close down the roads. The wind was blowing all the snow off the water and it was causing white outs. So, we didn't leave the hotel for most of the day. While it was nice to unwind and just hang out some more, I started to really get stir crazy. No one was delivering. We weren't allowed on the roads. The businesses were shutting down. We were worried about lunch but thankfully we had a fridge and it contained Wendys and Papa Johns leftovers. We had an endless supply of coffee, milk, hot tea and yogurt down stairs in the lobby.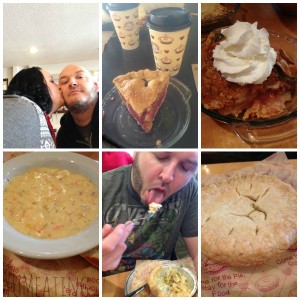 I was so happy when we finally sprang free in the early eve to go downtown. It was an adventure to get there. We hit up my favorite place (again) Grand Traverse Pie Co. This time we had dinner there, I had the Chicken Pot Pie and hubs had Beef Pot Pie. After we both had some dessert. He had the standard cherry and I had an apple with caramel and pecans on top. Wanted to try something different.
Top left…awwww us. Top middle, our cherry coffee and his cherry pie. Top right, my caramel apple pecan pie. Total nomage. Bottom left, his soup. And darn it I forgot what it was. Chicken something… Bottom middle, doing what he do. Bottom right, chicken pot pie. The beef pot pie looks the same, which is what he is eating.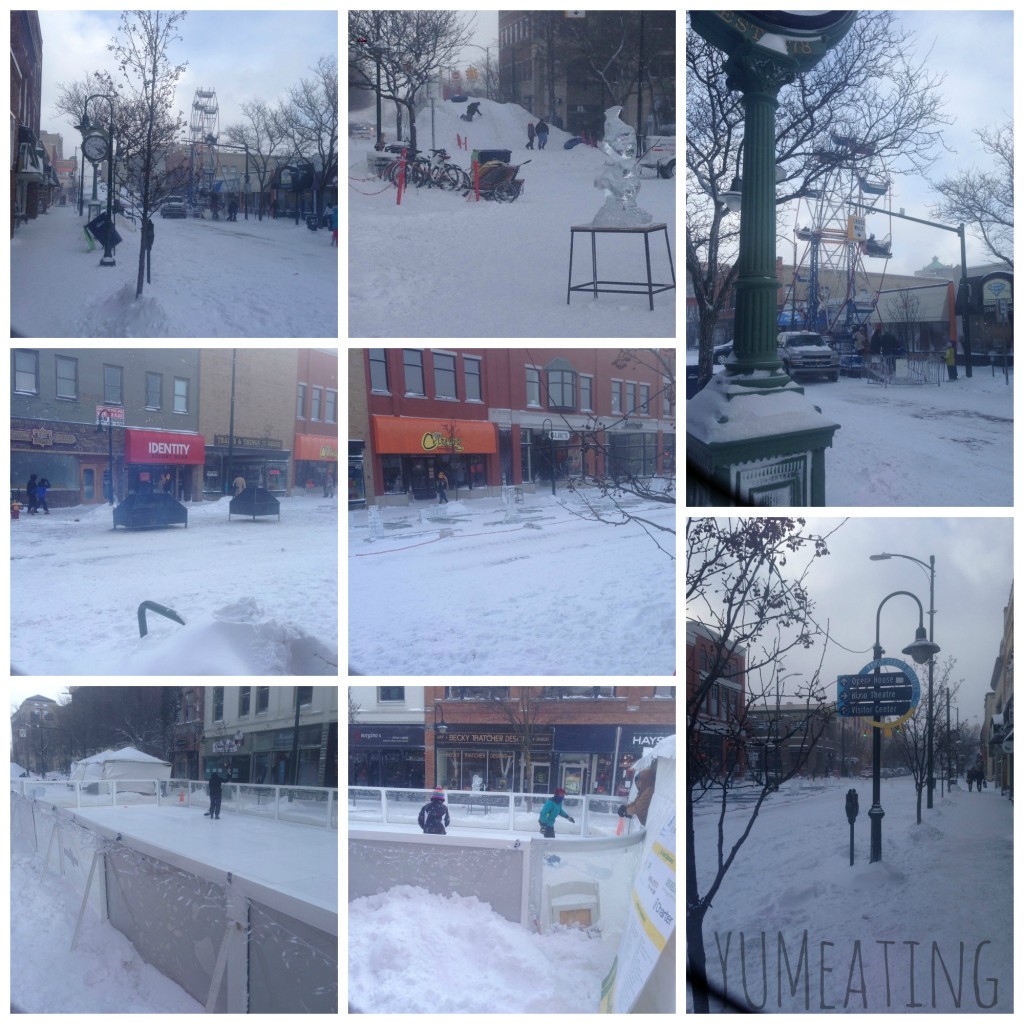 They had downtown set up as a little fun center for the comedy fest. They had warming stations, warming tent, hot chocolate, sled run, ferris wheel, and ice skating.
It's Sunday and Time to Head Home
I was really sad we didn't get to Ham Bonz Saturday because I really wanted to try their smoked brisket. All of the Yelp reviews were awesome. So, I decided to skip the free breakfast offered by the hotel and check out Ham Bonz for breakfast.
Our view as we were leaving…bright skies over the Great Lake region.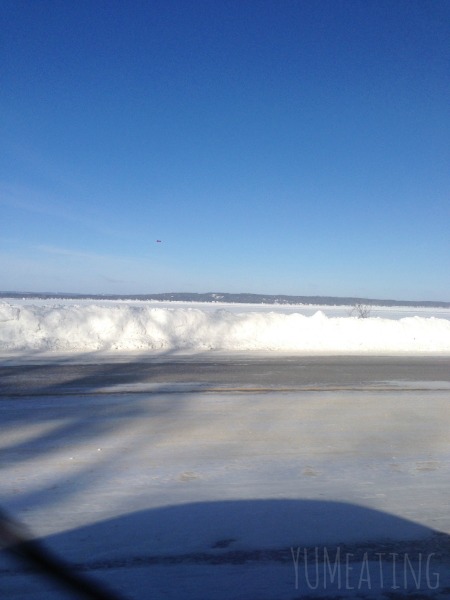 We didn't stop anywhere for lunch. The breakfast held us over until we got home. So for a late lunch early dinner we had Applebee's takeout. I had been craving their boneless wings and spin dip. So, we ordered that and Mr. Yum went to pick it up while I unpacked and got the dogs settled after being at my moms while we were gone.
I always get a little sad when I have to leave Traverse City. While I am a huge fan of Tawas for nostalgic reasons, there is something very Star Hollow about Traverse City. It really is one of Michigan's magical places.
I know it's only March, but have you taken a little getaway yet this year?
Disclosure: No sponsorship here. This was all my own expenses, travel ideas and opinions. Just keeping it real y'all.