Cupcake Station | Ann Arbor, MI
Cupcakes, cupcakes.
Cupcakes are such wonderful things. Personal size cake just for me. So what do you do when the Circus of Whiskers is over and  you just finished up sushi in Downtown Ann Arbor? 
Well, you get cupcakes of course! So, Cupcake Station for the win!
Over the years I have found myself becoming a cupcake snob. I don't live too far from Frankenmuth, MI where Sugar High Bakery is located. For those who don't know, they have taken over this area and for good reason; they were a Cupcake Wars winner! And let me tell you, they're pretty amazing.
It was a tough decision trying to figure , but once I saw 'salted' I knew I was going to have to eat the Chocolate Salted Caramel ( their signature dark chocolate cake frosted with caramel buttercream and topped sea salt.)
The Drooler picked German chocolate I believe. Don't quote me on that.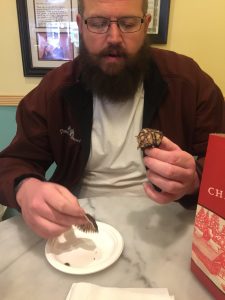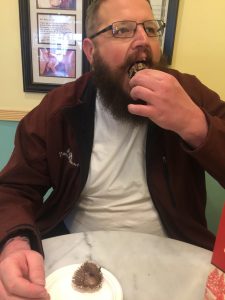 What I love is that there were mini cupcakes. I didn't pick tiny size, but my friend did. 😉
While the cupcake itself didn't seem much different from other cupcakes, the salted caramel buttercream frosting was pretty good.
Wasn't my favorite cupcake in MI, but I would try them again.
What is your favorite cupcake flavor or place?
Read Chrystal M.'s review of Cupcake Station on Yelp