Getting the Kitchen Organized with Label Daddy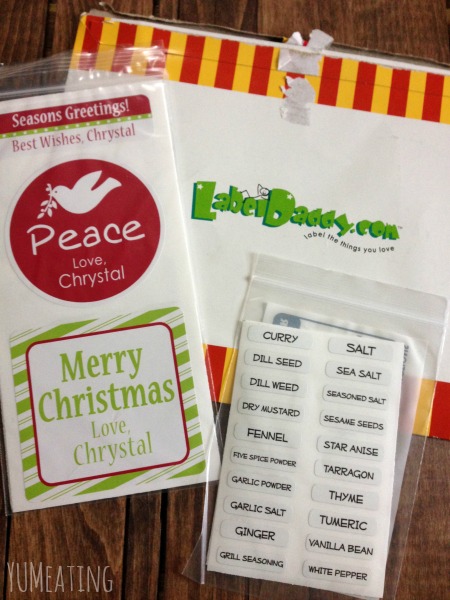 Once upon a time I was very organized. I mean, Type A personality, labels facing out in the cabinets type personality. Last spring when I finished my MBA it seems like all my neat and tidy ways went their separate ways.  After being in school for 5 years non-stop, I needed to relax. I guess that meant in all areas of my life. So, when Label Daddy gave me the opportunity to review some labels, I knew I could use this as a chance to at least get some items in my kitchen back in order. Especially since an organized kitchen means a much more organized YUM!
I was given a $30 shopping credit in exchange for my honest review. I ordered the spice labels and the Christmas gift labels. My order went over, so I gladly paid the few dollars I went over and shipping. 
The Label Daddy packaging is really cute. I love a good marketing concept and the fact that their mailers were personalized speaks volumes about a company. I also liked that my order contained a helpful hints sheet complete with the companies return polity.
Why I picked the Christmas labels:
Christmas is right around the corner. I purchased these labels because I wanted something personalized for the food gifts I create and share. I have some bloggers I swap gifts with and these will also be great for the gift baskets I made each year. Once I start wrapping I'll share another post with an update to this post. The Christmas labels come with 18 different labels. 2 of each design.
Why I picked the spice labels:
We grew a lot of herbs in our Trash to Treasure garden. Even though we had a lot of damage in the garden, we were able so save some of the herbs and dry them out. Right now we have some of them in plastic containers and zip top bags. I'd like to get them into the empty spice shakers I have been saving. These labels will be perfect for that. Once I start moving those over to the empties and get them labeled I'll do an update post on those, too.  This set comes with 3 sheets, each with a different spice. That's 60 labels! What I also look forward to is having these for the homemade blends I make like, Pumpkin Spice .
These labels are a great quality. You can literally feel the difference.
Label Daddy offers a wide variety of labels and offer a 30-day money back guarantee. Best part about Label Daddy is that many of their labels are waterproof.
Right now Label Daddy is offering YUM readers 20% off by using code  USFAMILY20  at checkout.