Take a Walk Down Memory Lane at Michigan Renaissance Festival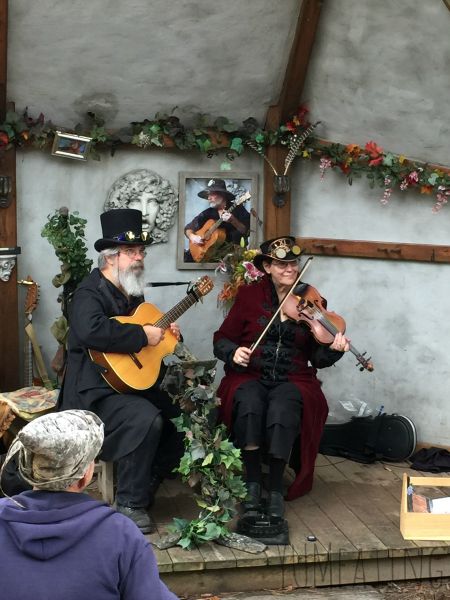 Saturday was wet and drizzly. Kiddo had gone off to her moms and I was trying to recharge my battery from the first week of school. New school, new teachers, new bus schedule, and a new schedule for all of us. It was mentally and physically exhausting. But, once Saturday afternoon started to creep up on me, I couldn't shake this feeling that something was to be done. Like I had something I had to do.
The damp weather wasn't kind to my arthritis and it kept making my joints hurt. So, I tried to sit on the couch a little longer before heading off to my hot shower. As hubs went to his moms to get kiddo and drive her over to her moms (my MIL broke her foot and can't drive) I remembered that I had some pretty tickets waiting in Holly, MI with my name written all over them.
At the end of August I wrote up a post about the Ren Fest and shared a photo from a few  years ago. Well, I had thought perhaps I could wear that outfit since it was nice and cool out. Well, the cape fit, but the dress was a little snug. Ummmm well, that's not going to work. I could have rented a costume when I got there, but that didn't appeal to me.
Thankfully the drive isn't far. It takes just over 30 minutes to Holly from my house.
When we got there this was the sea of food we saw. I mean…look at all the options.
Oh, wait.
Look at the sea of people, too. It was packed!
Our first stop was Scotch Eggs. I love these little boogers and even attempted to make my own healthier version a few years back. Mine did not have cheese. I was worried that the liquid nacho cheese would ruin my treat. And, while it didn't ruin it, I would have preferred it without.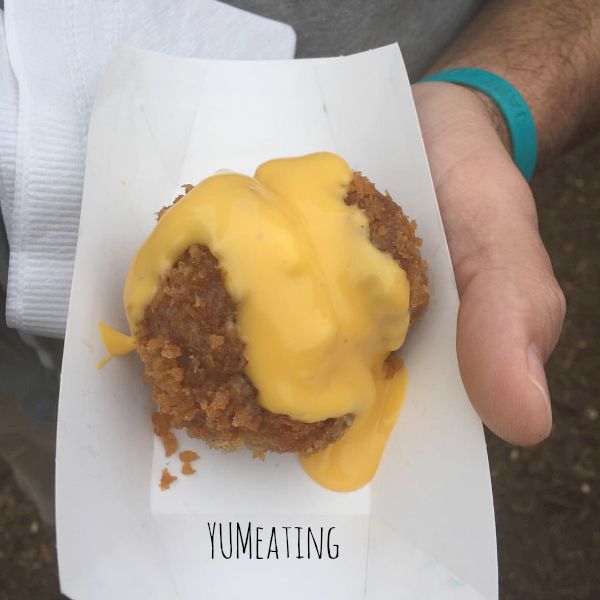 We walked.
We walked some more.
I stumbled upon a fairy village. You guys know about my fairy love, right?
This one was my favorite house. It reminded me of the cabin in the woods I always daydream about.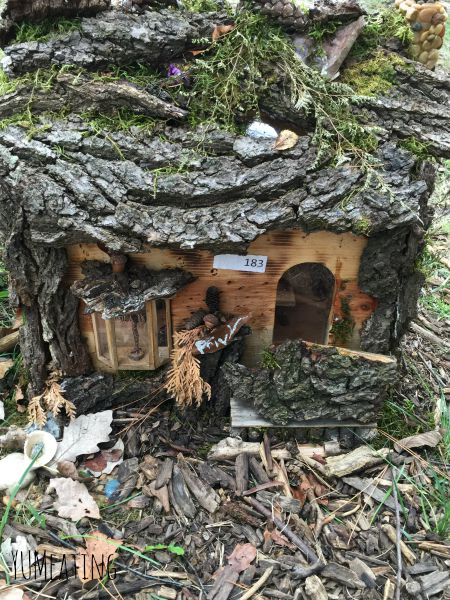 Then I hung out and listened to some music while Mr.YUM hung out in the sword shop.
We watched the jousting. Which, I LOVED.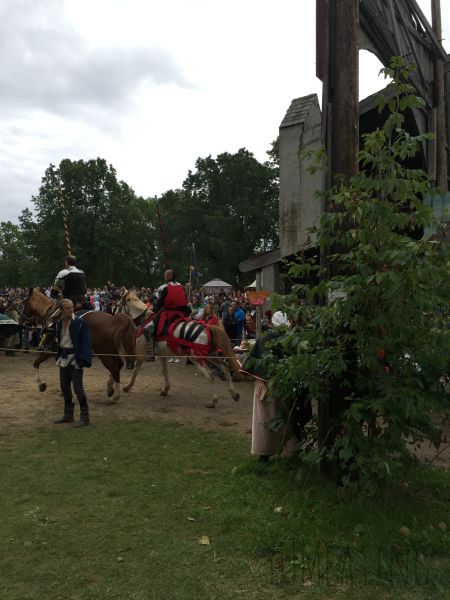 After the jousting we had some hot apple cider and spiced donuts. I gobbled them so quickly I didn't snap a pic. We spent that time talking to a Viking. Pretty cool. He wasn't selling anything, just telling the history of his ancestors. We were very intrigued. I love the show Vikings and honestly if I could go back in time and be a shield maiden just like Lagertha and marry a man like Ragnar, I'd be all for that.
My family went to Ireland recently. I had a cousin (well, she's my cousins daughter) studying in London and a few of my aunts (one of them is her grandmother) went to see her in London and then they traveled to Ireland and traveled some of the path my grandmother took. They found out some of our family history and that is I come from a line of Vikings. I think its pretty awesome. I always think I am an old soul born in the wrong era.
Ren Fest is quite fun for me. I enjoy looking at the hand crafted goods. Something for everyone. We even talked to a kid in a traveling gypsy family. It was really neat to hear his tales.
After the Viking history we stopped for a pickle. The pickle people crack me up because they will say (and do) just about anything to get people to buy a pickle.
We then found our favorite bread bowls and settled down to watch a comedy show.
This is chicken and dumplings. It's soooooo good.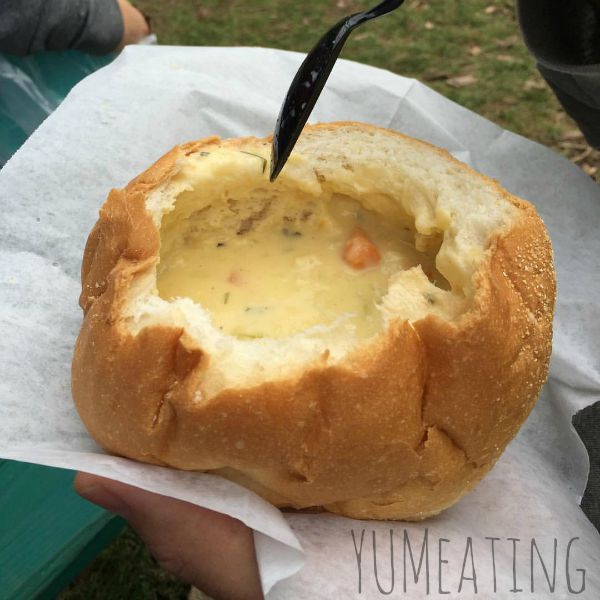 After about 5 hours of non stop walking and dampness, my back and hip had enough and I had to call it a day.
I was so tired. So much to see. So many people to talk to. So many costumes to stop and admire.
Best part? I was given free tickets in exchange for today's review and Augusts, too. I was given 4 tickets actually. So, I paid it forward and gave a ticket to a couple who needed 1 more and another ticket to a gentleman who was with a group. These poor people looked at me like I was crazy to give away a free ticket! No strings! I promise! It made me feel to good to help out 2 people.
Hubs and I had a great time and we are already planning costumes for next year. I am excited to get my sewing machine going again!
If you are in Michigan, there are still a few more weekends to enjoy!
YUM readers save $3 Off Gate Admission! With this coupon, receive $3 off an Adult Admission or a FREE child ticket with the purchase of an Adult Ticket. Not Valid with any other offers.
August 22nd thru October 4th, 10am – 7pm, Rain or Shine! FREE Parking.
Disclosure: I was given 4 free ticketes to Michigan Ren Fest in exchange for my participation and review! All photos and opinions are 100% my own.