Break Through that Migraine with Essential Oils
The past few weeks have been rough. Kiddo started school and we all had to adjust to a new schedule. My body wasn't wanting to cooperate. As if my joint pains aren't enough, my body just really started to break down. I have been getting migraines since I was a kid and conventional medications (OTC or prescribed) just don't help.
I have tried a lot of different things over the years. Some work. Some work temporarily and others not at all. About 20 years ago I stumbled on essential oils while browsing a natural store in Stillwater, OK while I was living there. I had a tooth infection, no money and no insurance. I was able to get in to see a low-cost dentist, but it was weeks before they had an opening. I needed to find some comfort.
While that pain sucked, I am glad it happened. A whole new world opened for me. I can't take a lot of prescriptions as my body is just extremely sensitive to them. I end up feeling worse or have terrible side effects.
Migraine meds are one of them. I can't take them. I get really sick, the pain gets worse and/or I trip out and hallucinate. Not fun.
So, my toothache (I used tea tree for that) pain relief miracle led me to natural treatments for my migraines. I tried herbal supplements, but got tired of swallowing pills. I do use herbal teas a lot these days.
While essential oils don't always remove my headaches or migraines 100%, they do often give me some pain relief so I can push through them.
For the last few days I have had a pending migraine. This isn't "just a headache." This is all the symptoms of a migraine, but you still have minimal function. You know it's there, just waiting to come full force and knock you on your feet. In my case, land you in bed.
I had been using my essential oil migraine remedy and it really helped with the pain management. But, once that migraine broke through yesterday, there was zero relief. I was in so much pain and didn't know what to do.
I remember reading up on lemon a few weeks ago when I was researching immune boosters for the up and coming cold season. I do know that it works well to fix your sniffles !
I decided to make a new batch of migraine remedy and this time, add a few drops of lemon.
I am happy to report that yesterday morning the migraine broke through (well, not happy about this part) and I practically crawled to the kitchen to make this quickly. Then I waddled to the living room and sat on the floor in front of the couch. I had my husband massage this into my right shoulder (which has some chronic pain issues and triggers my migraines frequently) front and back, behind my right ear and down my neck and the back of my neck, down into my back.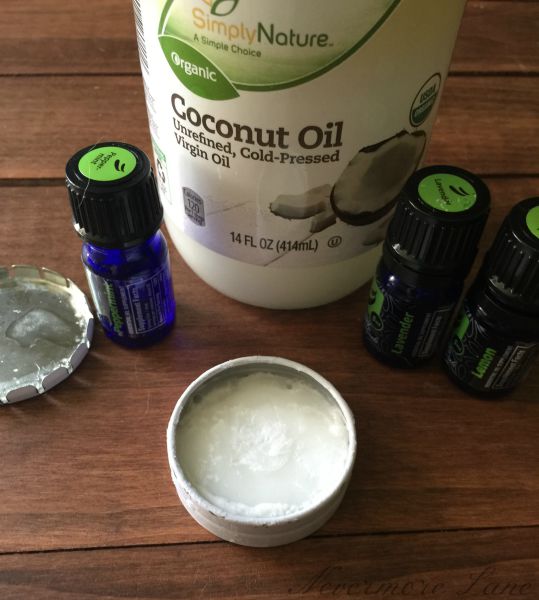 I rested on the couch for a few hours and by the end of the day I felt so much better. By the time I went to bed it was gone.
That never happens when I deal with the migraine. Ever. I am usually in bed, in the dark, with the cold fan blowing on me and loaded down with ice packs.
Then, today, although my shoulder aches a bit, I don't have the headache hangover I usually have after dealing with my migraine.
I think adding the lemon really helped get my body in balance.
Maybe it will help you, too!
Break Through that Migraine with Essential Oils
Ingredients
1

empty tin

1

tbsp

coconut oil

2-3

drops peppermint essential oil

1-2

drops lavender essential oil

1-2

drop lemon essential oil
Instructions
Make sure your tin is clean if you are re-purposing.

In your tin (or jar) add the coconut oil and then the essential oils.

Blend well.

Keep in a cool, dry place.
Tip: You can also mix your essential oil migraine remedy with fractioned coconut oil, almond oil or other liquid oils for massaging purposes. I keep cold pressed on hand because its a bit cheaper and I use fractioned when I am creating capsules.
If you are interested in Spark Naturals I am offering you a 10% coupon. Just enter CHRYSTAL at checkout.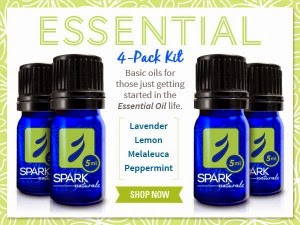 Another brand I really like is Edens Garden
. I find them to be an affordable option, too. They were my singing praises when I reused my old reed diffuser and tested their version of a product similar to Young Living .
As with all essential oils be sure to read that manufacturers recommendations for use. You'll find tips on topical use as well as whether or not that particular oil from that brand can be used internally.
Disclosure: All opinions are 100% mine. If you make a purchase with my coupon I'll earn a few cents to a few bucks. Edens link is an Amazon affiliate link. I am not being sponsored or compensated in any way for this post. I'm merely sharing things I like with the hopes that it might work for you too!
Note: I am not a medical professional. This is not an intent to treat, diagnose or cure. Please check with your medical professional before trying this or any other holistic treatment.