18 Warm Salads for Cool Nights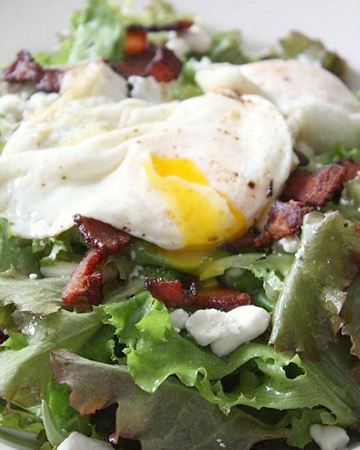 As I peek out my window I see the flurries that wisp through the air as if they are frantic to find a place to land before they become a pellet of water on someone's windshield. I don't know about you, but when the wind starts to rip through my old house causing many creaks and moans, the last thing I want to think about is a nice and cold garden fresh salad. Don't get me wrong, I actually love salad and I eat it on more days than I don't. But, during the winter it is a struggle. When it came time to do my Foodie sponsor post for the month, I knew I wanted to find some warm inspired salads to keep me on the healthier eating track during this cold weather season.
Please note, there is a photo widget below this paragraph. If you can't see it you will need to turn your ad blocker off in order to witness all of these great dishes in their glory. My list is in no particular order.
Check out Warm Salads for Cool Nights

by Chrystal M. at Foodie.com
Warm Calamari Salad – I love calamari and found this salad to be a great change from deep fried calamari. I can't wait to give this one a try.
Warm Arugula Salad with Quinoa & Goat Cheese – I am obsess with goat cheese. True story: I purchased a bag of Quinoa over the summer and have yet to make anything with it. I'm not sure what the hold-up is. But this looks pretty amazing.
Baby Greens and Fried Egg Salad – Eggs. I love them. I just about eat them in some way, shape, or form daily. I especially love it when their creamy yolk compliments a dish I am eating. This salad is super simple to make and would make a great breakfast salad.
Romaine Salad with Bacon, 5-Minute Eggs, and Creamy Garlic Anchovy Dressing – Ok. This salad looks amazing. Bacon. Eggs. Yum. But, I am not sure I am too keen on the anchovy dressing. But that didn't stop me from wanting to try this meal. I am guessing the bacon compliments the anchovy.
Chicken Liver Salad – I know what you are saying. Yuck. I know a lot of people have issues with liver. I am one of them. When I was younger my mother made beef liver with mushrooms and onions. It was pretty amazing. I don't know what she did but I have never been able to get my beef liver to turn out like hers. I know I should eat it. If you can eat it, you should Same with chicken liver. They are so good for you. I didn't try a chicken liver until later in life. Let me tell you, when prepared right, they are pretty tasty. What I like about this salad is that its mega healthy and budget friendly. At my store you can get a giant container of chicken liver for about $1.50. I know some of you are grossed out, but honestly, I really encourage you to experiment with them. Like in this salad.
Warm Roasted Squash, Prosciutto and Pecorino Salad – It has prosciutto. That's enough for me.
Warm Greek Salad  – I have had a warm Greek salad before. They are pretty amazing.
Warm Potato and Steak Salad – This salad is perfect for Mr. Yum. Steak and potatoes. What more could he want out of a salad?
Grilled Asparagus Salad with Fried Eggs – Again with the eggs. I also love asparagus and happen to enjoy dipping it in my eggs for breakfast. Love simple sugar free, low carb meals.
Spinach, Mushroom, and Fennel Salad with Warm Bacon Vinaigrette – This salad has all the flavors I love and enjoy. This is at the top of my 'to-try' warm salad list.
One-Eyes Salad with Winter Greens and Brown Sugar-Bacon Vinaigrette. That's a mouthful.  Sounds amazing.
Warm Mushroom Salad with Crisp Bacon – Again with the bacon!
To see the rest of the warm salad recipes listed in the photo widgit, please visit my "Warm Salads for Cool Nights" board on Foodie.com
Disclosure: I am a member of Mode Media and their Foodie channel. I was compensated for my time to write this post. Opinions and picks are 100% my own.