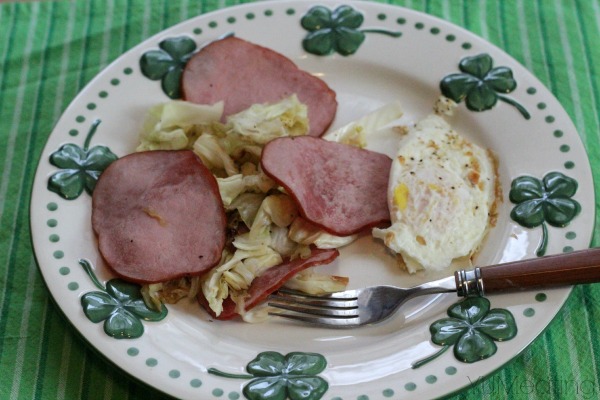 Darnia Allen had this to say in her book "Irish Traditional Cooking" (pg.119) about Bacon and Cabbage:
"Without question Ireland's national dish–less widely known abroad but much more widely eaten, particularly in rural Ireland, then the legendary Irish Stew."
I can see it on your face. No, really. I know just what you are thinking. "That's not bacon, Chrystal. That's Canadian bacon."
Yup.
And in her book Darnia also calls her recipe Bacon & Cabbage so I left it.
Something we must understand, when it comes to traditional Irish cooking, especially that of the old ways, they used every part of the pig they raised on their farms.
I've never had cabbage for breakfast so this was my first time.  I only made a little bit in case I didn't like it, but you could easily modify the recipe to make larger portions. When I saw this as I was flipping through Allen's cookbook for March's inspiration I knew this was going to make the list for the simple factors. It helped that I normally have all the ingredients on hand.
Traditional methods call for 4-5 pounds of Canadian back with a nice covering of fat.
Nope.
I don't do anything with a covering of fat.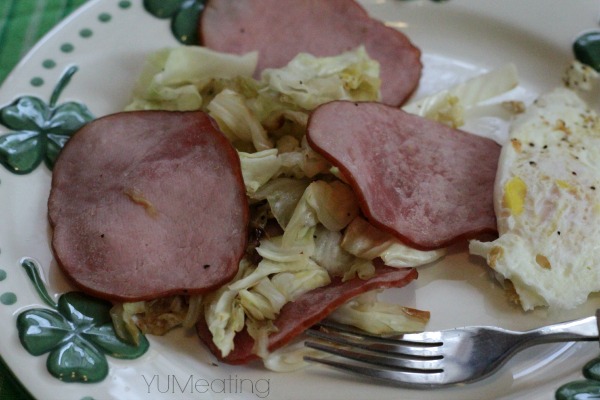 I used pre-sliced Canadian bacon from Kroger. I drained and rinsed 4 pieces. I chopped a quarter of the cabbage and sautéed it in the pan and then I added the bacon, cooking them together. Little no salt seasoning and pepper. When it was all done I cooked 1 egg  to add. I then mashed it all together. This wasn't part of the recipe. I just like to mash my egg yolk on my stuff. Nothing makes me happier than a nice and creamy egg yolk. It was actually pretty good. I always have cabbage on hand because it's so cheap and I adore my vegetables, even if I am the only one who will eat cabbage any other way than in boiled dinner. To me, to have for lunch and now breakfast, or evenings when I am home dining alone, for $1 its worth it.
Something like this makes me happy because I get my vegetables and protein while staying low carb. Win!
Might not look very pretty, but it tasted super yummy!
Is there anything that you never had for breakfast, had it, and now love it? Tell me all about it in the comments below.
Bacon and Cabbage
Ingredients
4

sliced Canadian bacon

1/4

head of cabbage

chopped

1

TBSP

butter

no salt seasoning

pepper

optional one egg
Instructions
In a skillet over medium-low heat, melt the butter.

Add the chopped cabbage, no salt seasoning and pepper.

Sautee until cabbage becomes tender.

Place the four slices of Canadian bacon in the pan with the cabbage.

Cook until the bacon is done.

Option - cook an egg to your liking and pair it with the cabbage and bacon.