Making Family Movie Night Special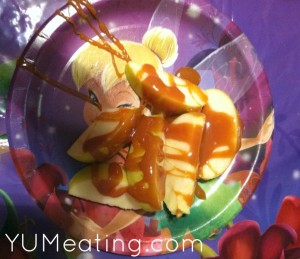 This is a hand-me-down from my cousin. She decided that they no longer needed it & felt we would be able to have a fun family thing with kiddo when she comes to visit on weekends. It sat in my kitchen collecting dust for a few months before we finally were able to put together a family movie night. Since we only get her on weekends we are usually really busy so this was a nice break.
We do budget our money. Even if we had money to spend all the time I would not want to constantly take here there, do this, do that, buy this, pay for that. No way. Having two sets of parents and 4 sets of grandparents she is already overwhelmed by "stuff" & going out to do "things," so we made a conscious effort to work on being a family instead of worrying about stuff and what we are going to do next.
Bonus for us. She LOVES our family time because its the only place she gets it. She asks for it ALL the time.
I took the giant apple out of the package and put one of the containers of caramel in it. My cousin said it took (and I quote) "fooooorrreeevvvaaaah" to warm up and melt. It took less than 30 minutes for me. I think shes crazy (LOL, Love you!)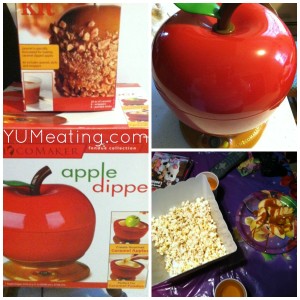 We cut up some apples and turned the kitchen into a movie concession stand, complete with drinks, popcorn, and popcorn flavor sprinkles. 
Around Christmas I found paper plates, paper cups, napkins, stickers, and a table cloth all for $1 each at Big Lots. I stocked up on what they had and usually we only have drinks and popcorn so we clean them off and keep what we can. We weren't able to do that with the sticky caramel. (Oh well)
We decorated the living room.
We have some of those giant popcorn buckets that looks like bags of popcorn from the theater. $1 each at the Dollar Tree.  I've also found some little odds and ends prior to our Tinkerbell theme, at the Oriental Trading store. They are really inexpensive and sometimes I can find cute things on sale for much less that Dollar Tree or even Dollar General. We do have a Wal-Mart but its in another town, like everything else, but the other stores are closer and aren't as crowded.
For this particular movie night we watched some movies she had gotten for her birthday that we had not seen yet. Most movie nights we go to the Dollar Tree and pick out one box of candy each – $1 each for a large size box is pretty good compared to the $4 price tag at the theaters. Then, the movie store has FREE kids movie rentals and I will just let her pick whatever she wants. Her dad and I usually pick an adult movie (no, not that kind!) that we can watch after she goes to bed. It makes her feel awesome to be a big girl and pick out her own things. She is 7 and at her moms she is the 3rd of 4 children so she doesn't get to much of her "own" things over there.
Family time doesn't have to cost a fortune. When we go to the theater, just the 3 of us, even the matinees and sharing a popcorn and drink – we still spend $20-$30. UGH!
(and we do have a small piece of chocolate on movie night!)
What are some things your family does to save money on family time?