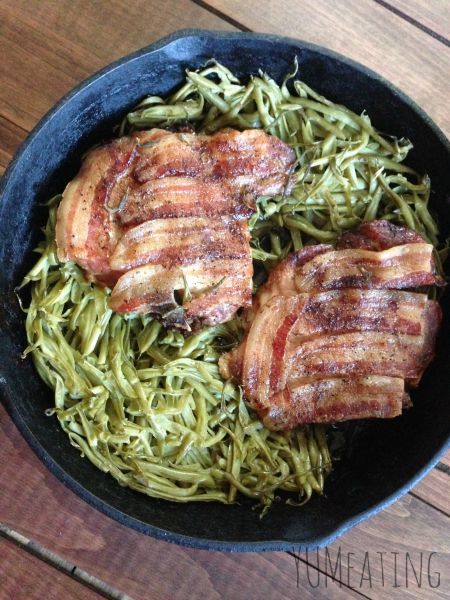 Bacon.
Bacon wrapped pork.
What could be wrong with that? Anything wrapped in bacon is better, right
I love my cast iron skillet. I use it every chance I get – but not so much in the summer time because it's just too hot in the summer to turn the oven on. It makes our air conditioners work harder. Since we live in an old farmhouse, we don't have central heat and air. We have window units and since we have newer windows, we've not been able to find a window unit which fits inside the opening. Next year if we haven't moved yet, we plan to get a floor model that is much more portable and it has a small hose that attaches to the window. 
I can't wait for that. Although, can't say I am looking forward to the utility bill 😉
I think I'll just count down to moving instead.
It is finally starting to cool down. So, I can open the windows and there is a nice breeze circulating through the house. That means I can turn the oven on for short periods of time. By putting the green beans in the same pan with the bacon wrapped pork chops, that allows me to cut down on utility use because I don't have to turn the oven on.
This is a super quick meal. I just turn the oven on to the broiler and flip every 2-3 minutes until done.
You can add some seasoning to the green beans and pork chops like garlic powder, onion powder, salt, pepper and whatever else you like. Sometimes we like to add some lemon juice and Worcestershire sauce.
When it comes to the cast iron skillet meals, the possibilities are endless for flavors.
The best part about this meal is that it is low carb, sugar-free and keto friendly!
Plus, bacon.
That is all.