12 Recipes to Fuel Your Summer Picnic
Check out Recipes to Fuel Your Summer Picnic

by Chrystal M. at Foodie.com
It's that time again! Time for me to do a round-up for my site sponsor Foodie.com (Mode Media).
Please note, you will need to turn your ad blocker off in order to see the display of great photos to go along with these picnic treats.
It should come as no shocker that when we were given a choice between a few themes, I picked the one related to picnics. I've been on a huge picnic kick these last few days. I have no idea that July was considered picnic month.
Did you?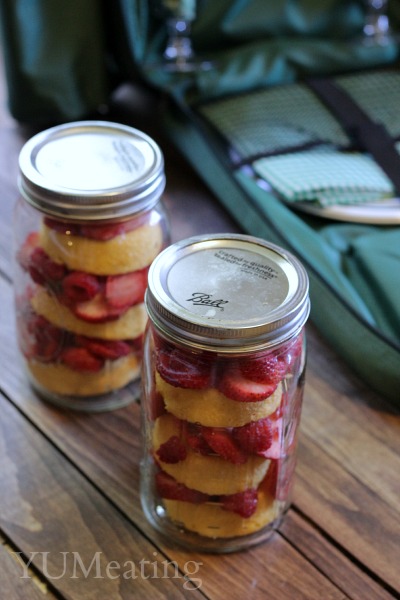 I hope you have been following the last few days, but if you haven't that's ok. I'm going to toot my own horn and share some of my own recipes. I'm really excited because ever since the husband and I went on our little picnic I have been not only sharing my own jar recipes, but hoarding all of these great recipes that I can put in a jar and make it all cute and fun.
One of the recipes I am anxious to try is the "Lattice-Top Blueberry Pies in a Jar." I'm trying super hard to keep sweets under control. But, darn it. Look at these. Cute little pies. In. A. Jar. That's all.
Oh, never mind the fact I live just a few miles from a little town that has a blueberry festival every summer.  For real. I do not kid. 😉
The next recipe on my list is the Strawberry Raspberry Shortcake in a jar. It's my very own recipe and that's what you see in the photo above. The Salad in a Jar recipe is another of mine. (toot, toot, my own horn)
I picked the BLT Pasta Salad because it looked like something fun I could make and then pack it in the jars prior to our departure. It's seems like it would hold up in transport and it sounded delish. I really want to make some sort of pasta salad for our next picnic.
What do you think?
Sometimes you might be taking an early morning stroll, spending the night, or whatever reason you have for packing a breakfast. Just for you I picked the Apples and Cinnamon Breakfast Jar Parfait. It's breakfast. In a jar. It's yummy and wholesome. I dare say healthy, but it is. Protein packed powerhouse.
Every great picnic needs a sandwich. While I wanted to showcase my own picnic perfect sandwiches, I felt these Muffaletta Sandwiches caught my attention just enough they were worthy of my praise. I'll let you know how they turn out. You do the same if you get to it before I do.
Marinated White Bean Salad Jars. What can I say about them? Clean foods. Healthy. Super easy to make. Minimal ingredients. Pop in a jar and go. Yup. Ideal.
I picked this one just for Mr. Yum. If you've been reading these last few weeks you noticed the husband has been posting a few of his own recipes. All Asian inspired. I thought he might like to try this Asian Noodle Salad Jars. And you. You try it too, mmm k?
I love tomatoes. Let me count the ways. Red. Yellow. Green. Baked. Fried. Grilled. Fresh out of the garden…… I have 3 tomato plants in my 'Trash to Treasure Garden' and I am getting super anxious for them to become edible. This Caprese Mason Jar Salad feeds that addiction even more. Like. So Many.
Red, White & Blue Cheesecake Jars had me at cheesecake. Not only do they look pretty, they are full of cheesecakey goodness. And I just want it. Right now. Today.
Picnics are all about fun and simple ingredients. Most of these recipes are super-duper simple. But, there is just something way more fun about pudding. That's why I picked Apple Pudding in a Jar. If I am going to sit on the ground and eat out of a jar, why not make it some pudding? Just like a kid…or if you are on a picnic with your kids…perfect! I also love that I can use fresh picked apples!
Last but not least. Some adult time. Individual White Berry Lemon Sangrias. Yep. Sangria. In a jar. I'm on it.
What is your favorite food in a jar? I would love to hear all about it.
Disclosure: This is a Foodie.com/Mode Media sponsor post. I am being compensated for my time. All recipe selections and opinions are my own.