Dublin Coddle with a Twist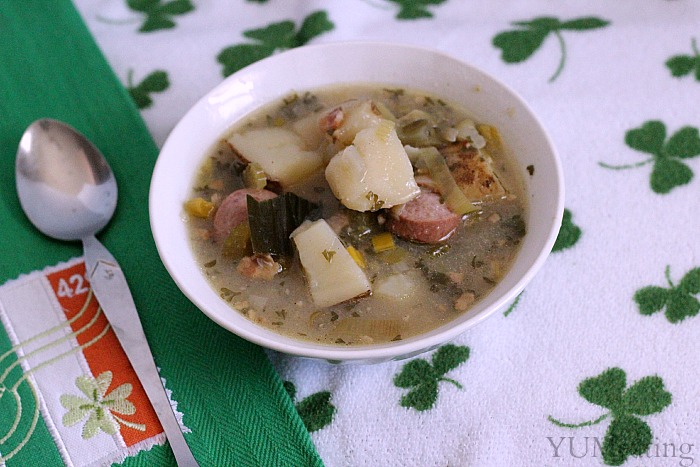 Well here we are, the day after St. Patrick's Day and guess what? I have another potato recipe for you! This one is soooooo good, you can't help but love it. So far my favorite potato based recipe this month has to be yesterday's Shepherd's Pie.
Because I am doing Irish and green themed recipes all month-long, I had to make a few of these during the week. I am a little sad that kiddo wasn't around when I made this one because I can certainly see her helping to lick the pot clean. This was my first time making Dublin Coddle. It's another boiled dinner but with some different ingredients.  I have eaten Coddle in the past, without knowing what it was (odd, right?) and so far this is my favorite version.
This recipe was inspired by a handful of recipes I looked at online along with another recipe from one of my favorite Irish cookbooks, "The Irish Pub: Fabulous Food from the Emerald Isle."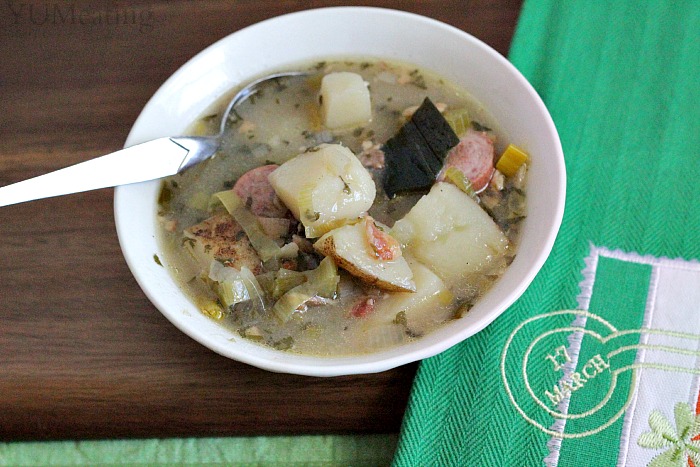 I was planning to give you guys a little bit of a break from potatoes after St. Patrick's Day and post some other Irish recipes, but today I am participating in White Lights on Wednesday's "Get Your Chef" on and it just so happens the secret ingredient is potatoes! That's ok, right?? We love potatoes!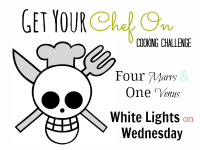 I know I love my potatoes, but too many of them just don't love me. Because of their high starch and carb content they don't mesh with my PCOS too well. So, I keep these powerhouse vegetables to a minimum. I love that they come in so many varieties and are local grown here.  I also love that they are budget-friendly.
What makes my Dublin Coddle even better is that I use freshly made chicken stock. Whenever we purchase chicken I made sure to buy whole when they are on sale. This allows me to make roasted chicken for one meal, homemade chicken noodle soup or chicken and dumplings for another meal and then we boil the parts and pieces for stock. It really is one of the best ways to spend my money.  I freeze it and keep as much on hand as I can.
I also used Turkey sausage.  I feel it gives a different flavor than the pork  (which I have to take a break from every once in a while) and mixes well with the bacon and chicken stock.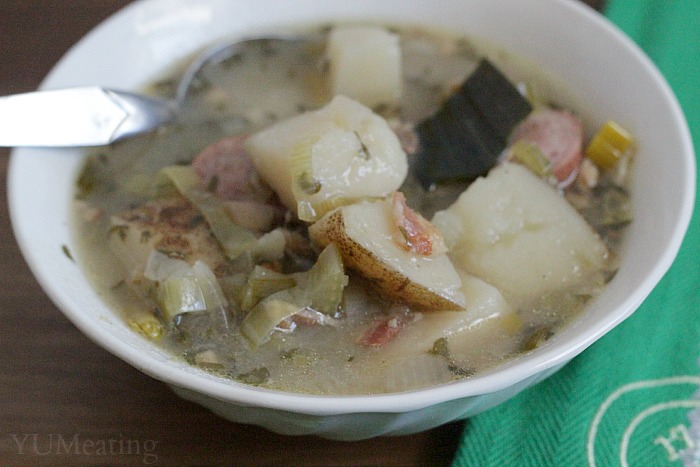 This soupy meal is perfectly paired with Irish Brown Soda Bread to complete the meal and sop up all the wonderful juice.
I do have one warning, don't try to cook on high. The bacon grease with splatter and make sure you watch the sausage and don't let it stick to the pan!
Dublin Coddle
Ingredients
1/2

lb

bacon

13

oz

sausage

sliced

2

stalks celery

sliced

1

leek

sliced

4

medium potatoes

cubed

6

cups

homemade chicken stock

3

garlic cloves

diced

2

bay leaves

salt

pepper

parsley

thyme
Instructions
In the bottom of a dutch oven place the strips of bacon and cook until crispy.

Remove the bacon and set aside.

Pour out some of the grease.

Add the sliced sausage to the remaining bacon grease.

Cook on low heat.

While the sausage is cooking, crumble your bacon.

This can easily be done by placing bacon on a napkin, folding in half and then rolling over it with a rolling pin.

Add the bacon back to the pan with the cooking sausage.

Add the sliced onion and garlic.

Allow items to saute for 2-3 minutes.

Add the leeks.

Salt and pepper to taste.

Pour in the chicken stock.

Add potatoes, thyme, parsley and the bay leaves.

Cover.

Bring the dish to a boil.

Lower heat and allow to simmer 1-2 hours or until the potatoes are done.

Remove the bay leaves and serve.
Have you ever had Dublin Coddle? Are you willing to try it now that you see how easy it is to make? This recipe is also something you can make in the crockpot. Just cook the bacon and then put all the ingredients in the pot and cook on low for about 6 hours.