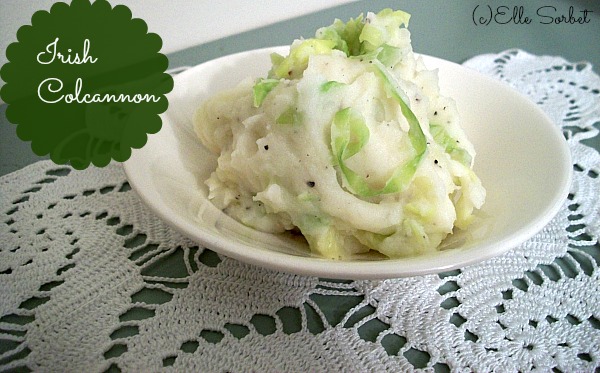 Today's post is brought to you by Elle Sorbet.
Want to hear a cool story before we get into the guest post?
I know you do. I'm full of stories, right? So why would today be any different?
I've actually *known* Elle for a long time. And when I say long time, I mean about 6 or 7 years. Elle and I were members of the same forum years ago. I talked to her but I guess I never realized what her real name was over the years. When I saw she was looking for a way to expand her portfolio and I bugged her about an Irish recipe, that's when I learned that she actually appreciated all the advice I had given to members of the forums for so many years. That made me feel good. Sometimes there are lurkers in forums that don't gab on as much as I do. And it really made my day to know that all my great words of wisdom (HA!) helped someone. So, thanks for that Elle.
Ok, now let's get on with this Colcannon recipe already!
Growing up with my mom, she would always make the same New England Boiled Dinner for St. Patricks Day. That tradition if you will, never changed over the years. To this day it's still the same – fill a big cooking pot with water, corned beef, carrots, potatoes, and a head of cabbage quartered, with plenty of pickling spice – let it cook for at least 4 hours. Don't get me wrong, it was good, but now that I'm out on my own and my palate has matured, I do things a little differently.
 Right off the bat, I decided long ago that I didn't want everything just all boiled together. My corned beef I still boil with pickling spice, but then when the boiling has finished, I coat it in brown sugar and pop it into the oven for 20 – 30 minutes so it can caramelize. Carrots I saute with some butter, honey, and a little rosemary. I love tender crisp carrots. Now, the potatoes and cabbage I put together into one tasty Irish dish called colcannon.
 Colcannon is an Irish dish, traditionally served at Halloween. A ring and thimble are hidden and a maiden who finds the ring is said to be the next to marry. One who finds the thimble gets the bad news that they will be a spinster for life. Now, I don't need to bum out my cat or myself on who gets to be the spinster, so I leave out the trinkets upon serving it.
 Colcannon is really tasty and even though the look of it can be offputting (oh my, green potatoes!), it's worth a try. It would go great with chicken, steak, meatloaf – pretty much any meat and potatoes type meal, it doesn't just have to be left for corned beef.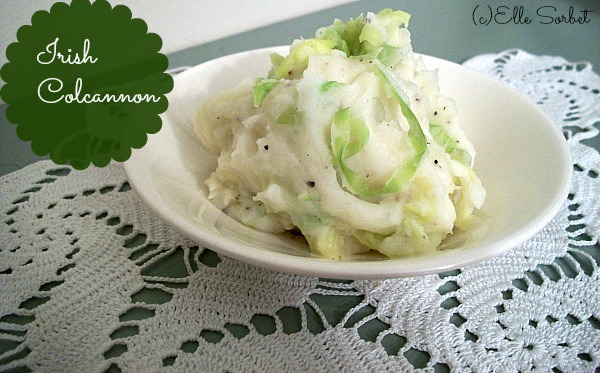 Irish Colcannon
Ingredients
6

medium size potatoes

russet work best

6

green onions

3

Tbsp

Butter

1

Tbsp.

Melted Butter

½

cup

milk

salt

black pepper

½

small cabbage

remove core and shred finely
Instructions
Cut potatoes up into chunks and boil for 15 to 20 minutes in salted water. Remove potatoes to a bowl with slotted spoon, removing excess water from them. Do not discard water they were boiled in.

Mash potatoes with potato masher until smooth and add the butter and milk.

Stir well.

Add more milk, as needed, for a smooth and creamy consistency. Salt to taste.

Add shredded cabbage to the potato water and boil for 2 to 3 minutes until soft. Drain thoroughly through colander or strainer, squeezing out any excess water. Mix cabbage into potatoes and then stir in the green onions after retaining a small handful to use as a garnish.

Salt and pepper to taste. Garnish with scattered onions and a drizzle of melted butter.