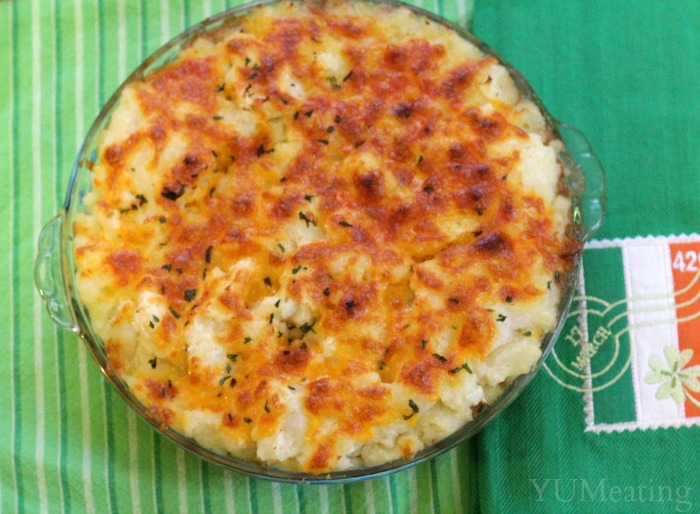 Happy St. Patrick's Day! I am celebrating by sharing my favorite Irish recipe with you! You can't go wrong with a good pie!
I've made many pies in my life.  Some were good, some were just ok. Can't say I have every really had one I didn't like. I've had different versions of Shepherd's Pie. I remember when I was younger my mom made her own version of the pie. I always called it 'Leftover Pie' because all the meat, potato and vegetables in it were from the leftovers during the week.  I guess that was one way to get rid of those pesky leftovers! Mom's pies didn't ever disappoint either. I think its pure magic how someone can just toss some leftover in a pan, add some spices and something simple and it turns out to be a wonderful meal. I have been able to create some of my own leftover meals, but they just don't compare to moms.
Shepherd's Pie isn't a easy-to-find menu item at restaurants around here. I know places in the state serve it, but nothing close. The few I have tried were not very good. When the hubs and I went to Niagara Falls and stopped a few miles across the border in London we had Shepherd's Pie. On the way back, we stopped in Sarnia, ON which back's up to Port Huron, MI. While both places were pretty awesome, Ups N Downs had the best flavor and texture.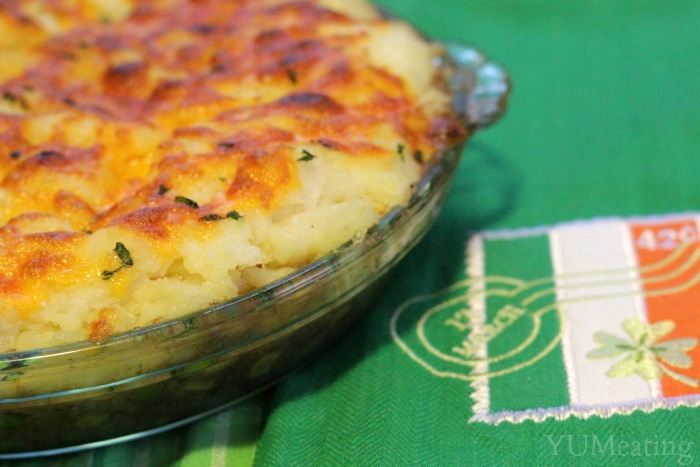 I've been trying to produce something similar knowing St. Patrick's Day was right around the corner. I've been practicing. Husband even tried his hand at pie making over the years, but I have to tell you, this particular pie had to be the best Shepherd's Pie that not only have I made, but have I eaten.
I did try to find some lamb to make this traditional and both of the stores by me didn't have any. I am not a huge fan of eating lamb so this didn't bother me at all.
It just so happens that this is another adaptation of a recipe found in Irish Traditional Cooking by Darnia Allen. I tell you what, that was the best cookbook my mom ever gave me. I have a ton of cookbooks but this one has been such an invaluable tool these last few months. It's really getting a lot of use. I love that the cookbook has little history blurbs in it too so that when kiddo and I decide to try something she gets a bit of history to go along with it.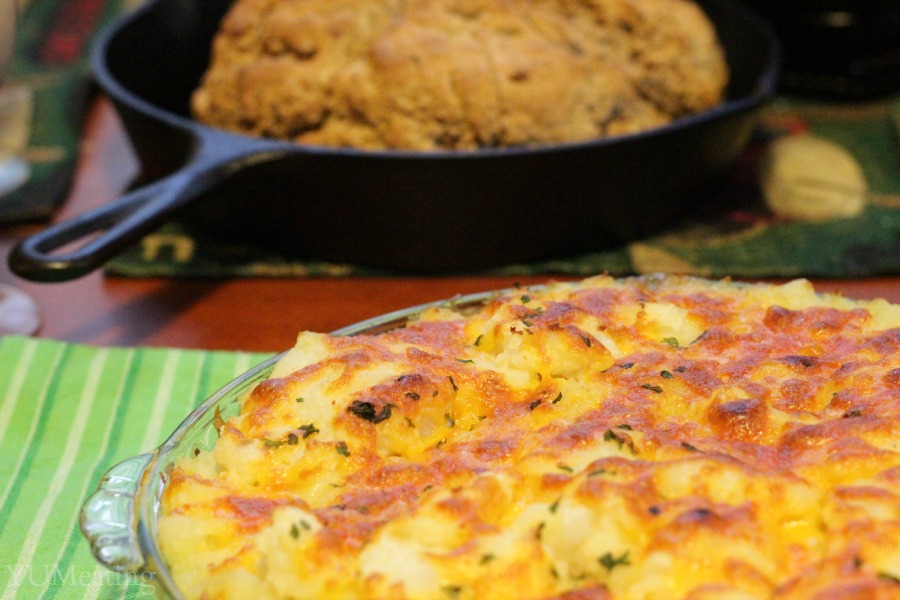 We paired this meal with the Traditional Brown Irish Soda Bread. The pair go very well together.
My favorite part is the golden layer of cheese.  How it melts in my mouth when I eat it. My mom does this with her mac and cheese and it's my favorite part!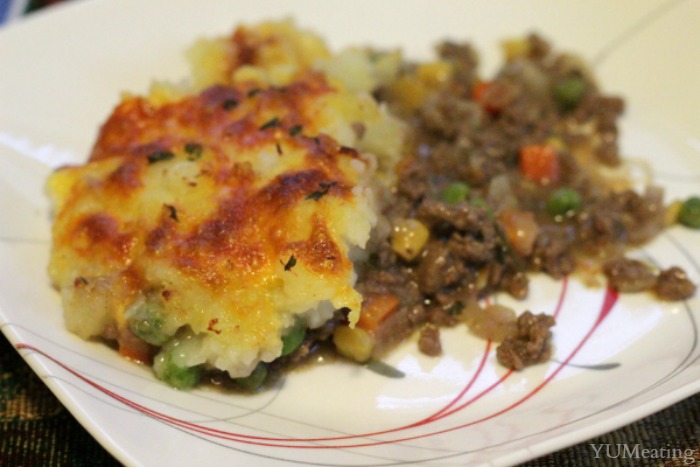 Have you ever had Shepherd's Pie? Did you enjoy it? Have a favorite way it's made? I would love to hear about it. Please drop me a line in the comments.
The Best Shepherd's Pie
Adapted from (pg 111) Traditional Irish Cooking's Shepherd's Pie by Darnia Allen.
Ingredients
1

lb

ground beef

1/2

purple onion

diced

1/2

white onion

diced

6

potatoes

peeled and quartered

2

+ 1 TBSP butter

1/4

c

milk

2

TBSP

wheat flour

1 2/3

cup

beef stock

1/2

c

corn

canned, drained and rinsed

1

c

frozen peas and carrots

1

TBSP

tomato sauce

1

tsp

thyme

salt

pepper

1/2

cup

Irish cheddar cheese
Instructions
In a large pan boil the potatoes.

Put 1 tbsp of butter and onions in the bottom of a dutch oven and saute them until tender on low heat.

After about 5 minutes of cooking the onion add the wheat flour.

Cook until brown.

Pour in the beef stock and bring to a boil.

While waiting for the stock to boil, in a frying pan add the ground beef and cook on medium-low until brown.

Add the peas, carrots and corn. Stir well and cook with beef for an additional 3 minutes.

Be sure to use a spatula to mince it into small pieces as it cooks.

When your beef stock comes to a boil at the tomato sauce, parsley, thyme, salt and pepper.

Cook on low for 5 minutes.

When potatoes are done (they will be tender when poked with a fork) drain the water.

Add 1/4 c milk and 2 tbsp butter to the potatoes.

Mash using a hand masher and then set aside.

When your beef is done cooking pour the meat mixture in with the onion mixture.

Bring pot to a boil.

Remove from heat and place the mixture in the bottom of a large pie pan.

Cover with the mashed potatoes.

Cover with the shredded Irish cheddar cheese.

Place under the oven broiler until cheese is melted golden brown.