Buffalo Chicken and Blue Cheese Mashed Potato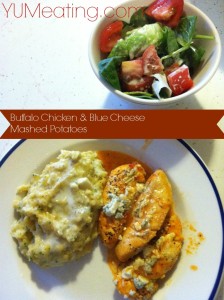 This is a photo of my meal when it was finished.
I am a HUGE fan of buffalo wings. Sadly, they are not the healthiest item on the menu. Every once in a while I will treat myself to 6 of them, with a salad.
Now I am on a quest to find healthier options.
 Chrystal's Buffalo Chicken with Blue Cheese
Butter
Frank's Red Hot
Chicken Tenders
You guys are going to shoot me. I did not measure a SINGLE THING. I'm sorry, it was just one of those days where I just started to throw things together and didn't have a notebook handy. I promise I will tackle this recipe again – notebook ready & no instant taters.
I had some leftover Nutrisystem Cheesey Mashed Potatoes so instead of making homemade mashed potatoes I decided to use these ups. I added some extra sprinkles of cheese for flavor along with the blue cheese.
My recipe was an idea from Cooking Light Magazines Buffalo Chicken Thighs. Maybe that recipe will inspire you.
Click here to see it
.