Building the Perfect Foodie Valentine's Basket for Him #LoveOurVDay
This conversation has been compensated by Collective Bias, Inc. and its advertiser. All opinions are 100% mine. #LoveOurVDay #CollectiveBias
In the past I was never one to get all giddy about Valentine's Day. Since meeting Mr. Yum, that has changed. While I try to stay away from the super duper mushy part of it (people should show love every day of the year) we do take advantage of the holiday to plan a relaxing weekend alone. I'm not sure where we are going, but I do know I am planning ahead.
Christmas wasn't all that long ago so trying to plan some sort of gift for Valentine's Day for my husband is proving to be difficult. What could he possibly need this early in the year that he didn't just get for Christmas? And then I started to think about some of the special gifts we had traded over the years. Perhaps there was an idea waiting there for me.
I have to admit I did worry a little bit I would not be able to find something he would enjoy because a lot of the things he wants right now are really expensive.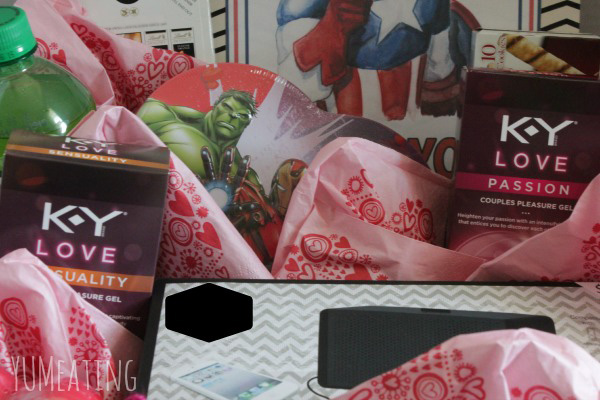 First, I decided to take a drive into the city and stop by Target. I downloaded the Cartwheel app to my phone and began flipping through to see what offers were available. I added the ones I thought I might purchase. Sadly, my Target isn't  a super Target so I wouldn't be able to find some of their branded items. So, some yummy cookies were out.  I don't get to shop there often enough because it is a bit of a drive, but I knew there would be some inspiration waiting for me the minute I walked through the door.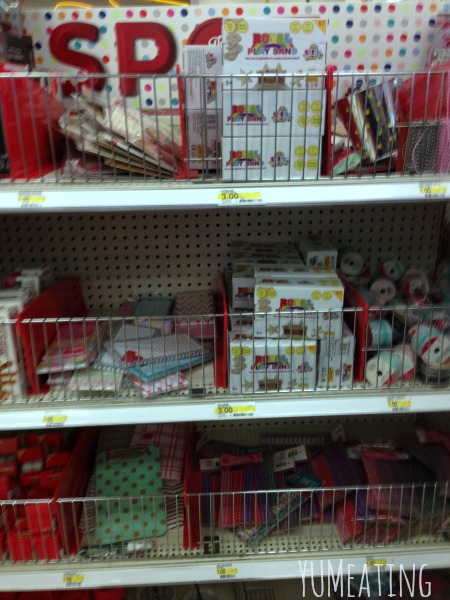 And I wasn't wrong. This is a photo of the bins waiting for you the moment you walk in. Plenty of fun items for $1 – $5. It was there I spotted the portable speaker for $5, the cute clip board for $1, the hang gift tags and bakers twine were both $1 each. Even some of his favorite after dinner snacks for $1. Of course I have to add some food!
I found an amazing burlap storage 'tote' in the dollar bins. It was only $3, so how could I resit? Plus, it matched the hanging gift tags I had found. But, as I continued to add items to my shopping cart I knew I was going to need something a little bit bigger. I roamed around the whole store before deciding on the super cute white plastic storage container that makes the perfect basket for $7. What I love is the one of us can use it again for organization and storage. I have a feeling it will go out in the barn, right to his man cave.
Well, I think I proved myself wrong. I can find him something after all.
After all of that I knew it needed a bit more spice after all that sugar.
K-Y® is a brand I know and trust. I decided to head over to the feminine care aisle (right down from the beauty section) and that is when I spotted this new K-Y® Love product right next to the other K-Y® products I am familiar with. This new K-Y® Love is exclusive to Target for Valentine's Day. BINGO! It was meant to be! I think we are  planning a weekend away for Valentine's; what better time to use K-Y® Love.  As I get older (I'll be 40 this year) my drive tends to get bogged down by the medications I am on. His crazy work schedule isn't much help. Sadly, our relationship suffers. So, any time we can connect without outside influences like kiddo, parents, pets and chores, we'll take time to make the moment an intimate one.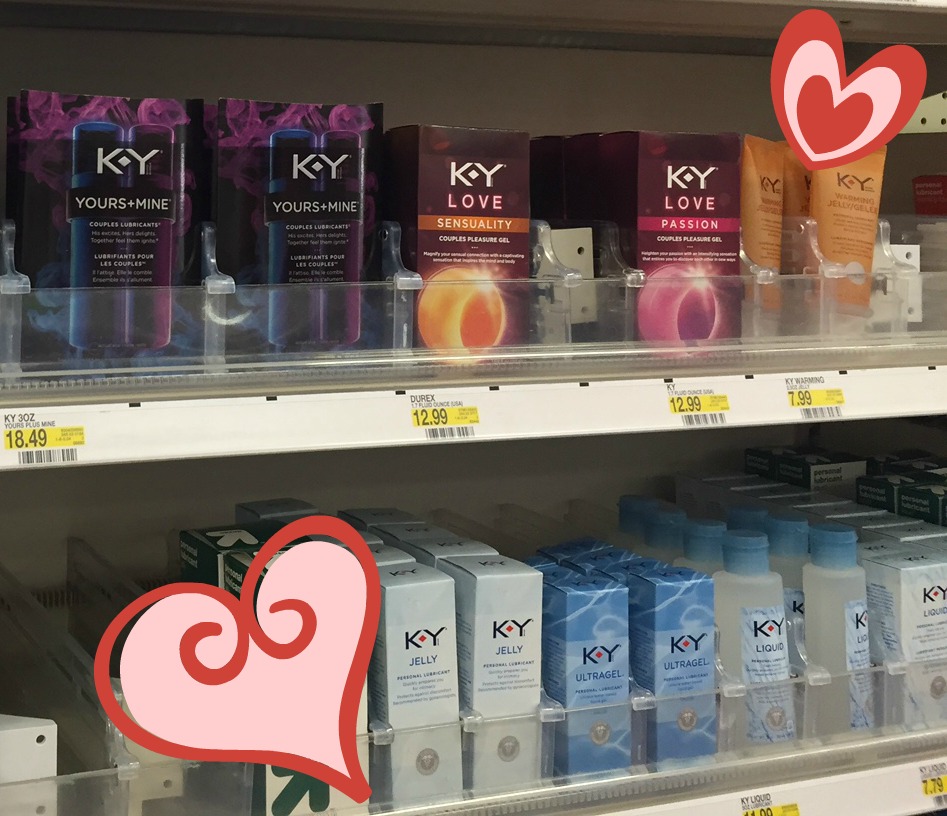 This new K-Y® Love gel comes in two varieties – Sensuality and Passion.  Annnnnnnd 10% off with Cartwheel offer: 10% off 2/1-2/14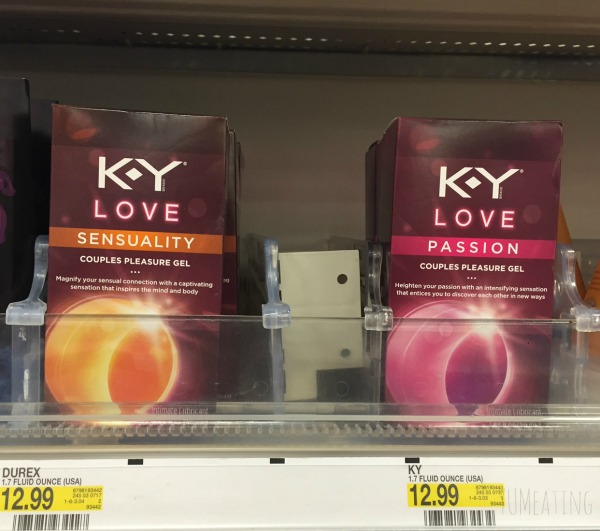 I then ventured  down the Valentine's Day aisles located 2 aisles away.  It was there I noticed the cute heart printed napkins for $1. I figured these would be perfect for that 'tissue paper' look to put in between the products. I also picked up a heart-shaped container of his favorite fruit candies.  The next item I spotted was the comic book – turned movie characters heart-shaped box with a ton of suckers. Hubs has been a comic book fan since he was a young boy, so this works out perfect. Lastly I picked up his favorite chocolate bar. When he's not looking I'll have a small piece for myself 😉 You know our gift baskets must include some sort of food. That's how we roll. :0
As I was toward the checkout lane I noticed the cooler case with his favorite pop. So I grabbed one of those to add to the shopping basket.
Once I got home I brought my haul in the house.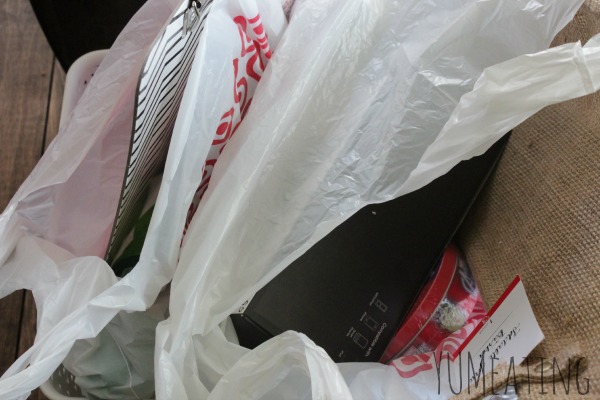 Then I started to unload the goodies.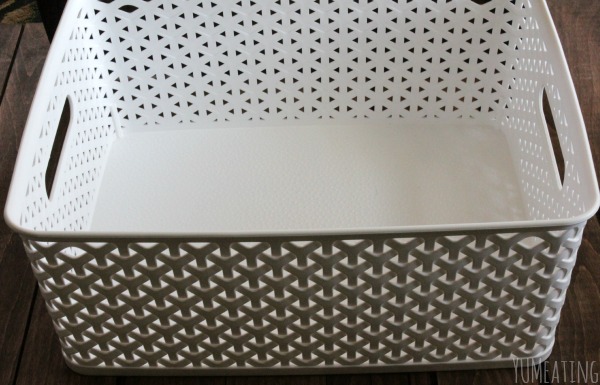 I placed them in the basket and then used the napkins by unfolding them and sticking them between the products like it was tissue paper. I also unfolded some of the napkins and wadded them up to put underneath some items to make them stand taller. I think I packed it all in pretty good. I did not want it falling all over when I was carrying it to give to him.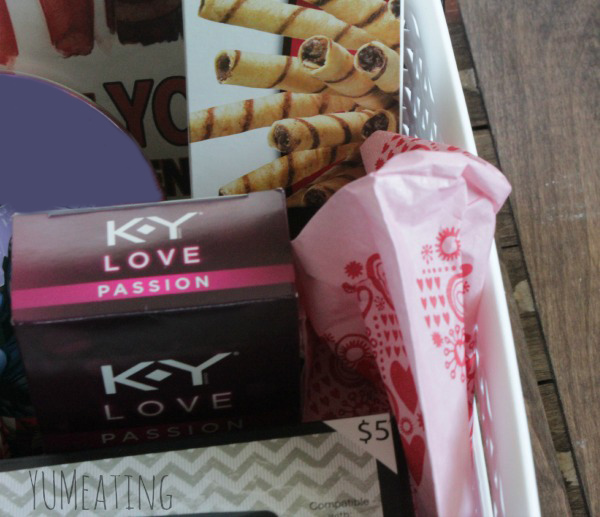 Once that was done I searched on Pinterest for a printable. I had originally planned to put some cute quote in perfect typography on there but when I came across the comic book Valentine printable I knew right away it had to be that. So, I printed that off and used it on the clipboard which went in the back of the basket.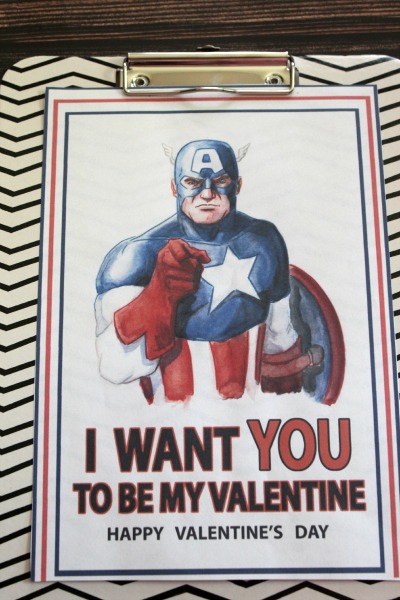 Putting together a basket for Mr. YUM was actually quite fun.
I'm thrilled with how it turned out and I know he's going to love it!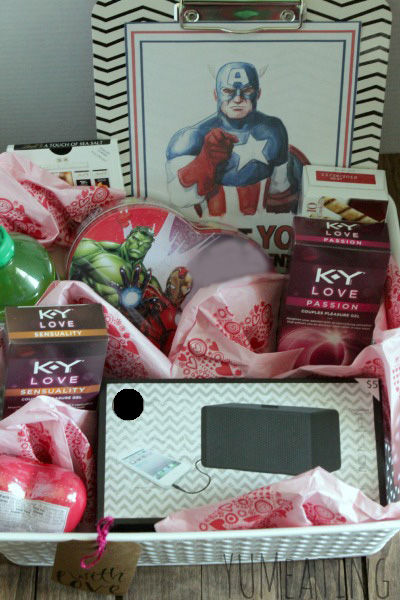 Target and K-Y® Love would like to offer you 10% off through their Cartwheel offer: 10% off 2/1-2/14 Remember, this product is exclusive to Target for Valentine's Day so you won't find it anywhere else!
What sort of gift baskets are  your favorite? Do you have a tradition for Valentine's Day? Feel free to share with me in the comments!