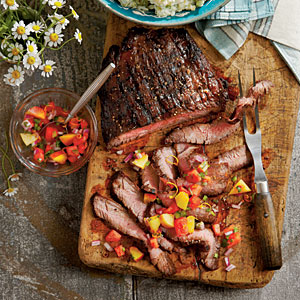 So…this is happening.
Steak. And a lot of it.
The vegans are going to run and the vegetarians are going to be pretty upset, too. *shrugs shoulders* I can't make everyone happy. Steak is Mr. YUMs favorite meal. Well, I think it is a close tie between steak and anything Asian, but I am pretty sure steak is a little closer to the top. So, when Foodie.com mentioned this months picks for our sponsor post, I knew that I really wanted to do the Dinner for Two. But, I didn't want just any dinner for two. I wanted the most expensive thing on the menu that you could make at home.
Steak.
So, let me present to you 25 of the best steak recipes on Foodie.com
 Note: If you don't see the photo slideshow below you'll need to turn your ad blocker off. I promise, it will be worth it. If you're a steak lover you will want to see this mouth-watering pics.
Check out Dinner for Two: The Steak Edition

by Chrystal M. at Foodie.com
Grilled Flank Steak with Chile Spice Rub
Grilled Molasses Flank Steak with Watermelon Salsa
Pinot Nor Mushroom Reduction Sauce with Grilled T-Bone Steak
Grilled Flank Steak Skewers with Spicy Green Chilie Sauce
Steak & Roasted Shallot Pie with a Mustard Crust
Ojo De Bife Con Chimichurru (Whole Boneless Rib Eye with Chimichurri)
Sirloin Medallions with Charred Figs and Gorgonzola
Carne Asada con Mojo (Grilled Beef with Sour Orange Marinade)
Grilled Balsamic Steak with Blue Cheese Butter
Grilled Thyme-Smoked Porterhouse Steak
Cabernet-Cherry Filet Mignon Steak
and more! Visit my The Steak Edition for more!
Disclosure: Mode Media is my blog sponsor. YUM eating is part of their Foodie.com vertical. This is a sponsor post. I am being compensated for my time but all picks and opinions are 100% mine.
Steak eaters – what's your favorite preparation method?