Pumpkin Banana Dream Smoothie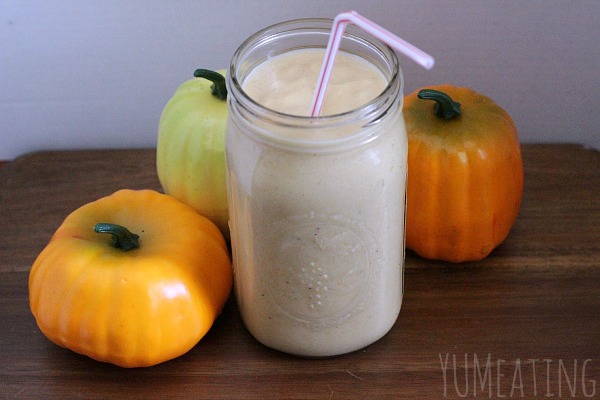 I know it's been a while since I have posted a new smoothie recipe. Believe me when I say – I have been hard at work! I've been working on a PDF freebie that contains a rather large amount of smoothies. I've been trying to work on making clickable links, but it is soooooooooooooo time consuming. I'm also working on another recipe book. While I have all the recipes and the cover is made, I have a few more pages to put together. So, if you don't have a copy of the first volume, Do Anything with Protein Powder, I would snap it up now at 99 cents before the price increases!
Do tell. How has your smoothies been working out for you this summer? I fell off the smoothie wagon for a week or so. I usually have one for lunch or breakfast. But, even I need a break once in a while. I start to crave them so I go back to them. I don't have a problem eating healthy, its just the late night snacking that causes me so much of a problem! 
This new smoothie is quickly becoming my fave. Using frozen bananas it reminds me of fall when the pumpkin ice cream starts to appear. Yummmm. I love pumpkin. I am looking forward to canning some more pumpkin this year. Making pumpkin butter, too. I'm a little sad as my pumpkin stash has just about been depleted. I had a few jars that didn't settle well and the pumpkin was just gross. Booooo.
This breakfast (or lunch) smoothie took me away from the bad thoughts. It's a nice creamy and relaxing treat. I put some turmeric and cinnamon in it. Turmeric has anti-inflammatory properties said to help with arthritis and the cinnamon is something that helps with metabolism and many tout its benefits in the PCOS communities. The pair combined asks wonderful flavor with the the banana and pumpkin. No hidden greens in this one.
Pumpkin Banana Dream Smoothie
Ingredients
1

scoop vanilla protein powder

2

frozen bananas

2

cups

pumpkin

I used homemade canned

2

cups

water

dash of turmeric

dash of ground cinnamon
Instructions
Pour everything into the blender and give it a whirl.

Test to see if you want to add more seasonings.

Serve immediately.
What is your favorite smoothie?