Low Carb Avocado BLT (BLAT)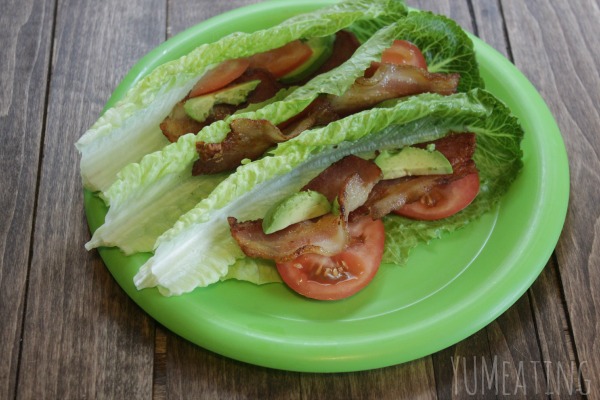 You see that right there? That is one of my favorite meals. Bet you can't guess which ingredient……
Bacon?
Nope.
I know, right? Who doesn't stick bacon at the top of their list??? Well…me.
Avocado is my favorite. I loooooooooooooove it. I want it on my salads, on my burgers, with chicken, with a nice drippy egg yolk…..yummm. 
I've been trying really hard to get back to low carb living and eating clean. My guts, arthritis, and mental health all thank me for it. If there is anyone out there that doesn't really think food is the best prescription, they haven't met me in real life.  I know doing away with bad carbs and sugar is the best thing for me. My skin clears up, my intestines don't hurt, it's easier to battle the PCOS and lose weight, I sleep better, my back doesn't hurt as much, and my arthritis doesn't flare as much (which means I can exercise.) Somehow I got stuck eating garbage. I know, I put it in my mouth. But, after the death of my father earlier this year and getting sick, things just went downhill in the eating and pain control department. So, now I am trying to stand up and dust myself off.
I try to limit my low carb wraps. Too many of them and it has me craving bread. Not good. Bread gives me terrible stomach aches. I haven't really jumped on the Oopsie Roll bandwagon, so lettuce it is.
What I love about this is that its super simple. Full of protein and good fats to keep you full and low carbs to keep you clean.
This is a simple go-to that I make frequently when hubs is out-of-town for work. I make it for breakfast, lunch or dinner. I always fry up a little extra bacon in case I want another later in the week! YUM!
Sometimes I get lazy and this happens – Lazy BLT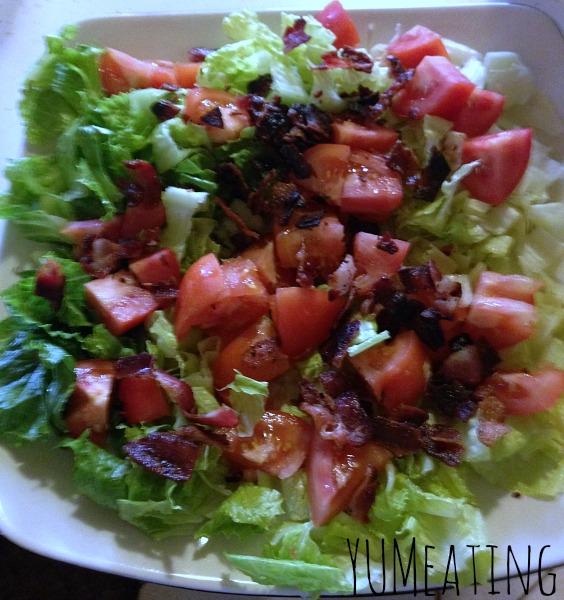 But I don't put avocado in my salad. Not sure why. I feel like I am wasting it. Like it should be on something greater. Plus, I can't seem to dice it up small enough without making it mushy. #fail.
I sure love my BLAT. Thanks bacon, lettuce, avocado, tomato for those not on the up-and-up 😉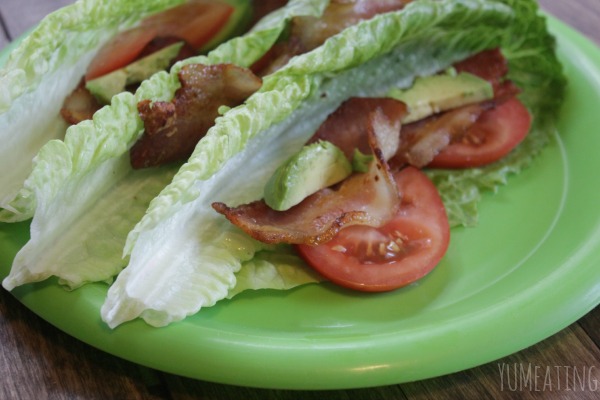 Prep is easy. Couple pieces of bacon, cut in half. Slices of tomato, slices of avocado, and some romaine lettuce leaves.  Dressing is optional. I don't use any on these, but I am sure a little blue cheese would be tasty. I prefer the natural taste of the avocado, so I don't mask it.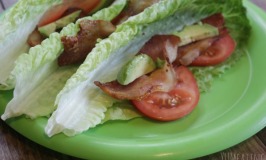 Low Carb Avocado BLT
Ingredients
Tomato

few slices

Avocado

few slices

3- 4

Romaine lettuce leaves

wash and dried

2-3

pieces

of bacon

cut in half
Instructions
Fry and prepare your bacon. I cut mine in half prior to cooking.

While the bacon is cooking wash and dry your lettuce leaves.

Slice the tomato and add small slices to the lettuce.

Slice your avocado and add thin slices to your lettuce.

Once the bacon is done, remove from pan and pat dry with a paper towel to absorb excess grease.

Add your slices to your lettuce.

Fold in half, wrap it, or just pick it up and eat.