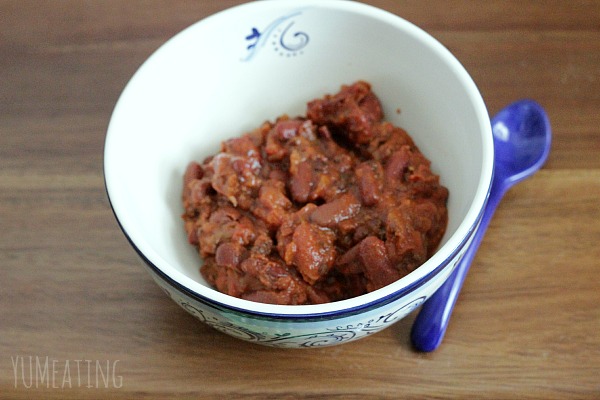 Have you ever had one of those moments where you weren't really happy with how something turned out but you went ahead and pushed forward anyway? That's kinda how I feel about these photos. I tried so many different props. White board, no white board. Zoom, no zoom. This chili just wasn't having a photographic moment. To hell with it. I am going to post this recipe anyway. Yup, that's me. I tend to do that from time to time. I know a lot of bloggers out there will scrap the recipe until they get the perfect photo. But you know what? I am not a photographer. I am STILLLLLL learning how to use the camera a year later. I am still trying to figure out how to get great pictures in my house. The sun only shines through my main window for so long. Now, it's starting to get a little grey.
Speaking of the weather,its getting cooler. That means it's chili time! I am a huge fan of chili. I get to use my homemade canned tomato and it brings me a lot of joy. It also brings me a lot of joy to take dry beans and create yummy meals out of them. I guess I am just weird like that. 😉
Even growing up in the south I still ate a lot of chili even though our winters weren't as harsh as the winters up here in Michigan. I love to pair my chili with homemade cornbread. Sooooo good. Such comfort food. If beef chili isn't your think you can leave it out or substitute ground turkey like I did in this turkey chili recipe.
I used my own chili powder. It's so easy to  make and I bet you have most, if not all, the ingredients in your cabinet!
Homemade Chili Powder
Ingredients
paprika

garlic powder

cayenne pepper

onion powder

dried oregano

ground cumin
Instructions
In a zip top bag or empty shaker container add 1 TBSP of each of the ingredients.

Shake together.

Use a pinch at a time.
Another thing about me, I tend to have things I make from memory never turn out the same way twice. When I cook chili on the stovetop it tends to be a bit more wet. This particular chili is sticky. Husband tends to like his food a little less wet. If you like it more wet you can add water to your crockpot.
I used dry beans for this so you will want to make sure you soak your beans overnight if you plan to use dry beans, too.  I also brown the hamburger first.
Crockpot Chili
Ingredients
1

bag dry red kidney beans

1

lb

hamburger

2-3

jars of homemade canned tomato or 6-8 cans of stewed tomato

chili powder
Instructions
Soak your beans overnight.

Drain.

Cook the ground hamburger.

Put the hamburger and beans in the crockpot.

Add the canned tomatoes.

Sprinkle chili powder over top. Start with a little. You can add more as it cooks to suit your tastes.

Day 1 cook 8 hours.

Day 2 cook 2-4 hours.
It does take a little bit of work, but the result is a whole lot of comfort in your bowl!