I know what you are saying.
Cheater, cheater, pumpkin eater.
I know I make a lot of things on YUMeating from scratch, but not even I can keep up with 3 meals a day,  7 days a week 100% of the time. Sometimes I have been known to cheat. It happens. It happens more often than not when it comes to brownie mix. I just don't have the desire to ever drag out all of my baking ingredients for a batch of brownies. Mostly, because it usually goes a little something like this:
Hubs: Let's make brownies.
Kiddo: Yah, brownies!
Me: Ok. Get the cocoa powder, flour, sugar…..
Hubs: Never mind, that is going to take too long.
Kiddo: Daddy, you said we were going to have brownies.
Me: Ugh. Here. Slams the box of brownie mix on the counter.
Lazy husband I tell you.
Kiddo, she could care less. Brownies are brownies and she likes to bake. I think if we planned ahead we could make them from scratch. Problem is, when he wants them, he wants them like yesterday. It really is the only dessert he really cares about. He will eat cookies and cakes if we make them, but they aren't his favorite. Usually I buy Betty Crocker light brownie mix. They bake up really nice , stiff and thick. Just the way he likes them. When Kiddo and I were out and about we saw these Duncan Hines were on sale 2 for $2. Can't beat that as these dark chocolate fudge are usually almost $2 just for one.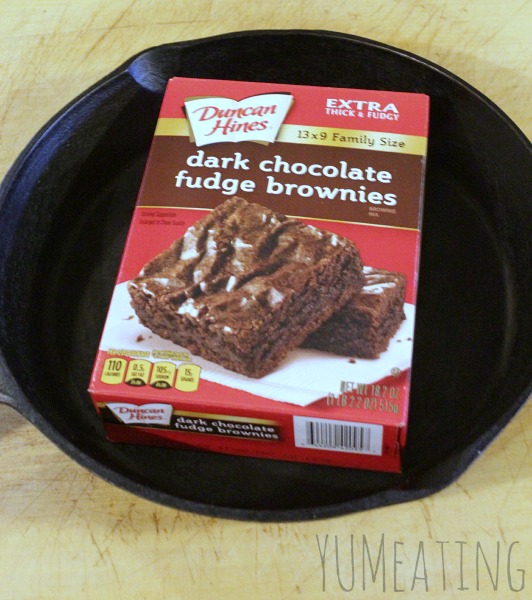 Once I have the box in hand I grab the cast iron skillet if we are going to have skillet brownies.
But what is the difference you ask?
For me there is nothing quite like cooking and baking in the cast iron skillet. Especially a well ages skillet. They do make cake pans and muffin tins but I don't own any of those. It does taste different to me. But, that could be because all of my cast iron pans are well seasoned from years of use. Could also be the mass quantity of butter I use to grease it. 😉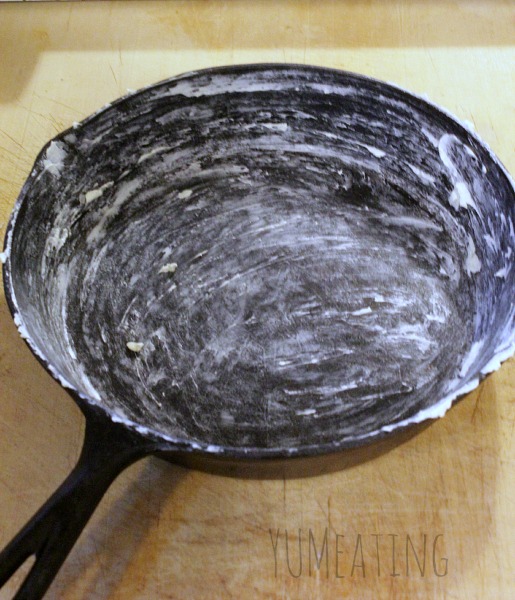 Mix the brownie according to package directions and pour into the nicely buttered skillet.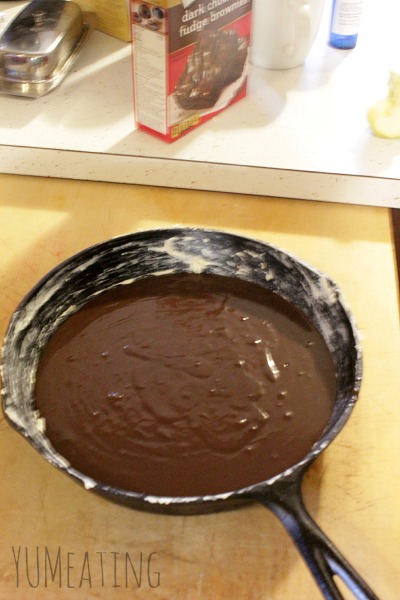 Then put in the oven and cook according to the directions for a non glass pan.
Your home will start to smell like warm chocolatey goodness. You'll start to wish you had some vanilla ice cream and chocolate syrup.
Oh come on. I know it's not just me. 😉
It's not the most photogenic dish, but it sure takes good!