I'm Sipping on Sunshine #giveaway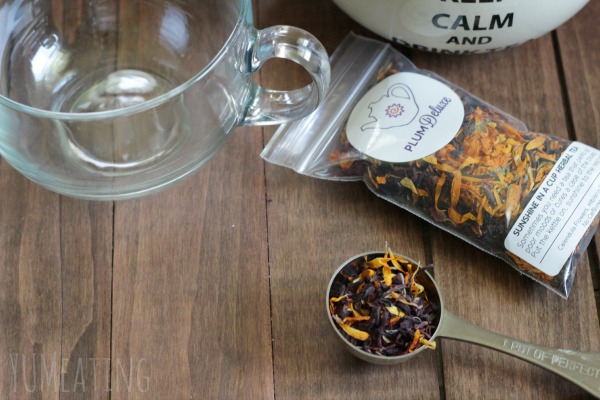 Tea time! For me it's always tea time. I am a girl who loves her tea and I don't try to hide it. My slight tea obsession is starting to take over the kitchen. I have around 30 varieties nicely organized in one of the kitchen drawers. My teapot collection takes up residence in the China cabinet at the opposite end of the kitchen. My tea cups, I claim are for photography purposes. That's my story and I'm sticking to it. My tea obsession might be the only thing I am really girly about. It's here I love pretty things! 
When browsing the Plum Deluxe website  I headed over to the tea shop to see what flavors waited there for me. I started scrolling through all while the little voice in my head kept going, "Yum! That looks good!" or "That sounds delicious." But it wasn't until I spotted the Sunshine in a Cup that I knew it had to be mine. With its bright yellow Calendula flowers, known to detoxify, reduce inflammation and speed healing. It also helped it was paired with hibiscus flowers which contain a healthy dose of vitamin C and rich minerals believed to lower blood pressure. It's easy to see why it's called Sunshine in a Cup!
With my arthritis issues in my hands and hips, I am always looking for alternative therapies.
Here is my initial opening (and then my camera went into a world of its own, so there is another video)
I've got to tell you, I wish you guys could smell this through your computer screens. The moment I opened the package I could smell the wonderful aroma.
(I apologize for all the doggie jingles and bouncing around LOL)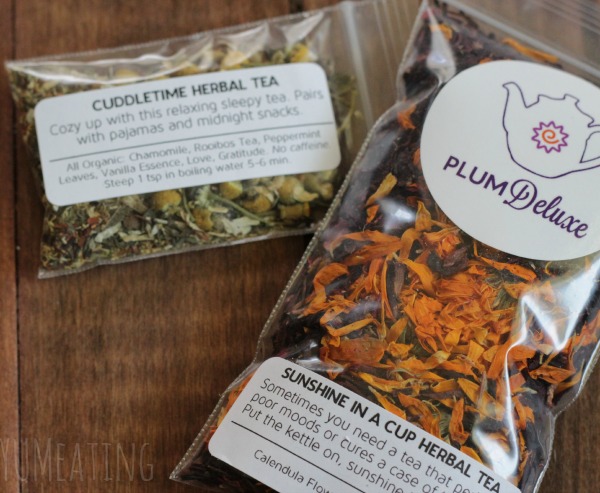 When the hot water started to trickle through it was filling my whole house.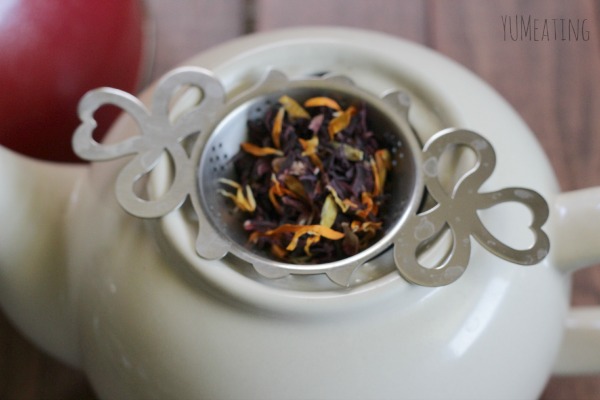 I loved how it turned this really pretty plum / reddish color.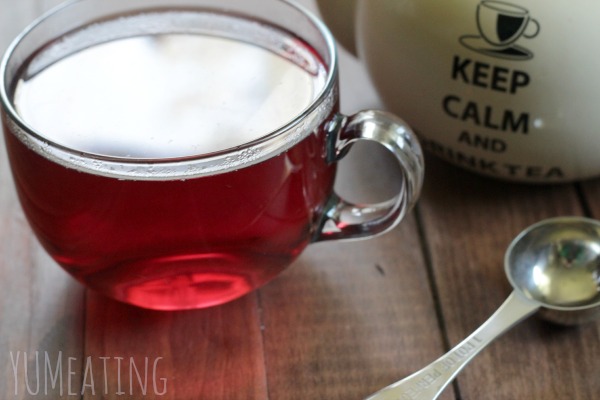 Mr. YUM gets so tickled when I get so excited about something so simple as tea. Well, I am a pretty simple girl and it's things like a good, pretty, cup of tea that really make me happy. It's warm, comforting and is always there for me when I need it.
For the record, I had a little tea left over in the pot after drinking this mug full. I added it to a glass of ice cubes and I can tell you that this tea tastes just as refreshing cold and it does warm.
Because I loved this tea so much, I am thrilled to be able to share it with you. One lucky winner will be awarded their very own packet of Sunshine in a Cup ( due to limited supplies Plum Deluxe reserves the right to send you another variety should Sunshine in a Cup be out of stock. But don't worry, I am pretty sure it will be equally as amazing.)
These teas are handmade in small batches right here in the USA (Portland to be exact) and they are organic & fair trade. So you can feel good knowing you're getting the good stuff while helping small businesses and artisans.
Good luck to all those who enter!
Disclosure: I was given this product for free in order to facilitate my review. I am not being compensated for this post. I was not required to write a positive review, just an honest one. All opinions are 100% my own. Pictures speak 1000 words, yes?