If I Could Share a Dinner with Anyone?!?!?!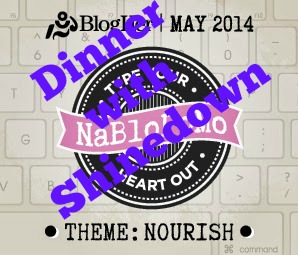 Happy Friday!!!
What are your big plans for the weekend? Anything special for Mother's Day?
Saturday night the husband and I are going to see Celtic Women. I am THRILLED! I have been wanting to see them for years. We ended up donating some money to our local PBS and ended up with floor seats. So exciting since floor was sold out and with all the job issues that have been going on around us, we couldn't really afford tickets to the show as they are pretty expensive. I am hoping the husband will wear his kilt. I've been pestering him since we got the tickets. So, this is my mother's day present. To the kiddo on weekends and the 4-legged furkids during the week.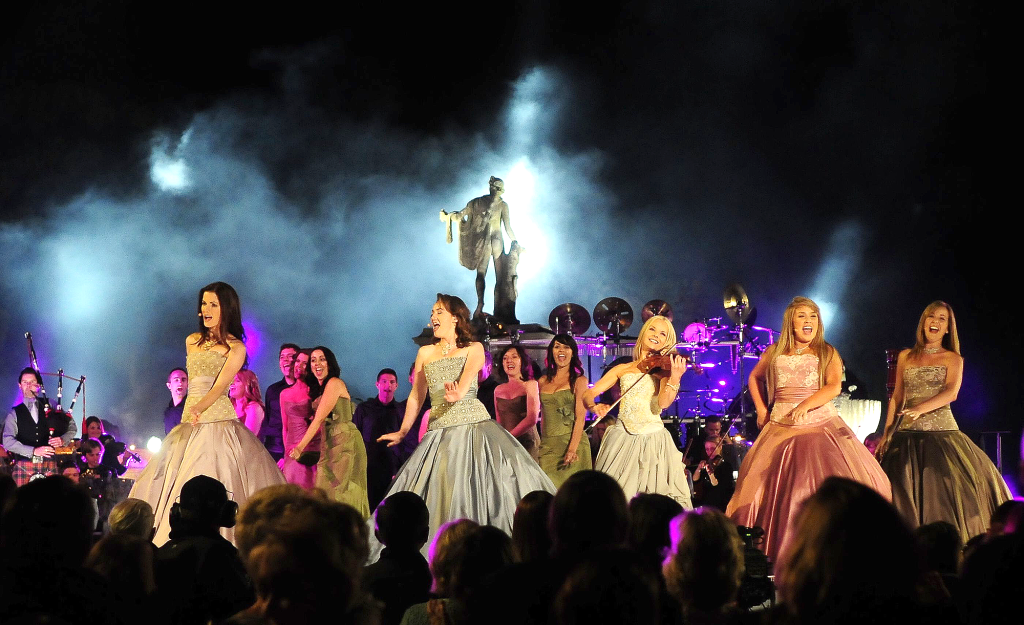 Saturday we might spend a little time planning out our garden. I think I am going to take kiddo out to pick out our seeds. She'll have fun with that. Maybe we will look for some sticks in the yard and some rocks to continue building our fairy homes.
I know Sunday morning we will be attending church. Kiddo's mom usually shares Mother's Day with us so that kiddo has a little bit of time to go to church and sometimes honor her grandmothers. This year she needs her home early for photographs, so we'll be without her on Sunday. I am not sure what we will do after church. He has 2 moms and I have my one. Usually we take his mom, his step mom and dad and my mom out to dinner. I think my mom has to work, and he is still seeking a job, so I am not sure if all of us going to dinner is the best option. But, we'll figure something out. That much I know.
I wish all the moms out there a happy mother's day! I hope you have a great Sunday!
Ready for today's question?
Friday, May 9, 2014
If you could have dinner with one celebrity chef whom would it be?
This question is really hard as there are celebrity crushes of course and then those I admire greatly. I'm not sure I could really pick just one. I would love to have dinner with Stephen King. He would be a celebrity, right? I just want a minute to get inside his mind and just pick at his brain. Then, there is Michael C. Hall, otherwise known as Dexter. I watched Dexter a few times as it was airing but because I did not have the channels it was on, I did not watch it on a consistent basis. I am glad I didn't. I don't think I could have stressed out for 8 years like that. Instead, I binged watched on Netflix over the last few months. I guess is keeping with writers, Jeff Lindsay, the author of the Dexter books would be great too. I would love to talk to Angelina Jolie for her humanitarian efforts. Or Bono, lead singer from U2. What a wonderful heart that man has.
But at the end of the day, it's always the same answer. If I have to pick just ONE person and I really can't have a party for them all, it would be the lead singer of Shinedown, Brent Smith.
I know that seems like a weird answer for me to pick a singer from a rock band. But to me, it's perfectly logical. You see, my love for Shinedown started around 2008 when I first heard them sing Simple Man as a tribute to Pantera member 'Dimebag' who had recently lost his life. At the time Shinedown wasn't really well-known. The song started as a way for me to embrace my southern style in the land of the north. It later became a way for me to attach good memories to the boy I had been dating. In time, it merged to many new memories with another boyfriend who is now my husband. Shinedown came to MI a lot of time as they toured for years with very minimal amount of time for breaks.
It's been an amazing journey as I followed them across the state. During this time I struggled a lot with my self. My worth. My physical and mental well-being. I know some of you know my story and the battle with mental health disorders and food addiction / binge eating disorder because of that. Shinedown songs are very powerful once you learn the true meanings behind Brent's words. Brent is a storyteller and every show I have been to he tells his tales.
During the years I've watched them grow into band where nobody really knew their name, to a band playing sold out shows around the world. I'm getting goosebumps as I type this. I had a chance to meet Brent Smith before they became super big. They were just winding down a tour and had decided to go on the road for a few more weeks to play some smaller venues. This is a band who loves their fans and will stop at nothing to make sure they reach them in some manner. By playing smaller venues it allowed them to really get out there and meet the people that were allowing them to do what they love for a living.
About this time Brent had faced his own demons. Alcohol and drug addiction. He was also learning how to be a dad. Because he wanted to be a good dad, he quit drugs and was working on the alcohol demons.
I wanted nothing more than to tell this man that he saved me. Saved me from the dark depression that so  often controls me. No matter how bad things get, I know I am strong. His words spoke to me.
I chickened out. The owner of the shop was close with my husband because he was also in a band for many years. My meeting was set, but I chickened out. I let my own insecurities get the best of me and I have regretted it ever since.
Since then, Brent has said so many wonderful and amazing thing, but I'll never forget the words he said after an acoustic show they played a few years back. It was during this show that the idea for my chest tattoo came to be.
He said -"I am not going to let a substance control my life because I am way too strong. I am stronger than any substance."
And he's right.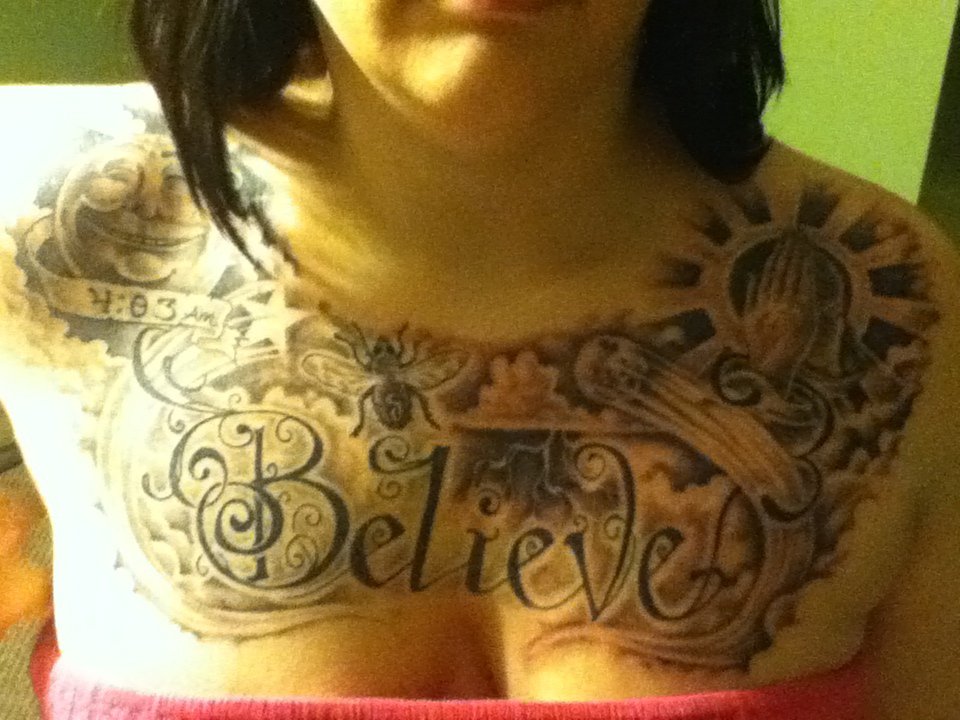 For anyone that is interested in reading about my tattoo and what all the different pieces of the canvas mean, you can head on over to the article where I explain it all.
I've shared my story and tattoo with many. I've been so touched by the people who have reached out to me – even the band members.
But, at the end of the day all I really want to do is tell Brent Smith – "Thank you. Thank you for sharing a little bit of yourself to save others. I can only hope to pay it forward many times over in my life."