Butter Sugar Cookies with Light Buttercream Frosting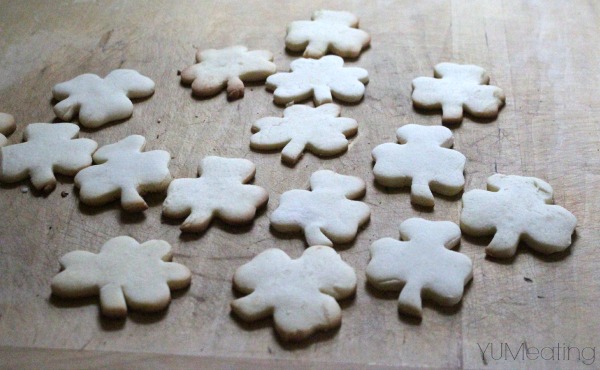 I am so in love with this recipe that I saved the best for last. I know a lot of you are thinking since they are shamrock shaped cookies I should have published this post prior to St. Patrick's Day. Well, you might be right or you might be wrong depending on how you look at it. The wonderful thing about this recipe is that you can make the frosting any color and you can make these cookies any shape.
Since my cookie cutter collection only spans three themes – Christmas, Irish and Dogs, I'll be using the shamrock shapes more often than not.
If you are looking for a sugar cookie that doesn't taste like sugar or a frosting that isn't too sweet, then you have found it!
If you are looking for a nice light cookie that you can partner with your tea like a biscuit or dunk in some coffee, this is that recipe!
We made quite a few cookies and we froze a few dozen. We've been pulling some out of the freezer to enjoy with our tea for a nighttime desert. I sent a few batches to kiddos house to share with her brother and sisters and I sent a small batch to my mother-in-laws to have with tea. This recipe makes quite a few cookies.
The cookie making quickly became a family affair. Husband felt the need to  make some shamrocks all on his own. Giant size.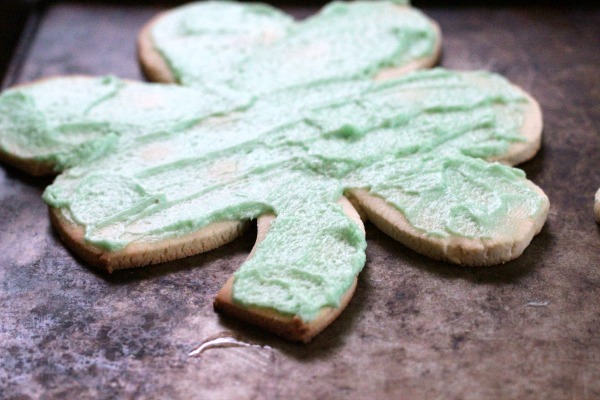 We cut and baked. Cut and baked some more.
Then we got busy with a little frosting. I was a little worried about the frosting at first because it had a strange consistency that I had not really noticed in a frosting before. It was a little sticky, but I tell you what, the flavor was just heavenly. So creamy and not so sugary.  I ended up with some frosting leftover and we froze it.  We also froze some plain cookies because they make great tea biscuits!
Kiddo had a good time frosting her cookies.
Looks like hard work hanging out in your jammies and apron all morning to bake and create cookies, right?
Even husband who said he had no desire to frost cookies got in on the fun.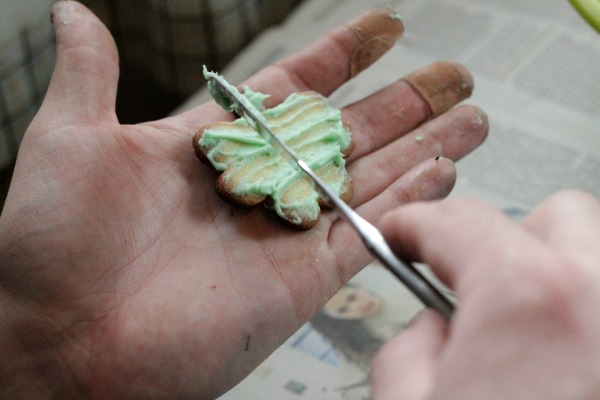 We really had a lot of fun.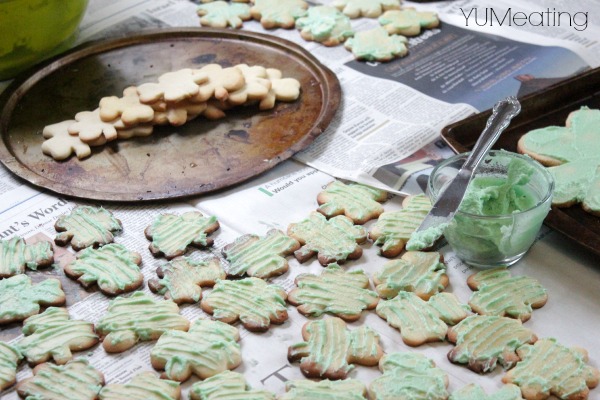 And, a LOT of cookies. Thank goodness I have a large freezer!
It might take us a while to polish off the ones that I saved in the freezer but when they are, I am thinking my next batch I am going to try out the doggie cookie cutters. I have this super cute kit I purchased a long time ago when we did a big birthday for Cain, our dog who passed away in 2012. The kit has dog paw, bone, hydrant and dog house shaped cookie cutters. I have not used them in a very long time. Maybe its time to use them and make new memories with them.
I've been thinking a lot about Cain lately, so I could certainly use happy memories.
Cookies + family = happy times and good memories. Agree?
What is your favorite type of cookie to make and/or eat?
For the wonderful cookies I used a recipe from All Recipes —> The Best Rolled Sugar Cookies   I did nothing to change them. I've tried a lot of sugar cookies in my life. I am not the best baker AT ALL, which is why you don't see a huge amount of deserts listed here. Plus, I hate my oven. It's old and fickle with a mind of its own, so a  lot of my baked goods just don't turn out well. While we did toast the first batch a little too much on the bottom, the rest of the batches were perfect. Not too crunchy and not too chewy.
For the frosting I adapted a recipe from Tasty Kitchen —> That's The Best Frosting I've Ever Had  And, that is no joke. I read all of the comments before deciding I was going to change this recipe up a bit. There were some tips and concerns from testers that made me feel that changing the ingredient ratios would better suit what I was trying to accomplish. My recipe makes a thin and creamy frosting.
As for holding up in the freezer – it does. I pulled out the frozen batch to use on the cake this past weekend. I let it thaw, whisked it and spread it on a white cake I am working on for an Easter recipe. It worked out very well.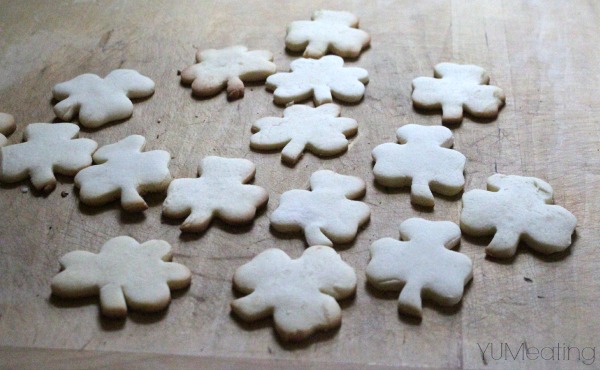 Light Buttercream Frosting
Ingredients
2

TBSP

Flour

1

cup

Milk

2

teaspoon

Vanilla

1

cup

Butter

1

cup

Granulated Sugar

not powdered
Instructions
In a saucepan melt the butter on very low heat.

Add the sugar when the butter is melted and whisk well.

This will help to melt the sugar and get rid of the grit of the granules.

Whisk in 2 TBS flour, milk and vanilla.

Continue whisking until well blended.

Remove from heat.

Let the mixture cool for 2-3 minutes.

This will allow the butter to thicken back up.

Add your food coloring or leave as-is.
Now if you'll excuse, there is a treadmill calling my name…all these cakes, cookies and potatoes…oh my! 😉