Lazy Low Carb Pepperoni Pizza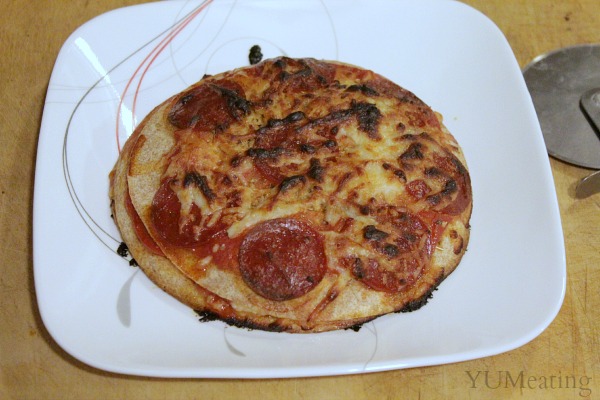 I have been experimenting with different types of pizza hoping I can find one that doesn't take a whole lot of time when those pizza cravings strike. But, I also want to make sure I try to keep it low glycemic and low(ish) carb.
Thankfully, I found some low carb wheat tortillas that were also high in fiber.  I even made some breakfast with them. I had some ingredients leftover from another pizza (hello, chicken crust?) and wanted to see if I could somehow make a pizza out of the tortillas. I had seem them around the web and wondered just how well the tortilla's held up.
I am going to go out on a limb here and say that I doubt a single layer is going to hold a whole lot of toppings. 
So I decided to make mine a quad decker. Honestly, I wished I had put some peppers and mushrooms on it, but I needed a trip to the grocery store.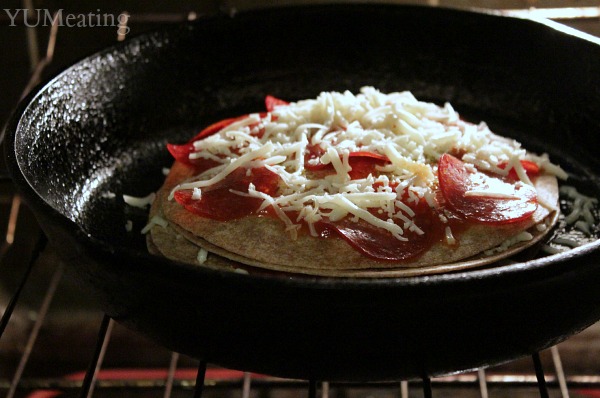 I also called upon my heavy-duty cast iron skillet. I think this helped make the bottom tortilla firm up.
I put it under the broiler and it took less than 5 minutes.
Bingo.
Super fast lunch, snack or even dinner!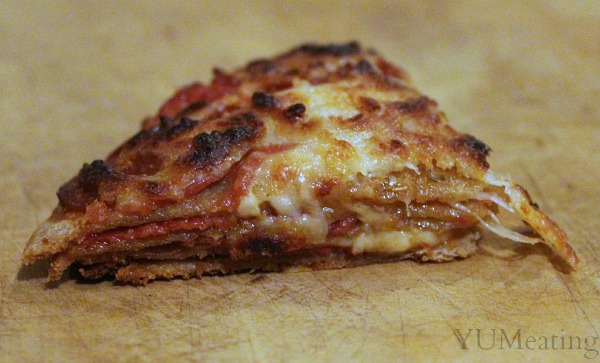 Lazy Low Carb Pepperoni Pizza
Ingredients
4

low carb wheat tortillas

per pizza

1/2

cup

homemade sauce

2

TBS

oregano

24

pieces

of pepperoni

I used turkey

1

c

shredded mozarella

Oven safe pan
Instructions
Preheat the oven to 425.

Make sure the bottom of your baking pan or cast iron skillet is greased.

You don't want the tortillas to stick.

Put the first tortilla down.

Spread a little sauce on the tortilla.

Sprinkle the oregano.

Place pepperoni on the sauce and top with cheese.

Repeat this process for the remaining 3 tortillas.

Place the pan in the oven for 10-15 minutes.
If you are looking for an even lower carb option, check out this pizza made with a chicken crust. YUMMMMM.