#52WeekMoneyChallenge July Check In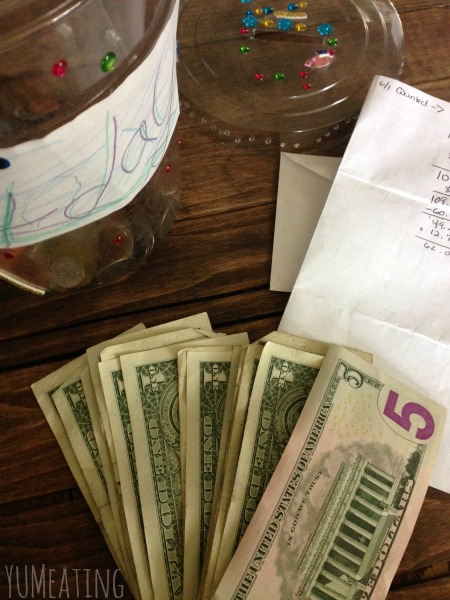 Back in December I made the choice to start my little family on the #52WeekMoneyChallenge offered by Stuck at Home Mom.  The challenge offered followers to save $1, 378 in a year. When we initially discussed this we felt this money would give us enough to take a nice little trip during Christmas at that maybe we would do away with having so much 'stuff' and actually celebrate the holiday. It was also during this time that Mr. Yum was getting ready to start his final semester of clinical's and school. 
At the time, I thought it would be easy. Week one you drop in $1. Week two you drop in $2. On week 52 you drop in $52. With the smaller amounts being at the very beginning of the year when he's not working at much I felt it would be an easy savings plan we could manage.
In January we cleaned off a giant pretzel container. Kiddo decorated it and we got started.
By February we realized we would have to do things a bit differently. I put money in as I went and we were a little bit ahead in March.
March and April had no update. We got to the point where we were struggling a bit. Husband could only work a few hours and all of that went towards insurance. I am not kidding when I say that his checks were a mere 63 cents. MIL helped with some bills and I had to pay for the rest. Every penny in this bucket was earned through garage sales, kiddo rescued a pup and the owner gave her a $10 reward.
June hit and things started to look a little gloom. We had money in our bucket but we were not where we should have been with the challenge.  Mr. Yum graduated in May and June came in with a roar. He still had to pass all his boards. His externship did not extend him a full-time job like he thought.
June was not kind to us. We barely squeaked by.
Towards the end of the month hospitals finally started to call him for interviews. We did not have the gas money for him to drive back and forth. Between interviews and physicals it was draining what little money we had.
Sadly, we had no choice but to dip in the savings bucket. We managed to save $109.29 but had to borrow $60.
I had to explain this to kiddo over the weekend. I could tell she was very sad.  Good news, we were able to add $12.75 to it from the garage sale we had.
So, our #52WeekChallenge bucket now contains $62.03. According to the challenge chart, we should have over $300.
The good news is, husband was able to get 2 per diem (as needed) jobs and he can basically work as much as he wants. This helps in the finance department. I only wished they offered benefits. He has promised to replace the money and get us up-to-date with the challenge.
I hope so.