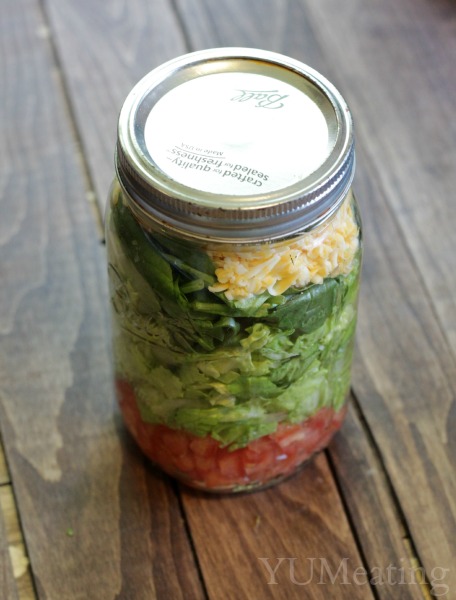 If you've been following along this week then you know I have had a picnic theme going on. Rather than make one enormous post, I felt it would be easier for me and for you if I made it into shorter, easier to manage posts. Plus, this allowed me to keep the recipes separate. There is a whole lot of backlinking. Those that did not work Monday, should work now since they are published. 😉  That's what happens when I get ahead of myself.
*shrugs*
I guess it's better to be ahead of the game for once than be behind like I have been these last few weeks.
Husband and I decided to save some money by creating our own meal and heading to the park for a picnic instead of going to the  movies. We've needed to create a budget and decided it was best to take advantage of the beautiful Michigan weather.
We had planned to bring some sandwiches and I really wanted to create some foods to put in jars. I have been obsessed with mason jars for as long as I can remember. I think it's a southern thing. Growing up in the south it was not uncommon for folks to use these for everything. I am loving how these days Pinterest is full of jar recipes.
This salad is really simple. We used a wide mouth jar and layered the ingredients. This was enough for two people. If you would like for each person to have their own jar to eat out of, just use half the amount of each ingredient. This will allow you to shake/mix the jar prior to putting some dressing on there. Since we knew we were going to be using the plates that came with our picnic backpack, we decided to just put it all in one jar.
Easy, peasy!
I put the tomatoes in first so that the juice would not leak down on other stuff and make it soggy before we got to the park.
Next was romaine lettuce, followed by spinach and colby jack cheese.
See??
How simple was that??
And it was so much fun to eat outside. I seriously think it made that salad taste so much better!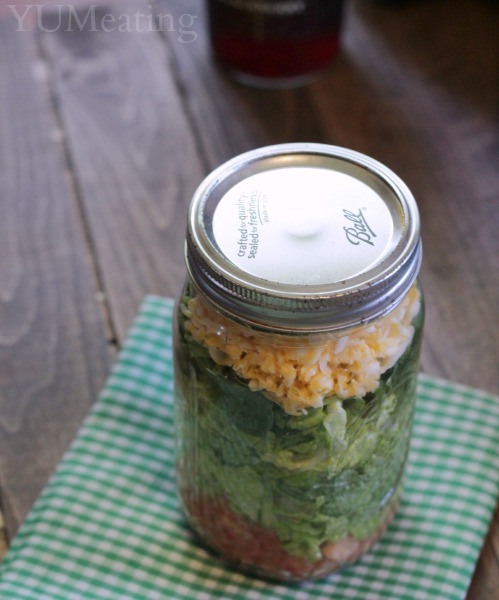 Salad in a Jar
Amounts will vary based on the size of jar you use and whether you want this to be for 2 people, or for one person to eat right out of the jar!
Ingredients
3/4

cup

diced tomato

1 -2

cups

romaine lettuce

1 -2

cups

spinach

1/2

c

- 3/4c shredded cheese of your choice
Instructions
Layer the ingredients in the jar. It is best to keep tomatoes on the bottom and cheese on the top.

If serving two people on plates, feel free to fill to top of jar.

If serving one person per jar, do not fill all the way as you can shake the jar and eat right out of it!
Have you done a jar meal? What's your favorite?